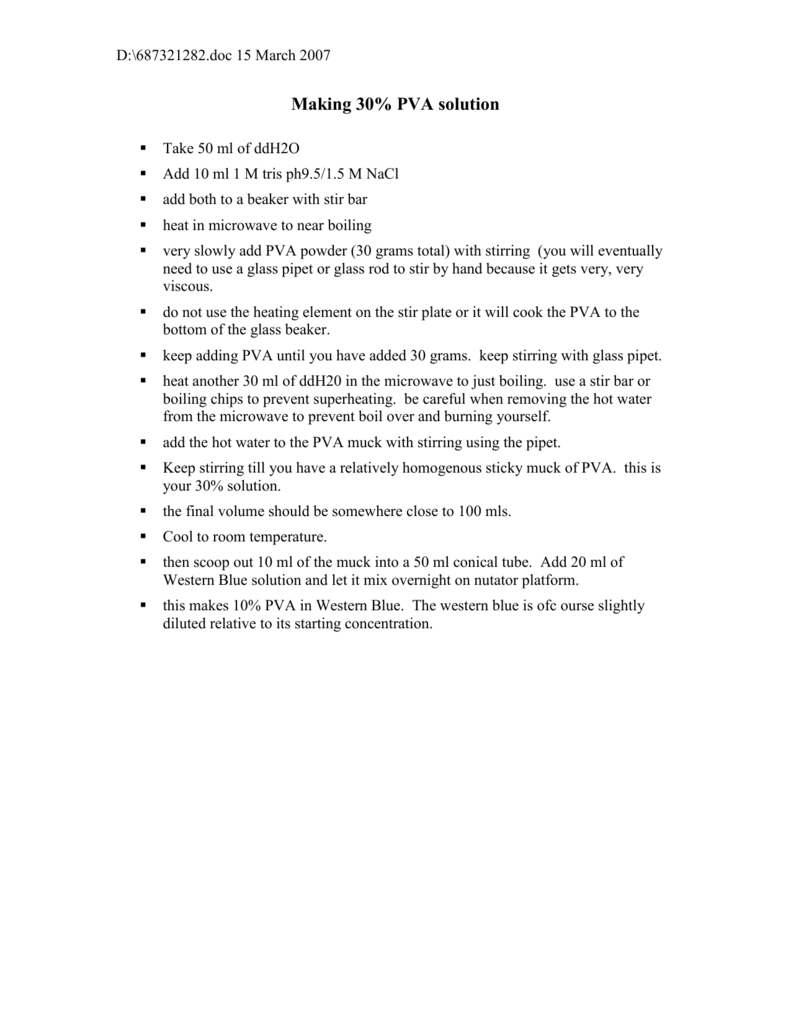 D:\687321282.doc 15 March 2007
Making 30% PVA solution

Take 50 ml of ddH2O

Add 10 ml 1 M tris ph9.5/1.5 M NaCl

add both to a beaker with stir bar

heat in microwave to near boiling

very slowly add PVA powder (30 grams total) with stirring (you will eventually
need to use a glass pipet or glass rod to stir by hand because it gets very, very
viscous.

do not use the heating element on the stir plate or it will cook the PVA to the
bottom of the glass beaker.

keep adding PVA until you have added 30 grams. keep stirring with glass pipet.

heat another 30 ml of ddH20 in the microwave to just boiling. use a stir bar or
boiling chips to prevent superheating. be careful when removing the hot water
from the microwave to prevent boil over and burning yourself.

add the hot water to the PVA muck with stirring using the pipet.

Keep stirring till you have a relatively homogenous sticky muck of PVA. this is
your 30% solution.

the final volume should be somewhere close to 100 mls.

Cool to room temperature.

then scoop out 10 ml of the muck into a 50 ml conical tube. Add 20 ml of
Western Blue solution and let it mix overnight on nutator platform.

this makes 10% PVA in Western Blue. The western blue is ofc ourse slightly
diluted relative to its starting concentration.