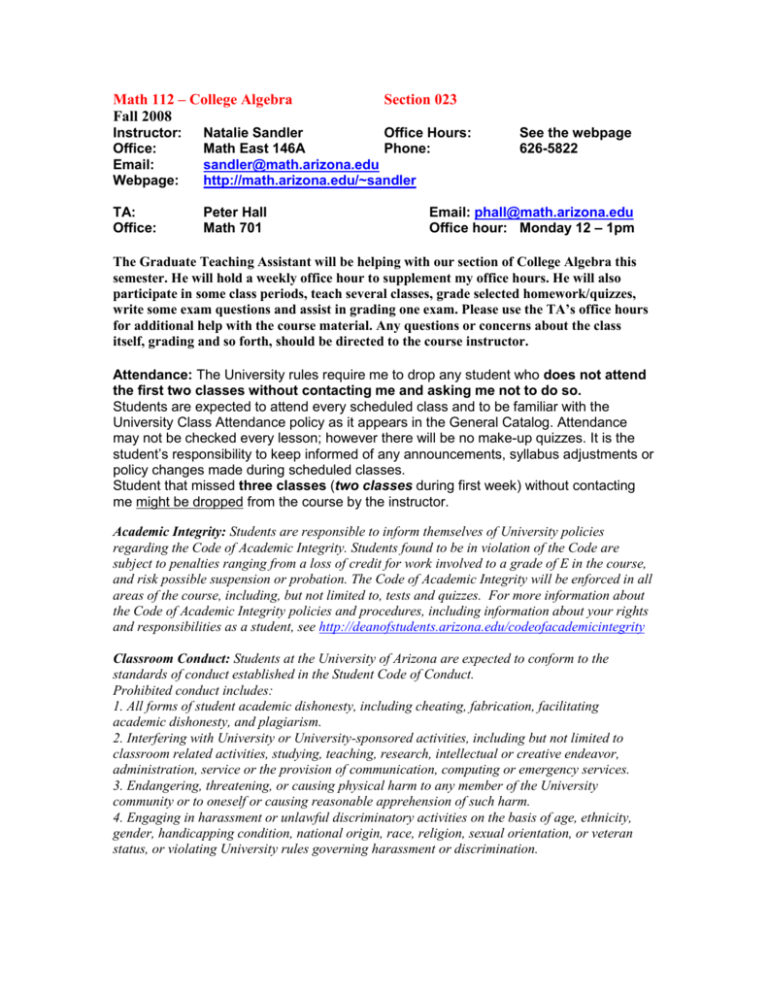 Math 112 – College Algebra
Fall 2008
Section 023
Instructor:
Office:
Email:
Webpage:
Natalie Sandler
Office Hours:
Math East 146A
Phone:
[email protected]
http://math.arizona.edu/~sandler
TA:
Office:
Peter Hall
Math 701
See the webpage
626-5822
Email: [email protected]
Office hour: Monday 12 – 1pm
The Graduate Teaching Assistant will be helping with our section of College Algebra this
semester. He will hold a weekly office hour to supplement my office hours. He will also
participate in some class periods, teach several classes, grade selected homework/quizzes,
write some exam questions and assist in grading one exam. Please use the TA's office hours
for additional help with the course material. Any questions or concerns about the class
itself, grading and so forth, should be directed to the course instructor.
Attendance: The University rules require me to drop any student who does not attend
the first two classes without contacting me and asking me not to do so.
Students are expected to attend every scheduled class and to be familiar with the
University Class Attendance policy as it appears in the General Catalog. Attendance
may not be checked every lesson; however there will be no make-up quizzes. It is the
student's responsibility to keep informed of any announcements, syllabus adjustments or
policy changes made during scheduled classes.
Student that missed three classes (two classes during first week) without contacting
me might be dropped from the course by the instructor.
Academic Integrity: Students are responsible to inform themselves of University policies
regarding the Code of Academic Integrity. Students found to be in violation of the Code are
subject to penalties ranging from a loss of credit for work involved to a grade of E in the course,
and risk possible suspension or probation. The Code of Academic Integrity will be enforced in all
areas of the course, including, but not limited to, tests and quizzes. For more information about
the Code of Academic Integrity policies and procedures, including information about your rights
and responsibilities as a student, see http://deanofstudents.arizona.edu/codeofacademicintegrity
Classroom Conduct: Students at the University of Arizona are expected to conform to the
standards of conduct established in the Student Code of Conduct.
Prohibited conduct includes:
1. All forms of student academic dishonesty, including cheating, fabrication, facilitating
academic dishonesty, and plagiarism.
2. Interfering with University or University-sponsored activities, including but not limited to
classroom related activities, studying, teaching, research, intellectual or creative endeavor,
administration, service or the provision of communication, computing or emergency services.
3. Endangering, threatening, or causing physical harm to any member of the University
community or to oneself or causing reasonable apprehension of such harm.
4. Engaging in harassment or unlawful discriminatory activities on the basis of age, ethnicity,
gender, handicapping condition, national origin, race, religion, sexual orientation, or veteran
status, or violating University rules governing harassment or discrimination.
Students found to be in violation of the Code are subject to disciplinary action. For more
information about the Student Code of Conduct, including a complete list of prohibited conduct,
see the following website:
http://deanofstudents.arizona.edu/policiesandcodes/studentcodeofconduct
Students should turn off all electronic devices during class unless the device is deemed necessary
for the class by the instructor. This includes, but is not limited to cell phones, mp3 players, PDAs,
and computers.
Also, don't read newspapers during the class time, please!
Homework will be assigned regularly – assignments will include review material and
other workbook pages as well as assignments from your textbook. "WB" will denote
workbook assignments with the page number.
Homework is an essential component of the course and will help to prepare you for the
exams. The assignments will require you to not only solve problems, but to also explain
your method of solving using clearly written sentences.
In addition there will be several brief unannounced quizzes that will be taken directly
from the homework problems. They will be graded as a homework assignment.
At the end of semester, I will drop a few lowest scores of your homework/quizzes before
averaging your scores. Because of this, I will NOT accept ANY late homework
regardless of any reason! If you must miss the class, I recommend that you find a way
to get your homework to me on time. If you miss two assignments/quizzes, they will
count as your drops; the next missed one will be graded with a ZERO.
The total homework/quiz score (with WebAssign) is worth 100 points (same as one
test!).
DOING YOUR HOMEWORK, FOLLOW THE DIRECTIONS AS GIVEN BELOW:
1. Be neat, orderly, and well organized. You may use both sides of the paper.
2. Label the top of your paper with your name, class, and the section number for the
problem set.
3. Clearly number the problems in the left margin going down the page.
4. Circle or box your answers so they stand out.
5. Skip a line or two between problems so it is clear where a problem starts and
ends.
6. Supportive work must be shown in order to get credit! "Solutions" might be
worth more than "answers".
7. Homework papers must be stapled together. No paper clips, please! I will NOT
collect unstapled homework – don't loose points for this reason!
8. Every problem should be solved. This means that you don't start doing your
homework an hour before it is due. Start earlier and you'll be able to go to office
hours or the tutoring room to get help if you need it.
9. Most important, you are strongly encouraged to discuss homework problems with
tutors, your classmates, and me, but all answers must be your own. Cheating is
not the way you learn anything. Again, think about quizzes and tests!
Students are expected to behave in accordance with the Student Code of Conduct and
the Code of Academic Integrity. The guiding principle of academic integrity is that a
student's submitted work must be the student's own. University policies can be found at
http://dos.web.arizona.edu/uapolicies.
While in class, please keep your cell phones/pagers off.
Also, don't read newspapers during the class time, please!
Every HW/quiz will be graded out of 10points. Two points will be given for
completeness and following the instructions above. The remaining 8 points will be
given for the right solutions/explanations on the problems graded.
I will select several problems from each HW to grade.
WebAssign homework will electronically grade all problems submitted, provided
they are submitted on time. All points will be given for right answers and
completeness.
Instructions for WebAssign:
To create an account for our class go to http://webassign.net, click on the
Log-In button, then click on the I Have a Class Key button. Our class key is
arizona 4568 3900. You must do this even if you have used WebAssign
in the past or are using it for another course this semester. There is a 14-day
grace period (from the first day of classes) before you must purchase your
access code for our class. Each time you log-in, you will see a reminder.
Keep in mind from the very beginning, that there are NO opportunities
for extra credit or for "redo" unsatisfactory work in our course. Please
don't ask!