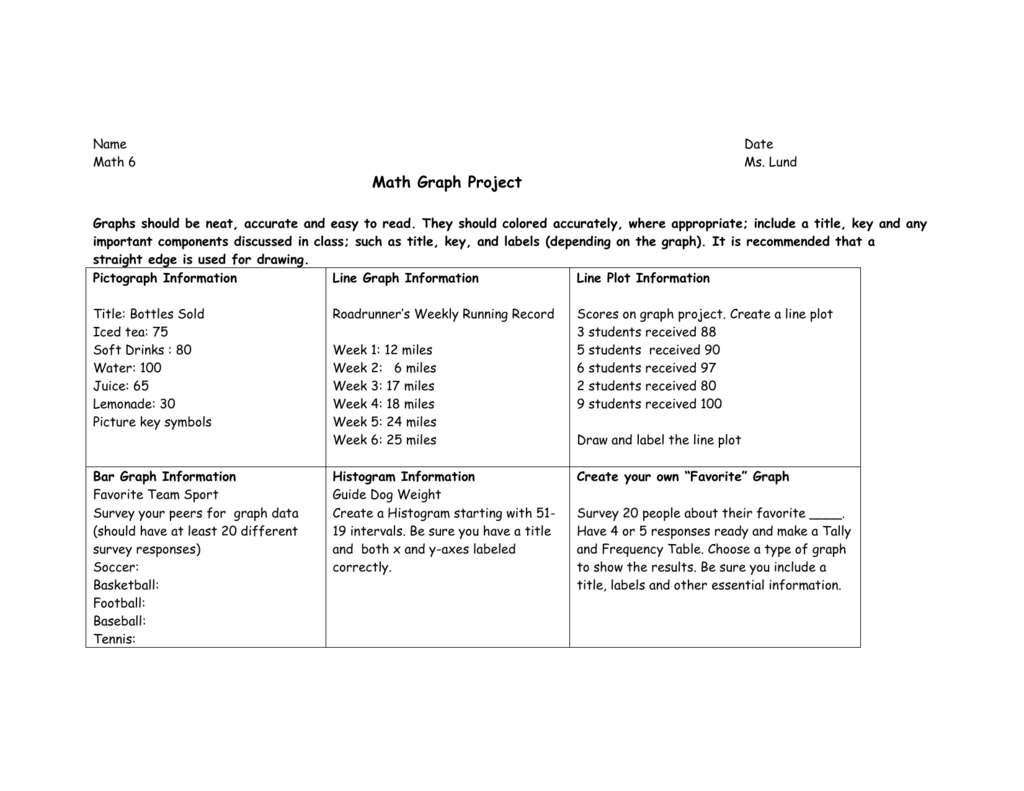 Name
Math 6
Date
Ms. Lund
Math Graph Project
Graphs should be neat, accurate and easy to read. They should colored accurately, where appropriate; include a title, key and any
important components discussed in class; such as title, key, and labels (depending on the graph). It is recommended that a
straight edge is used for drawing.
Pictograph Information
Line Graph Information
Line Plot Information
Title: Bottles Sold
Iced tea: 75
Soft Drinks : 80
Water: 100
Juice: 65
Lemonade: 30
Picture key symbols
Bar Graph Information
Favorite Team Sport
Survey your peers for graph data
(should have at least 20 different
survey responses)
Soccer:
Basketball:
Football:
Baseball:
Tennis:
Roadrunner's Weekly Running Record
Week
Week
Week
Week
Week
Week
1: 12 miles
2: 6 miles
3: 17 miles
4: 18 miles
5: 24 miles
6: 25 miles
Histogram Information
Guide Dog Weight
Create a Histogram starting with 5119 intervals. Be sure you have a title
and both x and y-axes labeled
correctly.
Scores on graph project. Create a line plot
3 students received 88
5 students received 90
6 students received 97
2 students received 80
9 students received 100
Draw and label the line plot
Create your own "Favorite" Graph
Survey 20 people about their favorite ____.
Have 4 or 5 responses ready and make a Tally
and Frequency Table. Choose a type of graph
to show the results. Be sure you include a
title, labels and other essential information.