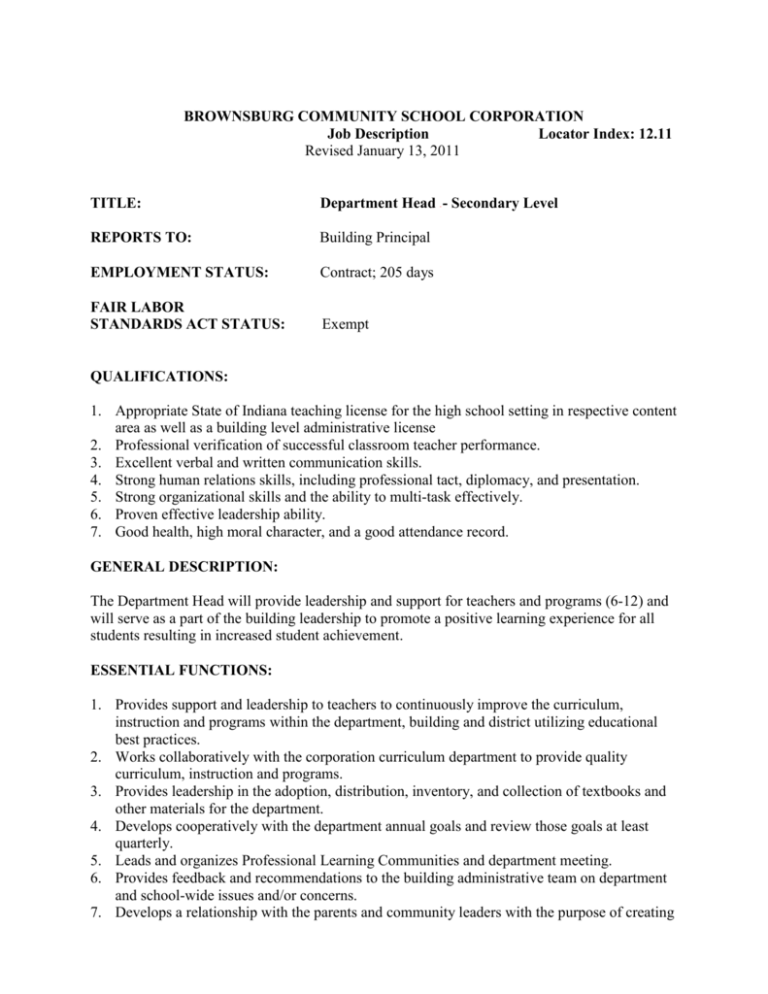 BROWNSBURG COMMUNITY SCHOOL CORPORATION
Job Description
Locator Index: 12.11
Revised January 13, 2011
TITLE:
Department Head - Secondary Level
REPORTS TO:
Building Principal
EMPLOYMENT STATUS:
Contract; 205 days
FAIR LABOR
STANDARDS ACT STATUS:
Exempt
-
QUALIFICATIONS:
1. Appropriate State of Indiana teaching license for the high school setting in respective content
area as well as a building level administrative license
2. Professional verification of successful classroom teacher performance.
3. Excellent verbal and written communication skills.
4. Strong human relations skills, including professional tact, diplomacy, and presentation.
5. Strong organizational skills and the ability to multi-task effectively.
6. Proven effective leadership ability.
7. Good health, high moral character, and a good attendance record.
GENERAL DESCRIPTION:
The Department Head will provide leadership and support for teachers and programs (6-12) and
will serve as a part of the building leadership to promote a positive learning experience for all
students resulting in increased student achievement.
ESSENTIAL FUNCTIONS:
1. Provides support and leadership to teachers to continuously improve the curriculum,
instruction and programs within the department, building and district utilizing educational
best practices.
2. Works collaboratively with the corporation curriculum department to provide quality
curriculum, instruction and programs.
3. Provides leadership in the adoption, distribution, inventory, and collection of textbooks and
other materials for the department.
4. Develops cooperatively with the department annual goals and review those goals at least
quarterly.
5. Leads and organizes Professional Learning Communities and department meeting.
6. Provides feedback and recommendations to the building administrative team on department
and school-wide issues and/or concerns.
7. Develops a relationship with the parents and community leaders with the purpose of creating
partnerships for improved school/community relations.
8. Serves as a member of the leadership advisory team within the building and is a role model
for teamwork within the building.
9. Provides leadership for effective and appropriate communication with parents.
10. Utilizes state, district, and assessment data to improve student learning and examines data to
evaluate programs within the department both horizontally and vertically.
11. Provides leadership for the coordination of departmental activities and events.
12. Communicates frequently with department members, other department leaders and
administration to help with the orderly exchange of information and ideas.
11. Provides for information, assimilation and discussion of professional growth ideas, best
practices and opportunities which lead to the enhancement of professional growth and
increased student achievement.
12. Provides leadership for the development of the departmental budget and ordering of
supplies.
13. Provides mentoring for new teachers within the department and participates in the selection
process of new staff members as required.
14. Assists in the hiring of staff within the department.
15. Teaches part time high school level courses.
16. Provides assistance to substitute teachers within the building.
17. Serves on district committees as deemed necessary and appropriate.
OTHER DUTIES AND RESPONSIBILITIES:
1.
2.
3.
Serves as a role model for students in how to conduct themselves as citizens and as
responsible, intelligent human beings.
Helps instill in students the belief in and practice of ethical principles and democratic
values.
Conducts other duties as assigned by the principal, assistant superintendent or the
superintendent of schools.
ADDITIONAL WORKING CONDITIONS:
1. Occasional interaction with hostile adults and students.
2. Occasional interaction with unruly students.
3. Occasional exposure to blood, bodily fluids, and tissue.
TYPICAL PHYSICAL DEMANDS:
1. Requires corrected hearing and vision to normal range.
2. Requires the ability to remain calm during periods of extreme situations.
3. Requires occasional lifting of boxes or other items weighing up to 50 pounds.