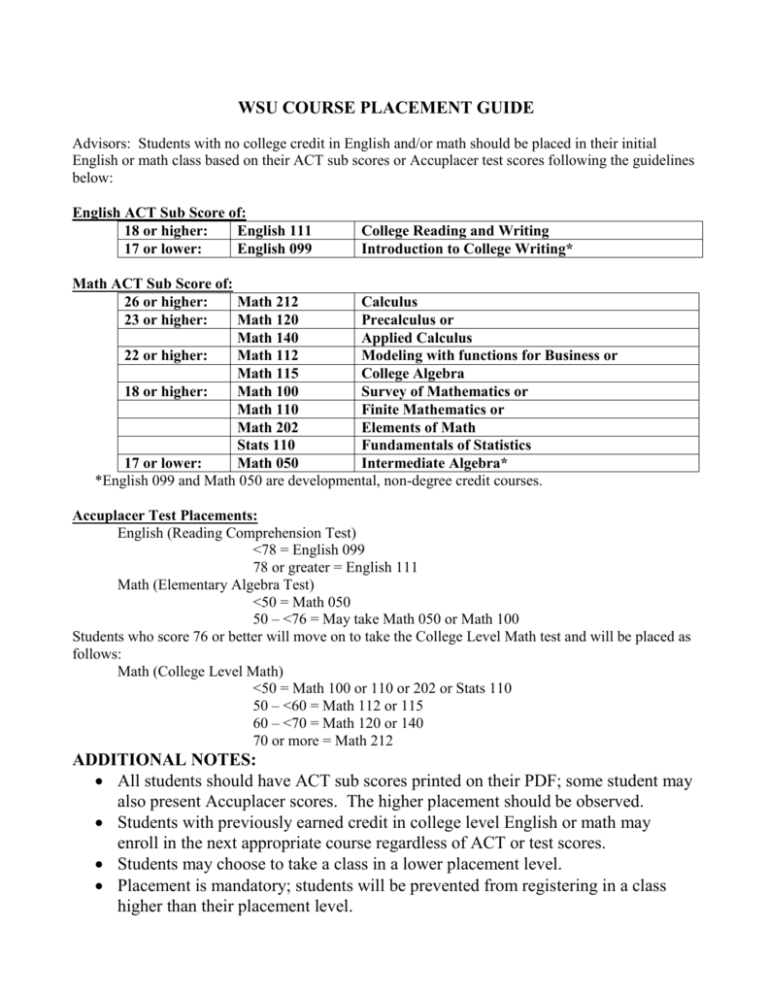 WSU COURSE PLACEMENT GUIDE
Advisors: Students with no college credit in English and/or math should be placed in their initial
English or math class based on their ACT sub scores or Accuplacer test scores following the guidelines
below:
English ACT Sub Score of:
18 or higher:
English 111
17 or lower:
English 099
College Reading and Writing
Introduction to College Writing*
Math ACT Sub Score of:
26 or higher:
Math 212
Calculus
23 or higher:
Math 120
Precalculus or
Math 140
Applied Calculus
22 or higher:
Math 112
Modeling with functions for Business or
Math 115
College Algebra
18 or higher:
Math 100
Survey of Mathematics or
Math 110
Finite Mathematics or
Math 202
Elements of Math
Stats 110
Fundamentals of Statistics
17 or lower:
Math 050
Intermediate Algebra*
*English 099 and Math 050 are developmental, non-degree credit courses.
Accuplacer Test Placements:
English (Reading Comprehension Test)
<78 = English 099
78 or greater = English 111
Math (Elementary Algebra Test)
<50 = Math 050
50 – <76 = May take Math 050 or Math 100
Students who score 76 or better will move on to take the College Level Math test and will be placed as
follows:
Math (College Level Math)
<50 = Math 100 or 110 or 202 or Stats 110
50 – <60 = Math 112 or 115
60 – <70 = Math 120 or 140
70 or more = Math 212
ADDITIONAL NOTES:
 All students should have ACT sub scores printed on their PDF; some student may
also present Accuplacer scores. The higher placement should be observed.
 Students with previously earned credit in college level English or math may
enroll in the next appropriate course regardless of ACT or test scores.
 Students may choose to take a class in a lower placement level.
 Placement is mandatory; students will be prevented from registering in a class
higher than their placement level.