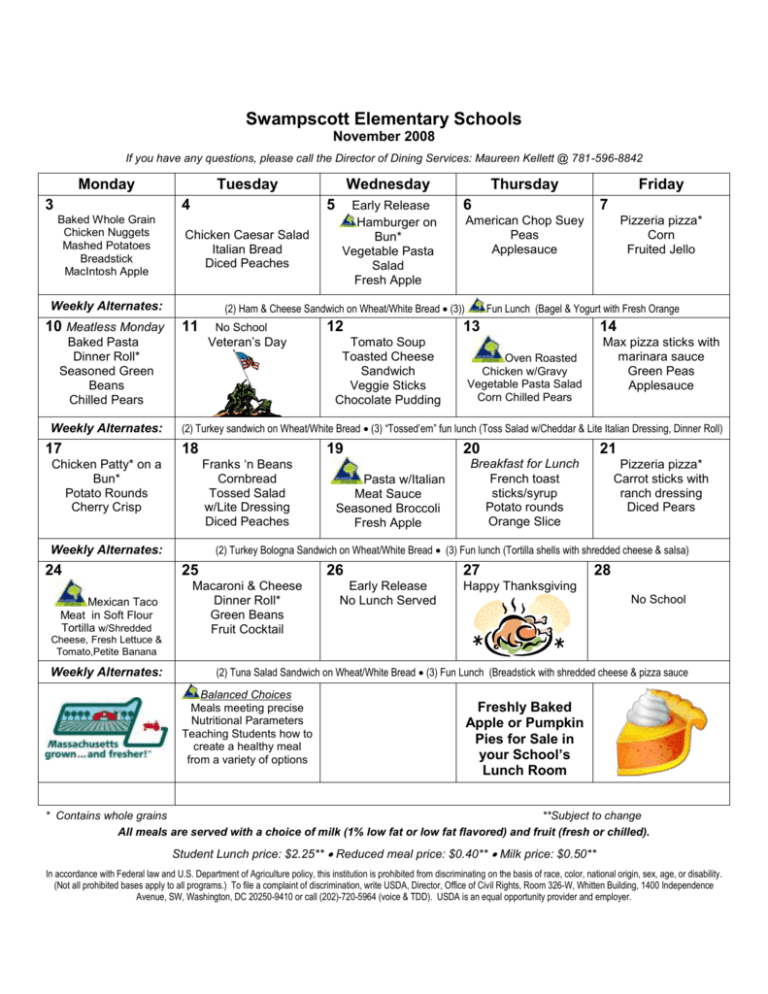 Swampscott Elementary Schools
November 2008
If you have any questions, please call the Director of Dining Services: Maureen Kellett @ 781-596-8842
Monday
3
Tuesday
4
Baked Whole Grain
Chicken Nuggets
Mashed Potatoes
Breadstick
MacIntosh Apple
5
Chicken Caesar Salad
Italian Bread
Diced Peaches
11
17
18
Tomato Soup
Toasted Cheese
Sandwich
Veggie Sticks
Chocolate Pudding
19
Franks 'n Beans
Cornbread
Tossed Salad
w/Lite Dressing
Diced Peaches
6
7
American Chop Suey
Peas
Applesauce
Pizzeria pizza*
Corn
Fruited Jello
Fun Lunch (Bagel & Yogurt with Fresh Orange
13
14
Max pizza sticks with
marinara sauce
Green Peas
Applesauce
Oven Roasted
Chicken w/Gravy
Vegetable Pasta Salad
Corn Chilled Pears
Pasta w/Italian
Meat Sauce
Seasoned Broccoli
Fresh Apple
20
21
Breakfast for Lunch
French toast
sticks/syrup
Potato rounds
Orange Slice
Pizzeria pizza*
Carrot sticks with
ranch dressing
Diced Pears
(2) Turkey Bologna Sandwich on Wheat/White Bread  (3) Fun lunch (Tortilla shells with shredded cheese & salsa)
Weekly Alternates:
Mexican Taco
Meat in Soft Flour
Tortilla w/Shredded
12
Friday
(2) Turkey sandwich on Wheat/White Bread  (3) "Tossed'em" fun lunch (Toss Salad w/Cheddar & Lite Italian Dressing, Dinner Roll)
Chicken Patty* on a
Bun*
Potato Rounds
Cherry Crisp
24
No School
Veteran's Day
Baked Pasta
Dinner Roll*
Seasoned Green
Beans
Chilled Pears
Weekly Alternates:
Early Release
Hamburger on
Bun*
Vegetable Pasta
Salad
Fresh Apple
Thursday
(2) Ham & Cheese Sandwich on Wheat/White Bread  (3))
Weekly Alternates:
10 Meatless Monday
Wednesday
25
26
Macaroni & Cheese
Dinner Roll*
Green Beans
Fruit Cocktail
Early Release
No Lunch Served
27
28
Happy Thanksgiving
No School
Cheese, Fresh Lettuce &
Tomato,Petite Banana
Weekly Alternates:
(2) Tuna Salad Sandwich on Wheat/White Bread  (3) Fun Lunch (Breadstick with shredded cheese & pizza sauce
Balanced Choices
Meals meeting precise
Nutritional Parameters
Teaching Students how to
create a healthy meal
from a variety of options
Freshly Baked
Apple or Pumpkin
Pies for Sale in
your School's
Lunch Room
* Contains whole grains
**Subject to change
All meals are served with a choice of milk (1% low fat or low fat flavored) and fruit (fresh or chilled).
Student Lunch price: $2.25**  Reduced meal price: $0.40**  Milk price: $0.50**
In accordance with Federal law and U.S. Department of Agriculture policy, this institution is prohibited from discriminating on the basis of race, color, national origin, sex, age, or disability.
(Not all prohibited bases apply to all programs.) To file a complaint of discrimination, write USDA, Director, Office of Civil Rights, Room 326-W, Whitten Building, 1400 Independence
Avenue, SW, Washington, DC 20250-9410 or call (202)-720-5964 (voice & TDD). USDA is an equal opportunity provider and employer.