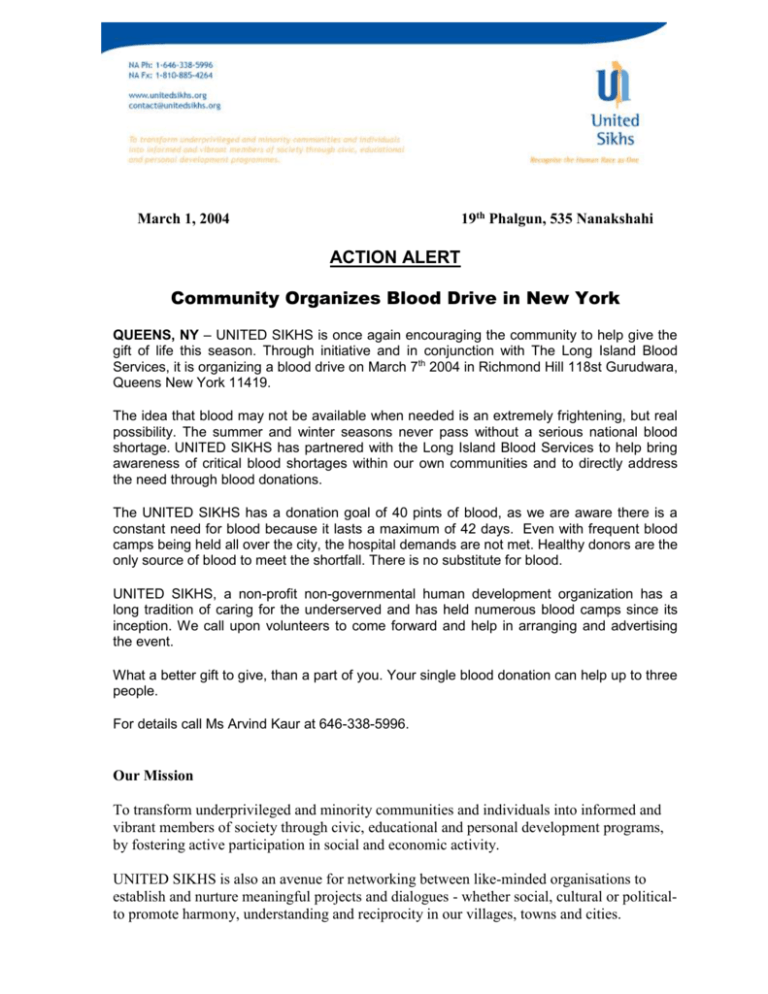 19th Phalgun, 535 Nanakshahi
March 1, 2004
ACTION ALERT
Community Organizes Blood Drive in New York
QUEENS, NY – UNITED SIKHS is once again encouraging the community to help give the
gift of life this season. Through initiative and in conjunction with The Long Island Blood
Services, it is organizing a blood drive on March 7th 2004 in Richmond Hill 118st Gurudwara,
Queens New York 11419.
The idea that blood may not be available when needed is an extremely frightening, but real
possibility. The summer and winter seasons never pass without a serious national blood
shortage. UNITED SIKHS has partnered with the Long Island Blood Services to help bring
awareness of critical blood shortages within our own communities and to directly address
the need through blood donations.
The UNITED SIKHS has a donation goal of 40 pints of blood, as we are aware there is a
constant need for blood because it lasts a maximum of 42 days. Even with frequent blood
camps being held all over the city, the hospital demands are not met. Healthy donors are the
only source of blood to meet the shortfall. There is no substitute for blood.
UNITED SIKHS, a non-profit non-governmental human development organization has a
long tradition of caring for the underserved and has held numerous blood camps since its
inception. We call upon volunteers to come forward and help in arranging and advertising
the event.
What a better gift to give, than a part of you. Your single blood donation can help up to three
people.
For details call Ms Arvind Kaur at 646-338-5996.
Our Mission
To transform underprivileged and minority communities and individuals into informed and
vibrant members of society through civic, educational and personal development programs,
by fostering active participation in social and economic activity.
UNITED SIKHS is also an avenue for networking between like-minded organisations to
establish and nurture meaningful projects and dialogues - whether social, cultural or politicalto promote harmony, understanding and reciprocity in our villages, towns and cities.
UNITED SIKHS is a coalition of organisations and individuals, who share a common vision
based on the belief that there is no greater endeavor than to serve, empower and uplift fellow
beings. The core of our philosophy is an unwavering commitment to civic service and social
progress on behalf of the common good. Accordingly, UNITED SIKHS has sought to fulfill
its mission not only by informing, educating and uplifting fellow beings but also by
participating in cross-cultural and political exchanges to ensure that the promises and benefits
of democracy are realized by all.
We at UNITED SIKHS believe that the development of enlightened and progressive societies
can be made possible by socially conscious groups of people who make a commitment to
develop and direct human potential. Our work, efforts and achievements stand as a testament
to our faith in this vision.