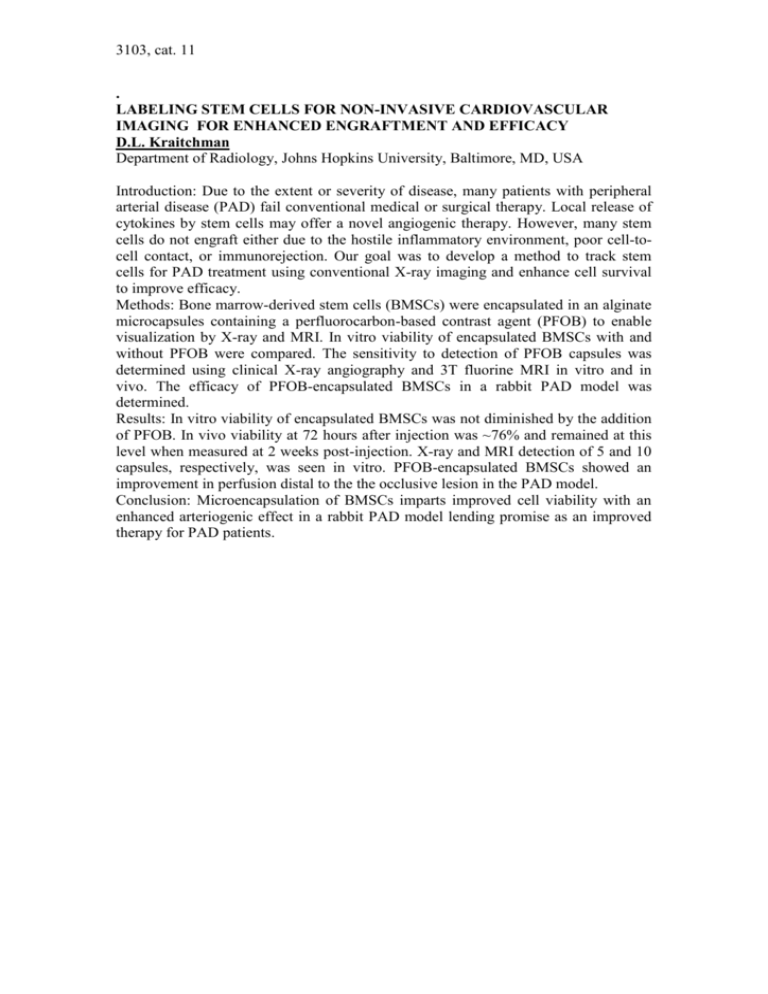 3103, cat. 11
.
LABELING STEM CELLS FOR NON-INVASIVE CARDIOVASCULAR
IMAGING FOR ENHANCED ENGRAFTMENT AND EFFICACY
D.L. Kraitchman
Department of Radiology, Johns Hopkins University, Baltimore, MD, USA
Introduction: Due to the extent or severity of disease, many patients with peripheral
arterial disease (PAD) fail conventional medical or surgical therapy. Local release of
cytokines by stem cells may offer a novel angiogenic therapy. However, many stem
cells do not engraft either due to the hostile inflammatory environment, poor cell-tocell contact, or immunorejection. Our goal was to develop a method to track stem
cells for PAD treatment using conventional X-ray imaging and enhance cell survival
to improve efficacy.
Methods: Bone marrow-derived stem cells (BMSCs) were encapsulated in an alginate
microcapsules containing a perfluorocarbon-based contrast agent (PFOB) to enable
visualization by X-ray and MRI. In vitro viability of encapsulated BMSCs with and
without PFOB were compared. The sensitivity to detection of PFOB capsules was
determined using clinical X-ray angiography and 3T fluorine MRI in vitro and in
vivo. The efficacy of PFOB-encapsulated BMSCs in a rabbit PAD model was
determined.
Results: In vitro viability of encapsulated BMSCs was not diminished by the addition
of PFOB. In vivo viability at 72 hours after injection was ~76% and remained at this
level when measured at 2 weeks post-injection. X-ray and MRI detection of 5 and 10
capsules, respectively, was seen in vitro. PFOB-encapsulated BMSCs showed an
improvement in perfusion distal to the the occlusive lesion in the PAD model.
Conclusion: Microencapsulation of BMSCs imparts improved cell viability with an
enhanced arteriogenic effect in a rabbit PAD model lending promise as an improved
therapy for PAD patients.