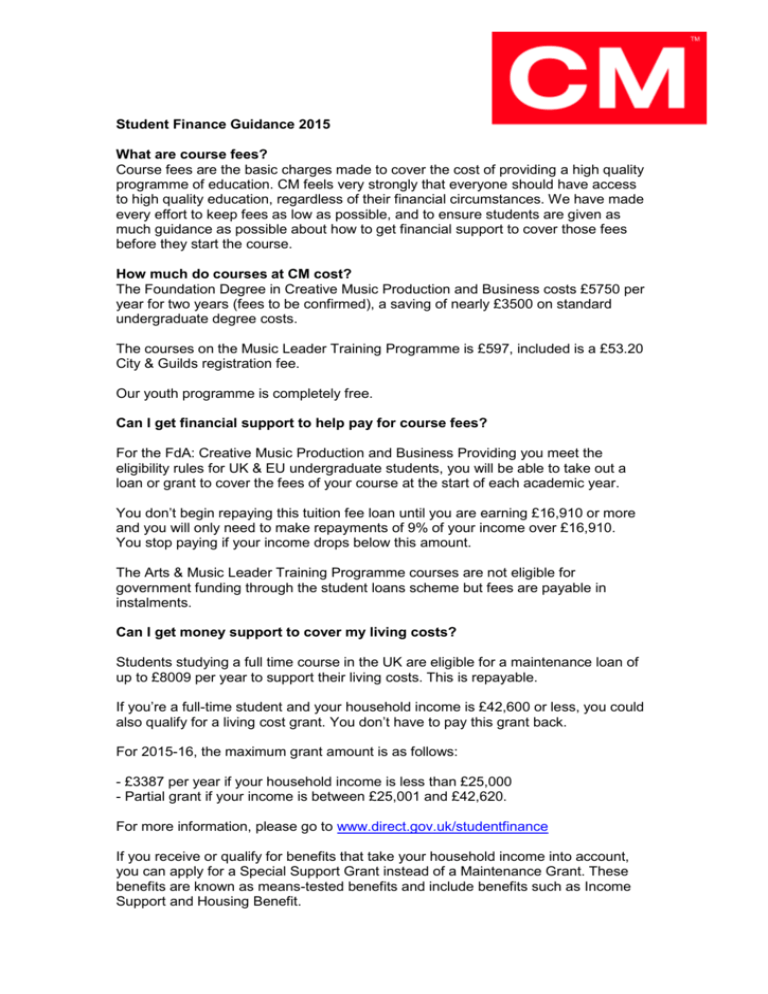 Student Finance Guidance 2015
What are course fees?
Course fees are the basic charges made to cover the cost of providing a high quality
programme of education. CM feels very strongly that everyone should have access
to high quality education, regardless of their financial circumstances. We have made
every effort to keep fees as low as possible, and to ensure students are given as
much guidance as possible about how to get financial support to cover those fees
before they start the course.
How much do courses at CM cost?
The Foundation Degree in Creative Music Production and Business costs £5750 per
year for two years (fees to be confirmed), a saving of nearly £3500 on standard
undergraduate degree costs.
The courses on the Music Leader Training Programme is £597, included is a £53.20
City & Guilds registration fee.
Our youth programme is completely free.
Can I get financial support to help pay for course fees?
For the FdA: Creative Music Production and Business Providing you meet the
eligibility rules for UK & EU undergraduate students, you will be able to take out a
loan or grant to cover the fees of your course at the start of each academic year.
You don't begin repaying this tuition fee loan until you are earning £16,910 or more
and you will only need to make repayments of 9% of your income over £16,910.
You stop paying if your income drops below this amount.
The Arts & Music Leader Training Programme courses are not eligible for
government funding through the student loans scheme but fees are payable in
instalments.
Can I get money support to cover my living costs?
Students studying a full time course in the UK are eligible for a maintenance loan of
up to £8009 per year to support their living costs. This is repayable.
If you're a full-time student and your household income is £42,600 or less, you could
also qualify for a living cost grant. You don't have to pay this grant back.
For 2015-16, the maximum grant amount is as follows:
- £3387 per year if your household income is less than £25,000
- Partial grant if your income is between £25,001 and £42,620.
For more information, please go to www.direct.gov.uk/studentfinance
If you receive or qualify for benefits that take your household income into account,
you can apply for a Special Support Grant instead of a Maintenance Grant. These
benefits are known as means-tested benefits and include benefits such as Income
Support and Housing Benefit.
Does previous study affect my eligibility?
If you already have a UK honours degree for which you claimed support, you will not
normally be eligible for any funding.
Am I entitled to any other types of support?
If you are a full-time student with children you may qualify for extra financial help on
top of the standard student finance package. Depending on your circumstances, you
may be able to get:
• The Childcare Grant - full-time students only
(to help with childcare costs)
• The Parents' Learning Allowance - full-time students only
(to help towards learning costs)
• Adult Dependants' Grant - full-time students only
• Child Tax Credit
• Extra help (if you're experiencing financial hardship)
These forms of financial help don't have to be paid back.
Financial help for disabled students
If you have a disability, long-term health condition, mental health condition or specific
learning difficulty (eg dyslexia) you can apply for:
• Disabled Students' Allowances (from Student Finance England)
How do I apply for financial support?
Apply early; otherwise you may not have your funding in place for September.
If you are a UK students living in England, an EU national or an EEA national working
in the UK, go to www.direct.gov.uk and follow the links to Student Finance for
application forms, applying online and full information on funding.
Who should I contact for more information?
If you need any more information about CM and its provision, including course
applications, contact CM on 020 73770621 or email everyone@cmsounds.com You
can also go to www.wmin.ac.uk and look on the finance pages.