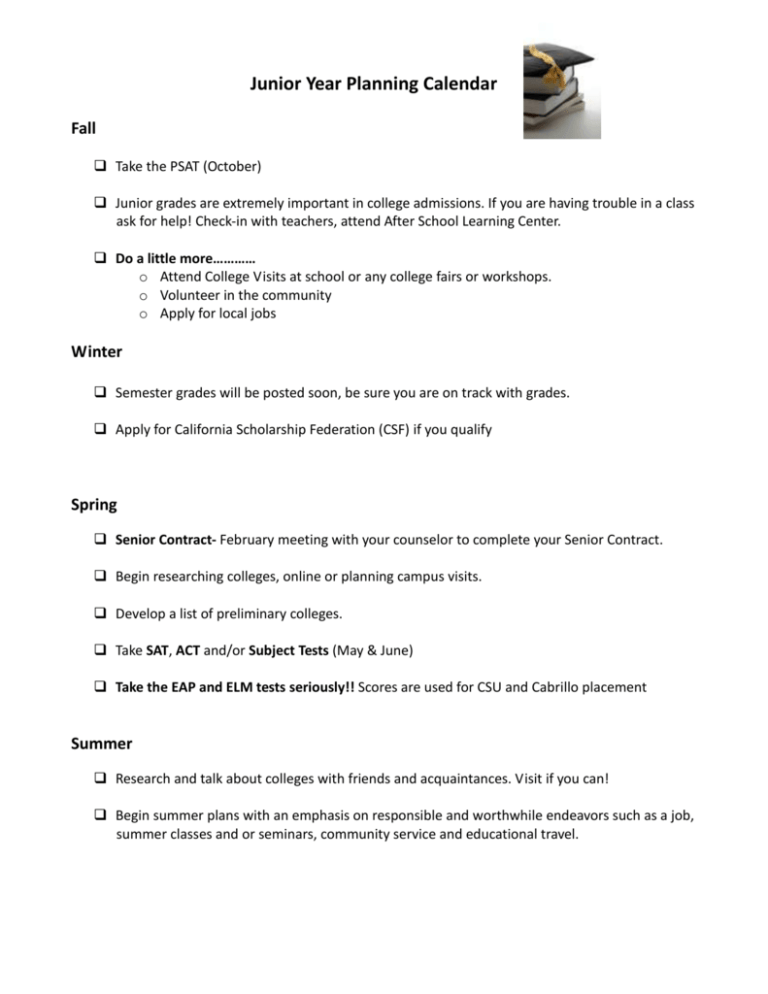 Junior Year Planning Calendar
Fall
 Take the PSAT (October)
 Junior grades are extremely important in college admissions. If you are having trouble in a class
ask for help! Check-in with teachers, attend After School Learning Center.
 Do a little more…………
o Attend College Visits at school or any college fairs or workshops.
o Volunteer in the community
o Apply for local jobs
Winter
 Semester grades will be posted soon, be sure you are on track with grades.
 Apply for California Scholarship Federation (CSF) if you qualify
Spring
 Senior Contract- February meeting with your counselor to complete your Senior Contract.
 Begin researching colleges, online or planning campus visits.
 Develop a list of preliminary colleges.
 Take SAT, ACT and/or Subject Tests (May & June)
 Take the EAP and ELM tests seriously!! Scores are used for CSU and Cabrillo placement
Summer
 Research and talk about colleges with friends and acquaintances. Visit if you can!
 Begin summer plans with an emphasis on responsible and worthwhile endeavors such as a job,
summer classes and or seminars, community service and educational travel.