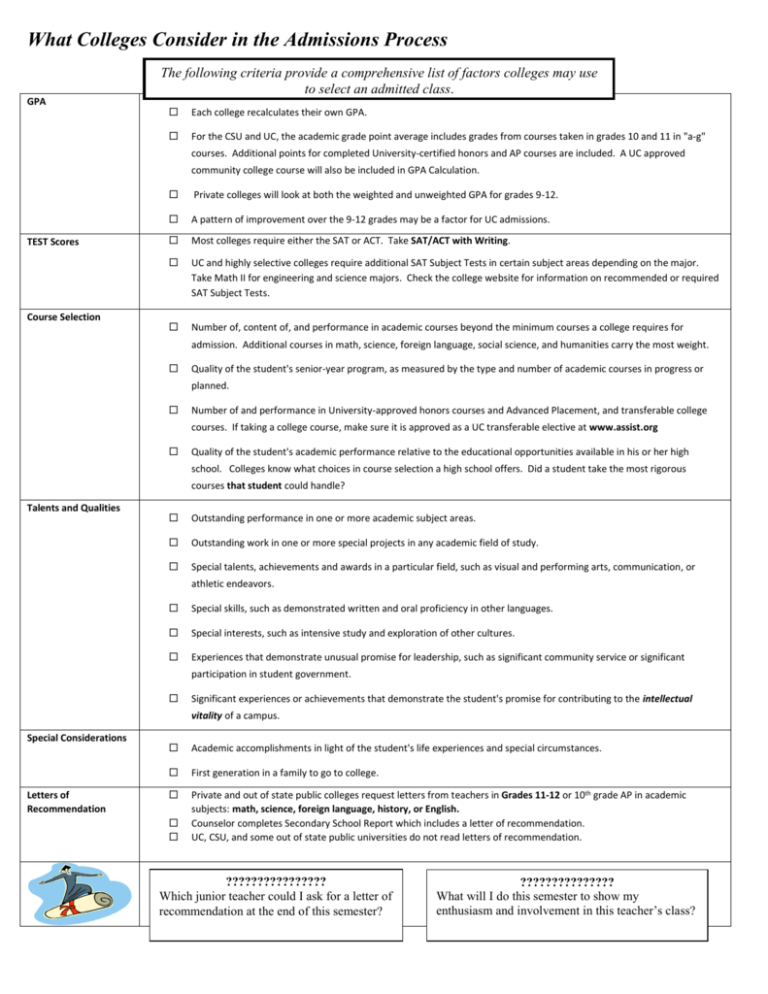 What Colleges Consider in the Admissions Process
The following criteria provide a comprehensive list of factors colleges may use
to select an admitted class.
GPA

Each college recalculates their own GPA.

For the CSU and UC, the academic grade point average includes grades from courses taken in grades 10 and 11 in "a-g"
courses. Additional points for completed University-certified honors and AP courses are included. A UC approved
community college course will also be included in GPA Calculation.
TEST Scores
Course Selection

Private colleges will look at both the weighted and unweighted GPA for grades 9-12.

A pattern of improvement over the 9-12 grades may be a factor for UC admissions.

Most colleges require either the SAT or ACT. Take SAT/ACT with Writing.

UC and highly selective colleges require additional SAT Subject Tests in certain subject areas depending on the major.
Take Math II for engineering and science majors. Check the college website for information on recommended or required
SAT Subject Tests.

Number of, content of, and performance in academic courses beyond the minimum courses a college requires for
admission. Additional courses in math, science, foreign language, social science, and humanities carry the most weight.

Quality of the student's senior-year program, as measured by the type and number of academic courses in progress or
planned.

Number of and performance in University-approved honors courses and Advanced Placement, and transferable college
courses. If taking a college course, make sure it is approved as a UC transferable elective at www.assist.org

Quality of the student's academic performance relative to the educational opportunities available in his or her high
school. Colleges know what choices in course selection a high school offers. Did a student take the most rigorous
courses that student could handle?
Talents and Qualities

Outstanding performance in one or more academic subject areas.

Outstanding work in one or more special projects in any academic field of study.

Special talents, achievements and awards in a particular field, such as visual and performing arts, communication, or
athletic endeavors.

Special skills, such as demonstrated written and oral proficiency in other languages.

Special interests, such as intensive study and exploration of other cultures.

Experiences that demonstrate unusual promise for leadership, such as significant community service or significant
participation in student government.

Significant experiences or achievements that demonstrate the student's promise for contributing to the intellectual
vitality of a campus.
Special Considerations
Letters of
Recommendation

Academic accomplishments in light of the student's life experiences and special circumstances.

First generation in a family to go to college.

Private and out of state public colleges request letters from teachers in Grades 11-12 or 10th grade AP in academic
subjects: math, science, foreign language, history, or English.
Counselor completes Secondary School Report which includes a letter of recommendation.
UC, CSU, and some out of state public universities do not read letters of recommendation.


????????????????
Which junior teacher could I ask for a letter of
recommendation at the end of this semester?
???????????????
What will I do this semester to show my
enthusiasm and involvement in this teacher's class?