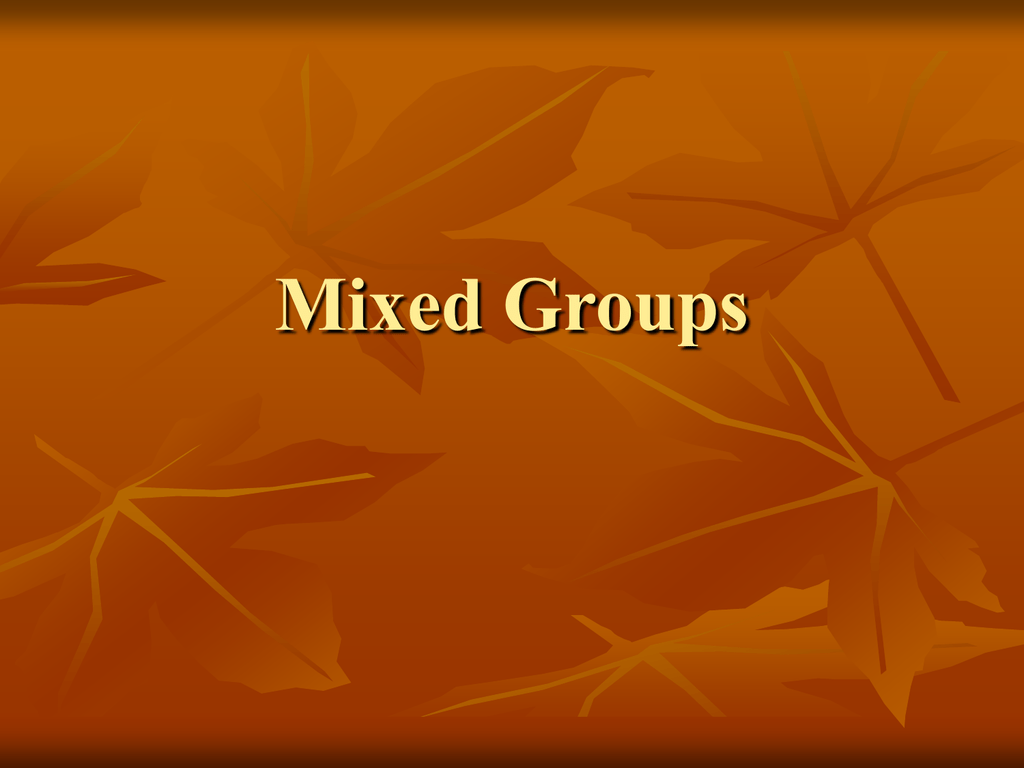 Mixed Groups
Properties of Metalloids



They can form ionic and covalent bonds.
Some can conduct electricity but not as well as
metals.
They are located on the stair-step line.
The Mixed Groups

They are groups 13-17
The Boron Group (Group 13)

Boron is a metalloid and is the first element in group
13. Pg 622


Boron is used in borax, which is in some laundry detergents
to soften water, it is also in boric acid, which is a mind
antiseptic.
Aluminum, a metal is the most abundant metal in the
Earth's crust.


It is used in soft drink cans, foil, cooking pans, and as
siding.
Aluminum is strong and light and is also used in making
airplanes.
The Carbon Group (Group 14)



Each element in group 14 has 4 electrons in is outside energy
level but this is where their similarities end.
Carbon is a nonmetal, silicon and germanium are metalloids,
and tin and lead are metals.
Carbon occurs in an element in coal and as a compound in oil,
natural gas, and foods.


Carbon can combine with oxygen to produce carbon dioxide CO2. In
the presence of sunlight plants use CO2 to make food.
Silicon is found in sand and almost all rocks and the soil.
Silicon occurs as two allotropes- which is when there is
different forms of the same element.

One allotrope of silicon is a hard, gray substance, and another is a
brown powder.
The Carbon Group Cont.





Semiconductors- are elements that conduct an
electric current under certain conditions.
Silicon is the main component in semiconductors.
Germanium the other metalloid in the carbon group is
used with silicon in making semiconductors.
Tin is used to coat other metals to prevent corrosion.
It is also combined with other metals to produce
bronze and pewter.
Lead was widely used in paint at one time but
because to is toxic it is not used for paint anymore.
Allotropes of Carbon



Two allotropes of carbon are graphite (in your
pencil) and diamonds.
The shape that the molecules combine in is
what determines which allotrope it will be.
Pg 624
The Nitrogen Group (Group 15)


The nitrogen family makes up group 15.
Nitrogen is used to make nitrates and ammonia
both of which are used in fertilizers.
Each breath you take is about 80% nitrogen
gas but it can not be used by out bodies in this
form.
The Oxygen Group (Group 16)



Oxygen makes up about 20 % or the air and is
necessary for life. It is also used in compounds such
as hydrogen peroxide.
Sulfur is a nonmetal that in a compound is used to
make the colors in paints.
Selenium (nonmetal) and tellurium and polonium
(metalloids) are the rest of group 16. You need
selenium in trace amounts in your diet but if you get
too much it can become toxic to your body.