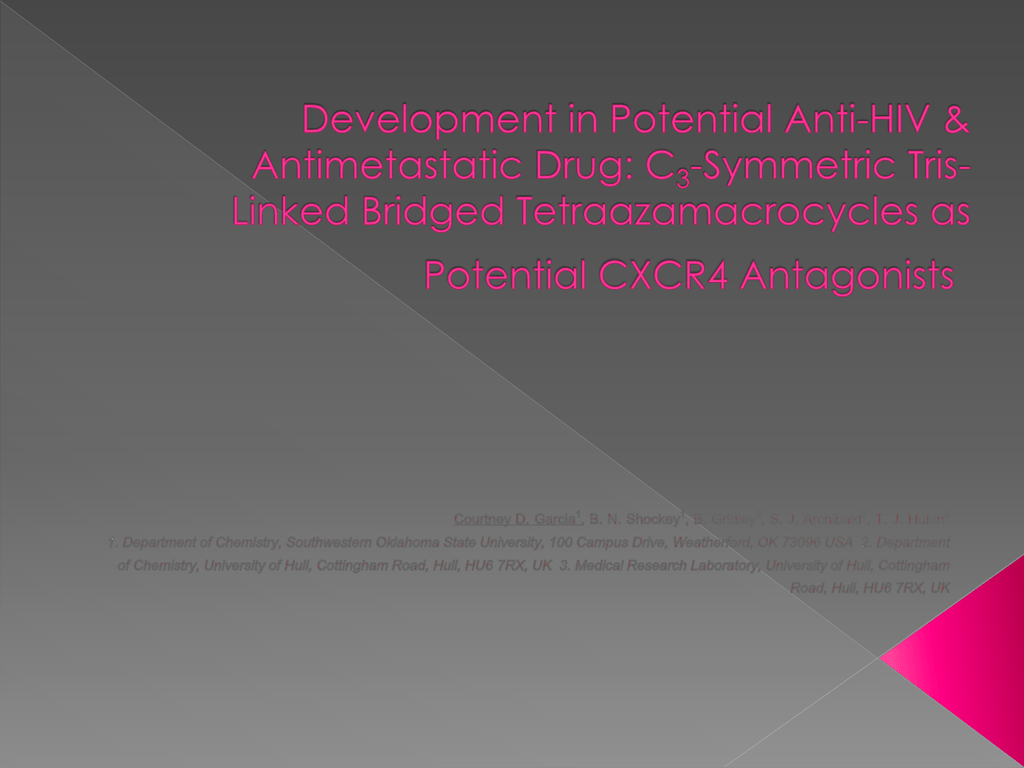 Amino Acids (20 different ones)
Glycine
Aspartate
Metal Ions
Fe, Mn, Cu, Zn
Can bind to N and O atoms (Ligands)
Often bind to 6 atoms at once
CH3
N
N
O
M
N
C
CH3
O
N
CH3
Can bind to Amino Acids in Proteins
Proteins = long chains of amino acids
Structure: collagen, keratin
Enzymes: perform reactions
Receptors: signal changes to occur

The CXCR4 Chemokine Receptor
› 7-helix, trans-membrane receptor
› Multiple roles in both normal and
disease functions
› Known co-receptor for HIV entry
into immune cells
› Expressed in multiple cancers and
may play a role in metastasis

AMD-3100
CXCR4 Receptor
› Synthetic bis-macrocycle
› Binds CXCR4 at Aspartate Amino
Acids #171 and #262
› Has been in clinical trials as a
"fusion inhibitor" of HIV
› Currently in clinical trials against
cancer and for stem cell
mobilization as "Mozobil" or
"Plerixafor"
› Genzyme recently purchased
AnorMED for $584 million
NH
N
NH
HN
N
HN
NH
HN
AMD3100 (Ligand 1)
InteractIon… Binding between AMD3100 & a CXCR4 Receptor
Background
• Importance of Metal Binding
–
–
–
–
AMD-3100 is protonated at physiological pH, and can bind through H-bonding
AMD-3100 strongly binds metal ions; Zinc(II) is 20 mM in blood plasma
Zn(II) and Cu(II) AMD-3100 complexes are more effective at binding to CXCR4
NMR studies of AMD-3100 suggest that complex configuration is important
• Modification of the macrocycle can select certain configurations
NH
HN
N
HN
N
NH
HN
N
HN
NH
Cyclam
All
HN
N
Side-Bridged Cross-Bridged
Trans-II
Cis-V
L3
N
N
N
N
N
N
N
N
CH3
H3C
L1
NH
N
NH HN
N
HN
NH HN
"AMD3100"
Research Plan
• Diversity of Potential Complexes
• Collaborators and Division of Labor
– Tim Hubin (Weatherford, USA)
• Synthesis of cross-bridged ligands and complexes
• Development of cyclen and homocyclen chemistry
– Steve Archibald (University of Hull, UK)
• Synthesis of side-bridged ligands and complexes
• X-ray crystallography
• CXCR4 binding studies
– Eric De Clercq (University of Leuven, Belgium) has agreed to test antiviral activity
of compounds
– Tony Ng (King's College, London) is carrying out anti-cancer experiments
What We knoW…
• The bis-linked complexes are highly efficient
antagonists, while single-macrocycle analogues are
much less effective.
My assIgned Project…
The Objectives
• Synthesize C3-symmetric tris-linked analogues of
our most effective bis-tetraazamacrocycle metal
complexes
• Characterize their chemical and physical
properties in preparation for determining if the
added macrocycle enhances their antagonism of
CXCR4
Reaction Step 1: Linking Macrocycles
Characterization
13C
NMR
Tris-Cyclen Tetracycle Salt
 Elemental Analysis Calculated as C39H63N12Br3 ∙ 10.1 H2O:
 Calc: C 41.90, H 7.46, N 15.03; Found: C 42.27, H 7.21, N 14.69

Reaction Plan Diverges:
Methylation and Forming the
Side-Bridged Variations
Methylated Tris-Cyclen Tetracycle Salt
Characterization
Methylated Tris-Cyclen Tetracycle Salt
Elemental Analysis Calculated as C42H72N12I6 ∙ 3 H2O:
Calc: C 32.33, H 5.04, N 10.77; Found: C 32.47, H
5.39, N 10.38
1H
NMR
Characterization
Tris-Side-Bridged Cyclams
Elemental Analysis Calculated as
C45H84N12 ∙ 7.8 H2O:
Calc: C 57.88, H 10.75, N 18.00; Found: C
10.35, H 5.39, N 17.60
M2+
Electrospray
Mass Spectrum
M+
Synthesis of Tris Cross-Bridged Cyclam & Cyclen
1. 15 eq NaBH, 95% EtOH sol
2. 5 days, N2 room temp
3. H20, HCl, KOH, CH2Cl2extractions
Tris Cross-Bridged Cyclam and Cyclen
Characterization
Tris-Cross-Bridged Cyclams
Electrospray
M2+
M3+
Mass Spectrum
M+
Final Reaction: Metal Complexations
[M3(trisligand)(Oac)3](PF6)3
M= Co2+, Ni2+, Cu2+, Zn2+
Characterization
Typical Metal Complex: [Ni3(tris-CB-Cyclens)(OAc)3](PF6)3 ∙ 6H2O
Elemental Analysis Calculated as Ni3C48H87N12O6P3F18 ∙ 6 H2O:
Calc: C 35.00, H 6.06, N 10.20; Found: C 34.66, H 5.61, N 10.20
Results:
o The ligand syntheses of the side-bridged and cross-bridged C3-symmetric
ligands proceeded similarly to the previously developed bis-ligand routes.
o Complexation with the desired metal ions proceeded as expected.
Characterization of the metal complexes is ongoing.
Conclusions:
o C3-symmetric tris-linked bridged tetraazamacrocycles are easily
produced, using an appropriate linker and following synthetic methods
adapted from the bis-linked analogues.
o Metal ion complexation proceeds smoothly following known procedures.
o The resulting complexes will inform our understanding of the
requirements for producing even more efficient CXCR4 antagonists of this
class.