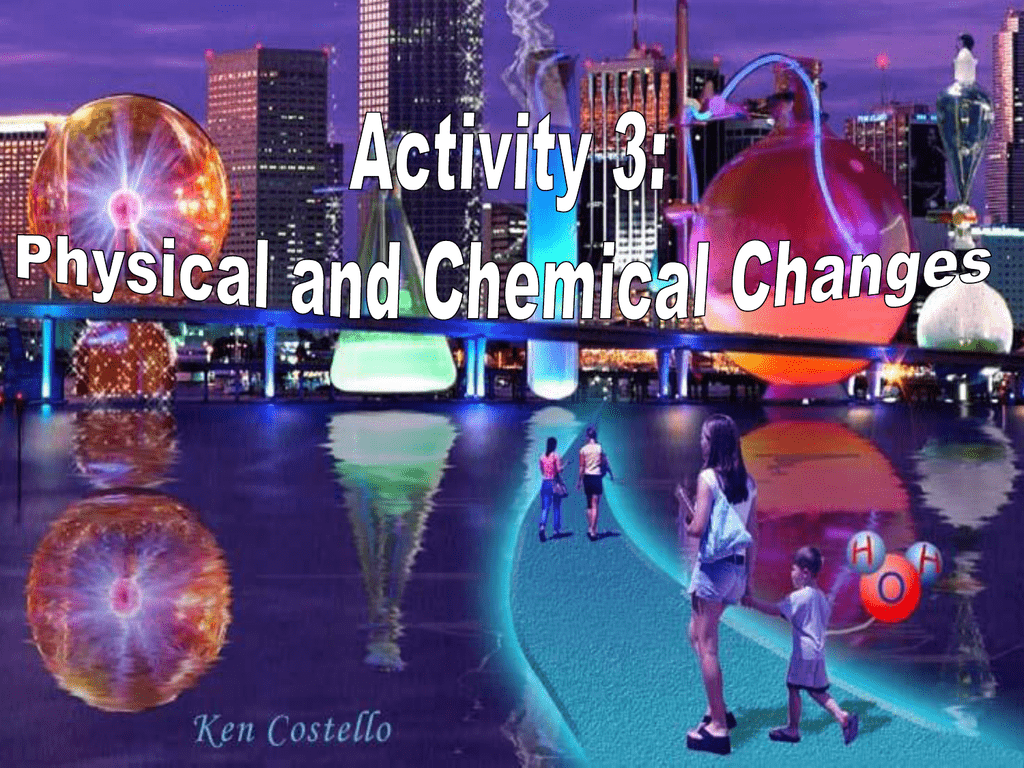 What Happened in Activity 3?
Solid Aluminum was added to a solution of
Copper (II) chloride
Al(s) + CuCl2(aq) → ?
Name a physical change that occurred???
How do you know it was a physical change???
Name a chemical change that occurred????
How do you know it was a chemical change???
Activity Series of Metals
Decreasing Activity
Li
K
Ba
Sr
Ca
Na
Mg
Al
Mn
Zn Al(s) + CuCl2(aq) → AlCl3(aq) + Cu(s)
Fe
Cd
Co
Ni
Sn
Pb
H
Cu
Ag
Hg
Au
What do you see?
Law of Conservation of Matter
Matter can not be created or destroyed!
Matter can only change forms!
Physical change
The material itself is the
same before and after the
change.
The change can usually be
"undone."
Ice melting: an
example of a
physical change.
Physical Change
You still have bronze!
Melting bronze into a liquid
Physical Change
Ripping Paper
But this one can't be undone so easily.
Origami
The form/shape may change,
but you still have paper
Cracking an Egg
Another example of an
irreversible physical change.
Beating an Egg
Hammering Metal
Malleability
is a physical
property of
metals.
Malleable: the ability to be
hammered, pressed or rolled
into thin sheets without
breaking is a physical change.
Ghost Crystals
(crosslinked polyacrylamide) + water
Physical change!!
Given time the water will
evaporate away and leave the
crystals
Sodium Polyacrylate
Theses crystals are
If left to dry long
found in the "super
enough, it would
absorbent layer" in
return to its original
most disposable
state or appearance.
diapers.
It can absorb 200 to 300 times
its weight in tap water
Physical Change
Review
1. Only the state of matter changes
2. All Phase changes are physical
changes (Solid---Liquid---Gas)!
3. NO new substances are formed!
4. Not all physical changes are
reversible (crushing a rock).
Chemical Change
The substances present at the beginning of
the change are not present at the end;
new substances are formed.
The change cannot be "undone."
A nail rusting: an example of
chemical change.
Raw Egg
Fried Egg
COOKING
Chemical Change!
The proteins in the egg
have changed!
The cooked egg cannot
change back to a raw egg.
Chemical Reaction!
Your body chemically
reacts with the food
you eat to make
nutrients and energy!
Burning
Chemical Change!
Rust is a new substance!
(color change)
Car with rust =
PHOTOSYNTHESIS
6 CO2 + 6 H2O → 6(CH2O) + 6 O2
sugar
Evidence of a Chemical Change
• Color Change
• Bubbling (formation of a gas)
• Light given off
• Temperature change
• Precipitate formed.
Chemical Reaction!
Formation of a Precipitate
lead iodide (PbI2), forms from the
mixture of two clear liquids,
potassium iodide (KI) and
lead nitrate (Pb(NO3)2).
Chemical Change Review
1. A chemical reaction occurs
2. New substance(s) are formed
with NEW properties
3. It can not be reversed!
Macroscopic
Definition
Microscopic
Definition
Physical
Change
The matter is the same.
The original matter can
be recovered.
The particles of the
substance are broken apart,
and the atoms are
rearranged.
Chemical
Change
The matter is different.
The old matter is no
longer present. The
original matter cannot be
recovered.
The particles of the
substance are broken apart,
and the atoms are
rearranged into new
particles, forming a new
substance.
Physical vs. Chemical
• Examples:
– melting point
physical
– flammable
chemical
– density
physical
– magnetic
physical
– tarnishes in air
chemical
Yellow & Blue
Switcheroo
Yellow & Blue
Switcheroo
Oscillating Reaction
Chemical! Color Change indicates the chemical
properties of the indicator were changed!
New product formed!
Can't be reversed!
Pour a Rainbow
Acids to a Base Reactions
Color change & Polymerization
A Chemical Change Occurs!!
We have now made our own slime!
Old Foamy
Old Foamy
Chemical Change
Old Foamy
Hydrogen Peroxide & Sodium Iodide Solution
With Dishwashing Detergent
New product formed!
Can't be reversed!
Whoosh Bottle
Chemical Change
Exothermic Reaction:
O2 + Combustion CO2 & H2O
Color & Heat released
New product formed!
Can't be reversed!