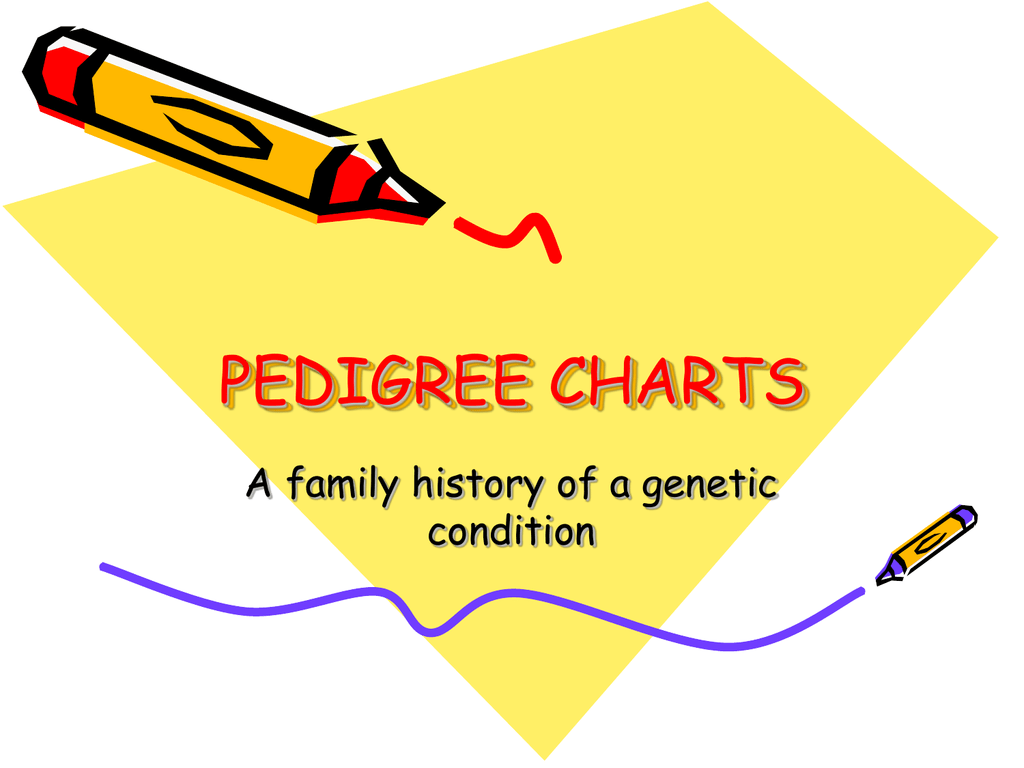 PEDIGREE CHARTS
A family history of a genetic
condition
Quick Review
• Genotype = what genes someone has
• Genes are usually represented by a letter, a
capital letter for the dominant trait, a small
case for the recessive.
• Example: Tongue Rolling is dominant, so we use
R to represent the tongue rolling
• Inablility to roll your tongue is recessive so
we use r to represent the non-rolling gene
• For every trait, you get a gene from each
parent
Genotypes and Phenotypes
• Mom and Dad are Rrthat is their genotype,
they can also be
described as
heterozygous-they have
1 of each gene
• What is their
PHENOTYPE? (Roller or
non-roller?)
• The youngest son has a
genotype of rr-he is
Homozygous recessive-2
copies of the recessive
gene
• His phenotype?
What is a pedigree
chart?
• Pedigree charts show a record of the
family of an individual
• They can be used to study the
transmission of a hereditary condition
• They are particularly useful when
there are large families and a good
family record over several
generations.
Studying human genetics
• Pedigree charts offer an ethical way
of studying human genetics (Because
you cannot make certain individuals
breed in order to study genetics.)
• Today genetic engineering has new
tools to offer to doctors studying
genetic diseases
• A genetic counsellor will still use
pedigree charts to help determine
the distribution of a disease in an
affected family
Symbols used in pedigree
charts
•
•
•
•
•
A marriage with five children, two
daughters and three sons. The next to
eldest son is affected by the condition.
Normal male
Affected male
Normal female
Affected female
Marriage
Eldest child  Youngest child
Symbols
• Shaded individuals
have the trait
you're studying
• Boys = squares
• Girls = circles
• Married-connected at
side
• Siblings-connected at
TOP not at the side
(hopefully not siblings
AND married)
• Oldest child-to the
left
• Question-if shaded
individuals in this
pedigree have blue
eyes, what is the
GENOTYPE of the
parents?
Other Symbols
• Divorced,
separated
• Deceased
• Identical twins
• Fraternal twins
Organising the pedigree
chart
• A pedigree chart of a family showing
20 individuals
Organising the pedigree
chart
– Generations are identified by Roman
numerals
I
II
III
IV
Organising the pedigree
chart
• Individuals in each generation are identified by
Arabic numerals numbered from the left
• Therefore the affected individuals are II3, IV2
and IV3
I
1
II
III
IV
2
3
4
5
6
7
What's Going On?
Shaded = Blue Eyes
• 1 and 2 split after
having 4, 2 then had kids
with 3 and split with her
too after 5-9 were born
• Genotypes of 1, 4,7?
• Genotypes of 2 & 3?
• Genotypes of 5,6, 8, 9,
10, 11, 12?
Time to Practice…
1. Complete the practice worksheet on
pedigrees in class in pairs (we will
review)
2. Pedigree activity – you will be the
geneticist trying to figure out the
pattern of inheritance for different
traits, disorders, or diseases.