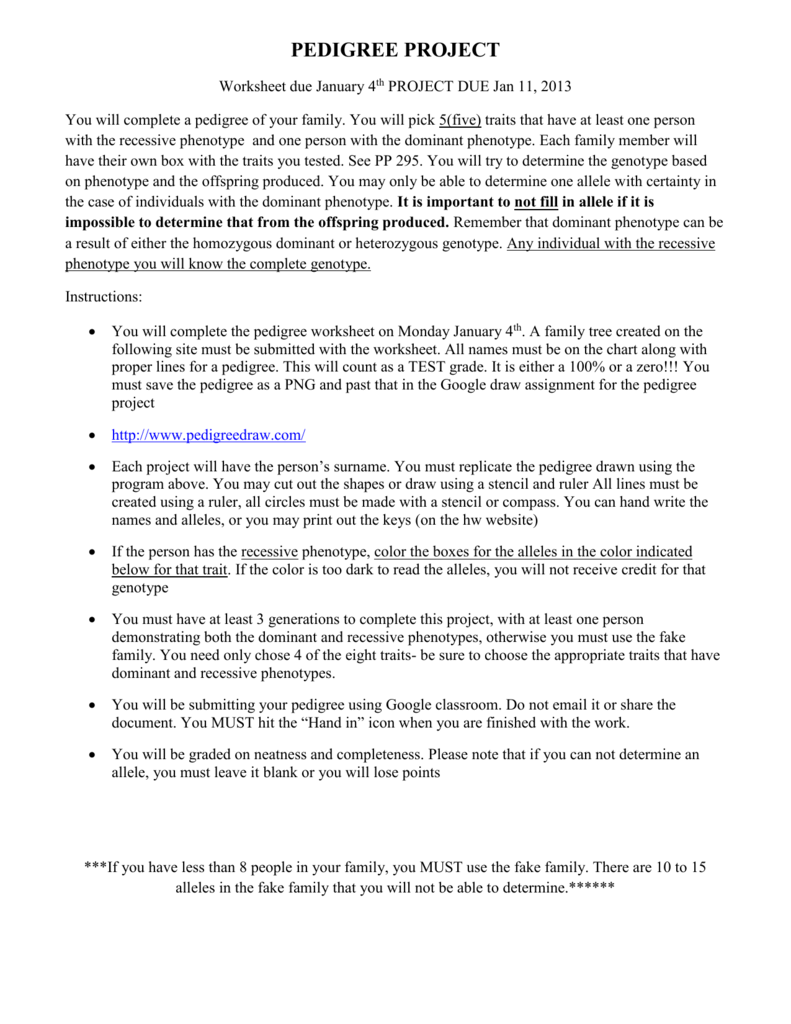 PEDIGREE PROJECT
Worksheet due January 4th PROJECT DUE Jan 11, 2013
You will complete a pedigree of your family. You will pick 5(five) traits that have at least one person
with the recessive phenotype and one person with the dominant phenotype. Each family member will
have their own box with the traits you tested. See PP 295. You will try to determine the genotype based
on phenotype and the offspring produced. You may only be able to determine one allele with certainty in
the case of individuals with the dominant phenotype. It is important to not fill in allele if it is
impossible to determine that from the offspring produced. Remember that dominant phenotype can be
a result of either the homozygous dominant or heterozygous genotype. Any individual with the recessive
phenotype you will know the complete genotype.
Instructions:

You will complete the pedigree worksheet on Monday January 4th. A family tree created on the
following site must be submitted with the worksheet. All names must be on the chart along with
proper lines for a pedigree. This will count as a TEST grade. It is either a 100% or a zero!!! You
must save the pedigree as a PNG and past that in the Google draw assignment for the pedigree
project

http://www.pedigreedraw.com/

Each project will have the person's surname. You must replicate the pedigree drawn using the
program above. You may cut out the shapes or draw using a stencil and ruler All lines must be
created using a ruler, all circles must be made with a stencil or compass. You can hand write the
names and alleles, or you may print out the keys (on the hw website)

If the person has the recessive phenotype, color the boxes for the alleles in the color indicated
below for that trait. If the color is too dark to read the alleles, you will not receive credit for that
genotype

You must have at least 3 generations to complete this project, with at least one person
demonstrating both the dominant and recessive phenotypes, otherwise you must use the fake
family. You need only chose 4 of the eight traits- be sure to choose the appropriate traits that have
dominant and recessive phenotypes.

You will be submitting your pedigree using Google classroom. Do not email it or share the
document. You MUST hit the "Hand in" icon when you are finished with the work.

You will be graded on neatness and completeness. Please note that if you can not determine an
allele, you must leave it blank or you will lose points
***If you have less than 8 people in your family, you MUST use the fake family. There are 10 to 15
alleles in the fake family that you will not be able to determine.******
Dominant
R
M
E
P
T
W
N
D
F
Tongue rolling
Second toe shorter
Brown eyes,green & hazel
PTC tasters
Straight thumb
Widows peak
Cleft chin
Dimples
Free earlobes
r
m
e
p
t
w
n
d
f
Recessive
COLOR ON
PROJECT
No tongue roll
pink
second toe longer
yellow
blue,
brown
No taste
orange
Hitch-hikers thumb
purple
Straight hairline
grey
No cleft in chin
green
No dimples
red
Attached earlobes
Blue
NAME___________________________________________________SCI#___________________
yes= 5
ponts
phenotypes are colored correctly
genotypes are correctly given
ruler is used for all lines
x2
x2
x2
family name is on front and names
for each person are given
proper lines are used for pedigree
x2
6 appropriate traits are chosen
all genotypes that could not be
determined are left blank
x2
proper size paper is used
rubric with name and science
number is stapled to front with
rubric facing out
3 generations are shown
x2
proper shapes are used for
individuals
project is neat, well presented
at least 8 people are on tree or
fake family is used
total = 100 points
x2
no=
zero
THIS IS WORTH 2 TEST GRADES.