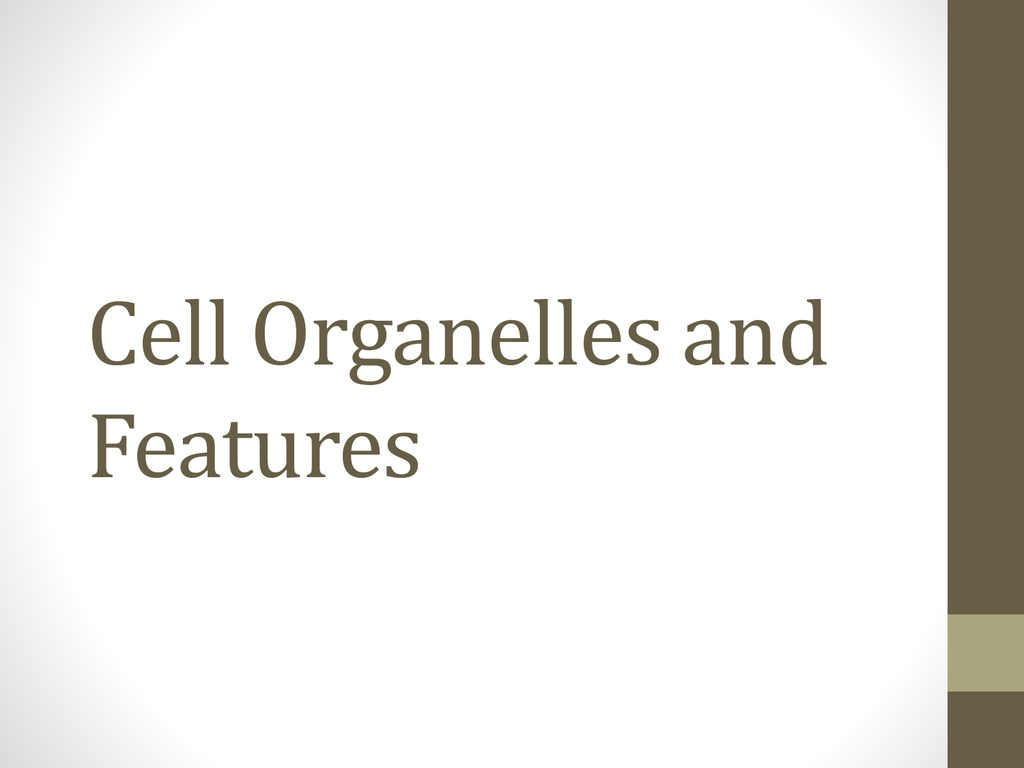 Cell Organelles and
Features
Plasma/Cell Membrane
• Found in both prokaryotes and eukaryotes
• Structure:
• Composed of: phospholipids, cholesterol, and proteins
• Organization:
• Phospholipids form a bilayer
• Proteins and cholesterol are embedded in the bilayer
Cell-Membrane = Fluid Mosaic
Model
• Membrane's lipids and proteins move laterally within the
bilayer
• The "pattern" of the mosaic is always changing
Function of the Membrane
Components
1. Phospholipids
a.
b.
Control what enter and exit the cell
Give structure to the cell
2. Proteins
a.
b.
c.
d.
Control what enter and exit the cell
Interact with external environment
Facilitate chemical reactions
Receive signals
3. Cholesterol
a.
Maintain fluidity of cell
Nucleus
• Structure:
1.
2.
Nucleoplasm
Nuclear envelope with nuclear pores
• Double membrane
3.
Nucleolus
• Contains DNA
Functions of Nucleus
1. Nucleoplasm
• Surrounds and protects DNA
2. Nuclear envelope and nuclear pores
• Controls what enters and exits the nucleus
3. Nucleolus
• Production of ribosomes (structures that synthesize proteins)
Ribosomes
• NOT technically organelles
• Made of proteins and RNA, but have NO membrane
• Some ribosomes are free-floating in cytoplasm others are
bound to the endoplasmic reticulum
Endoplasmic Reticulum (ER)
• Structure: system of membranous tubes and sacs (cristernae)
• Two types of ER: Rough and Smooth
• Rough ER is covered with ribosomes
• Smooth ER lacks ribosomes
Function of the ER
• Both types of ER serve as intracellular highway along which
molecules move from one part of the cell to the other
• RER
• Produces phospholipids and proteins
• SER
• Build lipids, such as cholesterol and steroid hormones
• Detoxifies blood and poisons
Golgi Apparatus
• Structure: system of flattened, membranous sacs
• Function:
1.
2.
Modifies proteins that it receives from the RER
Exports protein to the appropriate location
Vesicles
• Structure:
• small, spherically shaped sacs
• Surrounded by single membrane
• Vesicles are classified by their contents
• Often migrate and merge with plasma membrane to release
contents
• Types of Vesicles: lysosomes, peroxisomes, glyoxysomes,
endosomes
Lysosomes
• Contain digestive enzymes
• Created by the Golgi apparatus
• Responsible for breaking down cells when it is time for the cell
to die = autolysis
Food
Vacuoles
are referred
to as
endosomes
Peroxisomes
• Contain enzymes that breakdown alcohol and drugs into
peroxide (H2O2)
• Neutralize free radicals
• Not created by the Golgi apparatus
• Special type of peroxisome = glycoxysomes
• Found in seeds of some plants
Ribosomes, ER, Golgi, and
Vesicles all play a role in
protein synthesis
1.
2.
3.
4.
Proteins are assembled by ribosomes on the RER
Vesicles transport proteins to the Golgi apparatus
Golgi modify proteins and package them into new vesicles
Vesicles fuse with the plasma membrane to release proteins
outside the cell
5. Vesicles containing enzymes that remain inside the cell form
lysosomes, peroxisomes, endosomes, etc.
Mitochondria
• Structure:
• Outer and inner membrane
• Inner membrane has many folds = cristae
• Contain DNA
• Function: transfer energy from organic molecules to ATP
(cellular respiration)
Cytoskeleton
• Structure: Network of thin tubes and filaments that crisscross
in the cytosol
• Three major components:
1.
2.
3.
Microtubules
Microfilaments
Intermediate filaments
• Function:
1.
2.
Give shape and support to the cell
Acts as a system of internal tracks for intracellular movement
Cytoskeleton
Cilia and Flagella
• Structure: Hairlike structures that extend from the surface of
the cell
• Part of the cytoskeleton
• Function: Assist in movement
Centrioles
• Structure: two short cylinders of microtubules at right angles
• In the cytoplasm near the nuclear envelope
• Part of the cytoskeleton of animal cells
• Function: organize microtubules during cell division
Do all cells contain all of these
organelles in the same
concentration?
What organelle(s) would you
find a lot of in muscle cells?
What organelle(s) would you
find a lot of white blood cells?
What organelle(s) would you
find in a skin cell?