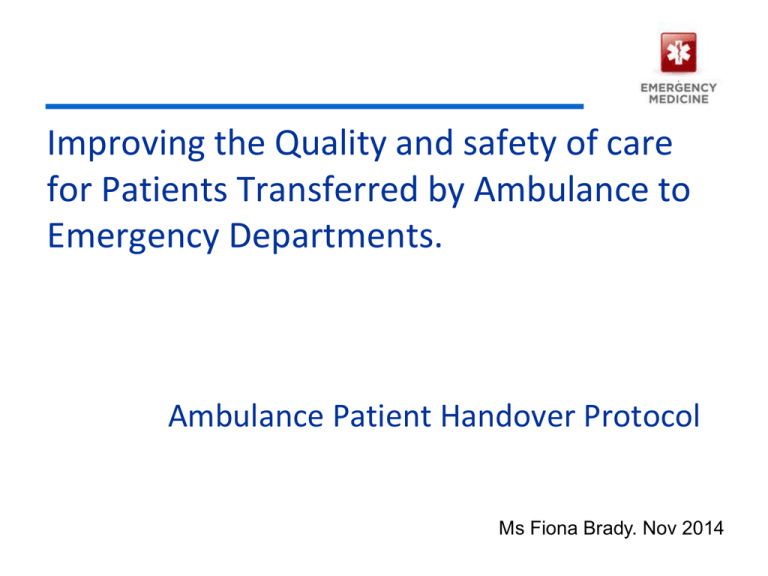 Improving the Quality and safety of care
for Patients Transferred by Ambulance to
Emergency Departments.
Ambulance Patient Handover Protocol
Ms Fiona Brady. Nov 2014
Strengths….
• Collaborative document
• Supported by :
• Integrated education & implementation process
What?
• Standard national protocol.
• Integrated care between Pre-hospital
Emergency Care Practitioners and ED staff
• Structured, yet flexible handover process
• Positive contribution of all staff
• Optimise patient safety and quality of care
• Allow's compliance with KPI's
EMP: Ambulance Patient Handover Protocol
Nov 2014.
Background.
• Study in New South Wales 2010.
• 373 Staff Piloted and trained. Now adopted as
practise.
Post introduction showed marked improvement in
Structure of handover.
Amount of information handed over.
Comprehension of ED Staff.
Eye Contact.
Handover Duration.
Duration Variation.
Background to Project.
• Developed to support the recommendations from
HIQA Tallaght Report 2012.
"all hospitals in Ireland should monitor the implementation of
the national ambulance patient handover time in line with the
national emergency medicine programme which requires
95%of patients being handed over from an ambulance crew to
the emergency dept. staff in less than 20 minutes and where
this is not met, corrective action should be taken"
E-Learning education programme
• Support's the implementation
• Single programme for all health care providers
• Scenario based – interactive, reflective, links
to further reading
• Self-directed
• Takes 40-45 minutes
• Delivered via education portals
What?
Handover/Governance.
Handover time =
Clinical information time
AND
Patient movement time.
Clinical Governance now
transferred from Prehospital to ED personnel.
Ambulance Handover KPI's.
Patient Safety Objectives
• Promotes efficient and timely patient handover.
• Enables transfer of Key patient information.
• Improves Safety and Quality of patient care.
• Optimises ED compliance with HIQA/EMP
national KPI for Ambulance handover time.
• Process makes available data for ED's to
monitor their KPI compliance.
Training - What to expect?
• E-learning programme for all ED staff (45 mins duration).
• Certificate of training for all ED members.
• 1 CME point from Nursing and Midwifery Board of
Ireland.
• One CPD point for Medical Staff.
• Evaluation report at completion of pilot.
Protocol Roll Out.
• Initial pilot in one region.
• South East Emergency Care Network
St Luke's Hospital Kilkenny(August 2014)
Wexford General Hospital (Sept 2014)
Training on-going Nationally with Go-live dates
Set for several sites.
Handover Protocol.
Thank You.