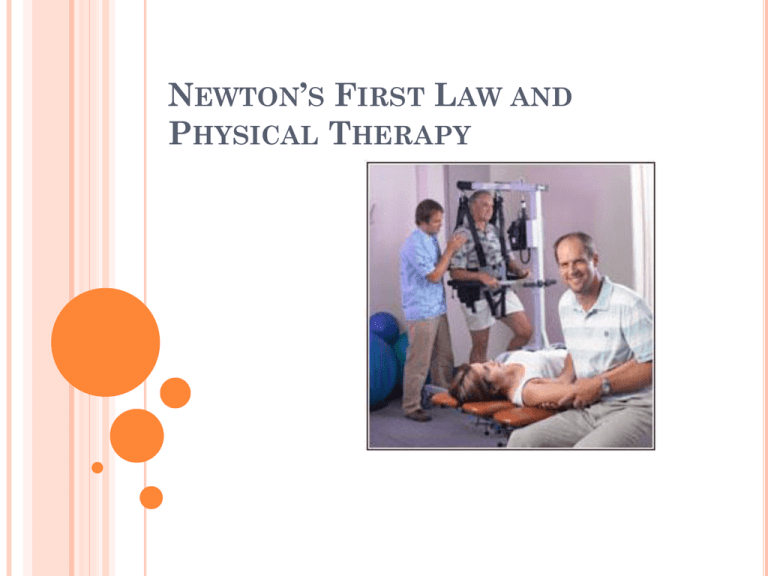 NEWTON'S FIRST LAW AND
PHYSICAL THERAPY
PINCHED NERVES
The neck is a complex place when it
comes to nerves, and neck pain can
stem from all manner of things,
including a pinched nerve in the
shoulder. Nerves can become trapped
in the shoulder itself, due to the
cramped conditions in an area called
the brachial plexus. The brachial
plexus has a number of cervical
nerves travelling through it to the
upper limbs.
Note: Pinched shoulder nerves
prevent people from lifting their
arm.
TREATMENTS?

Ice – This will reduce inflammation.
What if ice does not work?

Physical Therapy Routine - TRACTION
CERVICAL TRACTION
One technique used by physical therapist
and chiropractors to provide pain relief
and improve motion is cervical traction.
Traction gently extends the neck
opening the spaces between the cervical
vertebrae and temporarily alleviating
pressure on the affected discs. Neck
traction can either be done continuously
or intermittently, alternating between
short periods of pulling and resting.
It's also possible to do cervical traction at
home such as the device shown here.
There are pulley systems that you can
hook up to a doorway, or devices that
will enable you to perform cervical
traction while lying down.
PHYSICS APPLICATION
Cervical traction works based on the idea of
EQUILIBRIUM .
F
net
0
TNeck  m gwaterbag
T
T
mg
mg
YOUR HW
Find a MEDICAL PHYSICS application on the
internet in the form of a BLOG, VIDEO, or
ARTICLE. Post this information on the OHS
Physics Facebook Page and BRIEFLY summarize
the physics in a comment as a ONE SENTENCE
SUMMARY. NO REPEAT POSTS! Yes, you have
to join first! A vote for the most interesting post
will commence after the submission deadline.
The winner will win a $20 gift certificate to
THINKGEEK.COM
"Stuff for smart masses".
ONE SENTENCE SUMMARY
Identify the
THING being
summarized
Tell what it "begins
with"
Tell what's in the
middle (what it's
mostly about "covers",
"discusses",
"presents".)
Tell what it ends
with….
Here is your model:
___________ began with _______________( covering,
discussing, presenting, developing the idea that),
then discussed___________________________
and (or then) ended with ( or when )
__________________________.