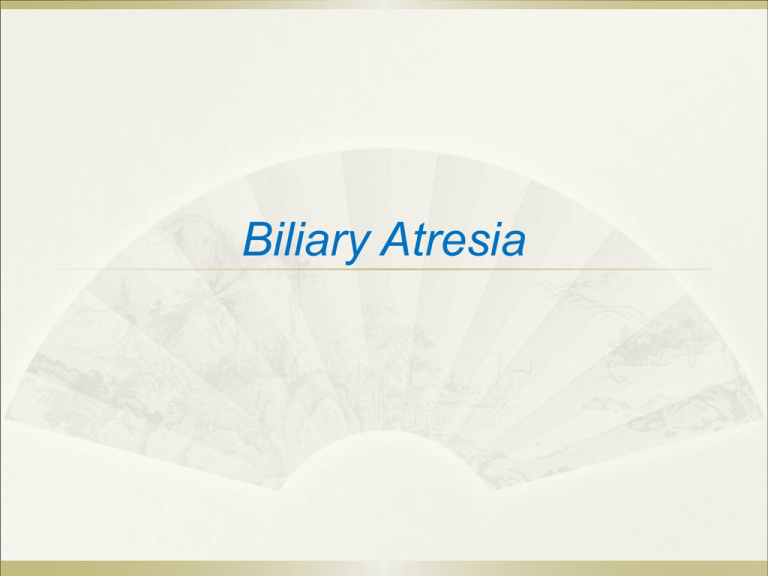 Biliary Atresia
Introduction

A cholangiodestructive disease affecting all
parts of biliary tract.

Untreated :cirrhosis,liver failure and death
Epidemiology



1 in 10,000 – Japan and China
1 in 17,000 – UK, USA, and Europe
F>M
Etiology
1.
2.
The cause of BA is not known
Hypotheses

Developmental

Perinatal acquired

Immunological overreaction
Classification
Classification of Biliary Atresia
Type
Incidence (%) Description
1
∼5%
Level of obstruction within the common bile duct.
2
∼2%
Level of obstruction within the common hepatic duct.
3
>90%
Obstruction is within the porta hepatis with no visible bilecontaining proximal lumen.
Classification
Clinical Features




Jaundice
Pale stools
Dark urine
Failure to thrive
Presentation of biliary atresia
Diagnosis





It is possible to make the correct diagnosis in
>80% of cases before a laparotomy
Ultrasound
Liver biopsy
In Japan, use duodenal intubation and
measuement of intralumenal bile
ERCP,percutaneous cholangiography
Differential Diagnosis

Obstructed choledochal malformations

Spontaneous perforation of the bile duct

others
Management


Kasai-type portoenterostomy
Laparoscopic-assisted portoenterostomy has
been described and is clearly possible although
a true comparison with the open procedure

If fails, or the child develops develops
significant complications of chronic liver
disease, then liver transplantation will be
required if available
Complications




Cholangitis (40%)
Portal hypertension
Hepatopulmonary syndrome
Malignancy
Outcome
Prognosis post-KPE can be affected by
1. Age at surgery
2. Experience of surgeon/center
3. BASM – poor prognosis
Thank you !