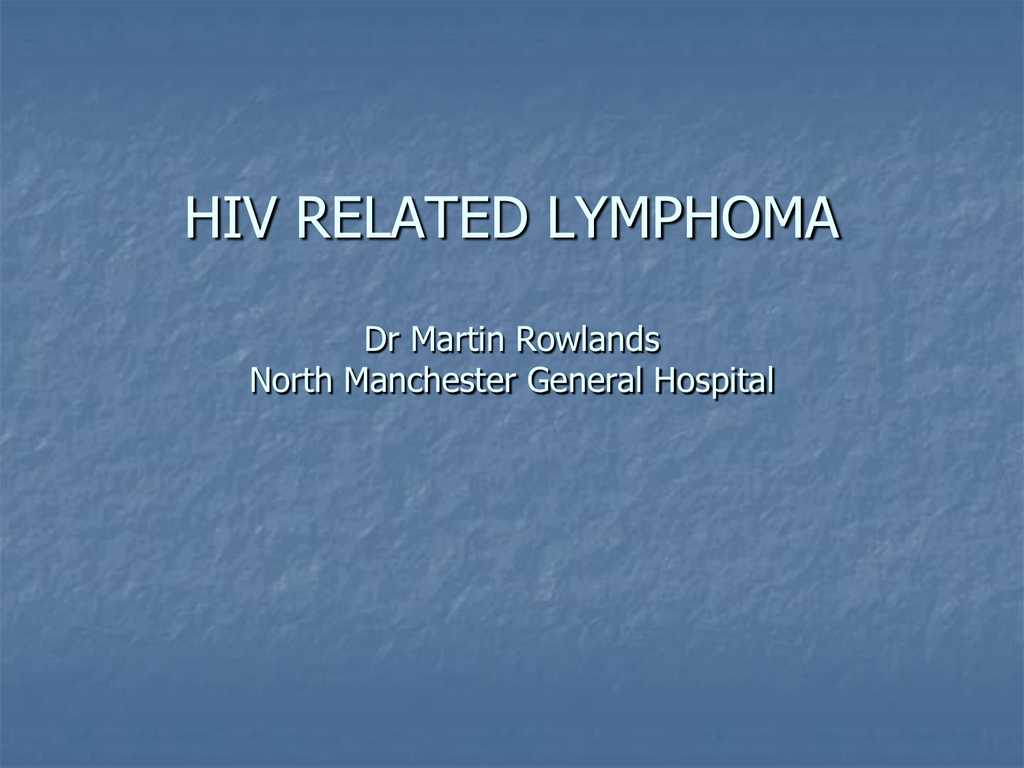 HIV RELATED LYMPHOMA
Dr Martin Rowlands
North Manchester General Hospital




First description of high grade NHL in 90 homosexual
men with AIDS in 1984.
Aggressive B cell lymphoma classified as AIDS defining
illness in 1985.
Lymphoma second most common cancer associated with
HIV infection.
Relative risk of developing lymphoma within 3 years of
HIV diagnosis is increased by 165 fold compared with
people without HIV infection.

Risk 652 fold for diffuse immunoblastic lymphomas.

3600 fold for primary CNS lymphomas.

1000 fold for Burkitt lymphomas.

113 fold for intermediate grade Non Hodgkins lymphomas.

14 fold for low grade Non Hodgkins lymphomas.

Risk of Hodgkins Disease increased 5 to 15 fold (x10).

SPECTRUM OF HIV ASSOCIATED LYMPHOMAS
1.Lymphomas also occurring in immunocompetent:





Burkitt lymphoma: Classical
Plasmacytoid differentiation.
Diffuse large B cell lymphoma: Centroblastic
Immunoblastic
Extranodal marginal zone lymphomas
Peripheral T cell lymphomas :Anaplastic
NOS
Classical Hodgkins lymphoma.




LYMPHOMAS SPECIFIC TO HIV INFECTION.
Primary effusion lymphomas : Effusion only
Solid extracavitatory
Plasmablastic lymphomas : Oral cavity
Systemic
OTHER:
Multicentric Castlemans Disease (plasma cell variant).





CD4 ( T helper ) cell is specifically infected and lysed by HIV.
CD4 count is used as a measure of immunocompetence.
Normal CD4 count 500-1500 x 106 / L.
HAART usually started when CD4 < 350
Increasing opportunistic infections and malignancies as CD4
count falls ( particularly <100)
HIV viral load measure ( PCR) of HIV viraemia.
Usual aim of HAART is undetectable viral load and increase in
CD4 count.





OVERVIEW OF LYMPHOMAGENESIS
Defect of immune surveillance i.e reduced CD4 count.
This is a particular feature of DLBC and Primary CNS
lymphomas whose incidence increases as CD4 count falls.
The incidence of Burkitt lymphoma and Hodgkins disease
is little affected by CD4 count.
Chronic immune stimulation either by HIV or other
pathogens.
B cell dysregulation (Igs,cytokines)
Other viruses: EBV in DLBC,HD,Plasmablastic
lymphoma,Hodgkins disease.
HHV-8 in Primary effusion lymphoma and Castlemans
disease.
(Lymphomas seen with particularly low CD4 counts).




THE EFFECT OF HAART
Significant reduction in the incidence of DLBC
(immunoblastic) and Primary CNS lymphoma since the
introduction of effective HAART.
No change / proportional increase in incidence of Burkitt
lymphoma and Hodgkins disease which are largely
unrelated to CD4 count.

Differential Diagnoses:

Tuberculosis.

Other malignancies.

Immune reconstitution syndromes.

Toxoplasmosis.

Features of clinical presentation in HIV lymphoma.

Usually present at advanced stage with B symptoms.

Extranodal disease common i.e. G.I.tract

Marrow and meningeal involvement more common.

Both Hodgkins and Non Hodgkins lymphomas behave with
more aggressive course.











PRETREATMENT INVESTIGATIONS:
FBC, Renal and liver function, LDH, urate, IgGS.
Histology review.
Marrow aspirate+trephine (cytogenetics, immunology)
CD4 , HIV viral load.
CT Scans. (MR Brain)
(PET scan )
Echo / LVEF
CMV,Hep B+C,Toxoplasma serology
MAI screen.
LP for CSF cytology +/- intrathecal Rx. (DLBC ,
Burkitt,Plasmablastic).











TREATMENT (general)
HAART (avoid AZT,didanosine)
Hydration
Allopurinol / Rasburicase.
Septrin / Dapsone
Aciclovir
Fluconazole
Azithromycin ( CD4 count <100)
Nutrition
CMV PCR monitoring. ( CD4 count <100)
Growth factor support.
Complicating Factors:
Co-Infections:
Hepatitis B
Hepatitis C
Tuberculosis
Mycobacterium avium intracellulare (MAI)
Pneumocystis.
Psychological / Social
"Double diagnosis" at presentation
Family issues
Drug abuse.

DLBC NHL

Pre HAART poor outcomes .Median survival 5-6mnths.


HAART era :
CHOP+Rituximab
CDE-R
DA-EPOCH-R
CR 58%
CR 70%
CR 73%
Caution in use Rituximab at CD4 counts <50.
CNS prophylaxis required.

In good performance relapsed patients HDT + PBSC is a
viable option.





PRIMARY CNS LYMPHOMA
Typically occurs with marked immunosuppression
CD4<50.
Marked reduction in incidence post HAART.
Always EBV positive DLBC NHL.
Commonly multifocal brain lesions.

High dose methotrexate iv
Followed by brain XRT.

Poor prognosis survival months to 1-2 years.


BURKITT LYMPHOMA

Poor response to CHOP type chemotherapy.

Very good results with :
R-CODOX-M / R-IVAC
x 4 Courses.
(R-HyperCVAD / R-HDMTX/Cytarabine
DA-EPOCH-R

CNS disease potentially curable.



x 6)

HODGKINS DISEASE.

More aggressive histologies common.
Usually advanced disease at presentation.
Bone marrow involvement approx.40%

Localised disease ( 1A ) ABVD x3 + XRT.

Advanced Disease ABVD X 6-8

Favourable outcome in Post HAART era.








PLASMABLASTIC LYMPHOMA
Aggressive disease.
Characteristically presents with oral cavity mass.
Systemic forms occur
No standard treatment
Poor responses to CHOP like treatments.
Increasing evidence of good responses to more intensive
treatments such as: HyperCVAD / HD MTX / Cytarabine
CODOX-M / IVAC
EPOCH







PRIMARY EFFUSION LYMPHOMA
Associated with HHV8 +/- EBV
Usually presents with pleural,pericardial effusions or
ascites without mass lesions.
May relapse with extrcavitatory form.
No standard treatment.
CHOP type therapies +/- Rituximab if CD20 +ve.
Prognosis generally poor.Median survival <6mnths.


MULTICENTRIC CASTLEMAN'S DISEASE.
Commonly presents with lymphadenopathy,effusions and
marked constitutional symptoms +/- haemolysis.

Standard treatment now Rituximab X 4

Prone to relapse / progression to NHL.

Commonly ( approx 30%) occur with Kaposi sarcoma

Use HHV-8 PCR to monitor for early relapse.