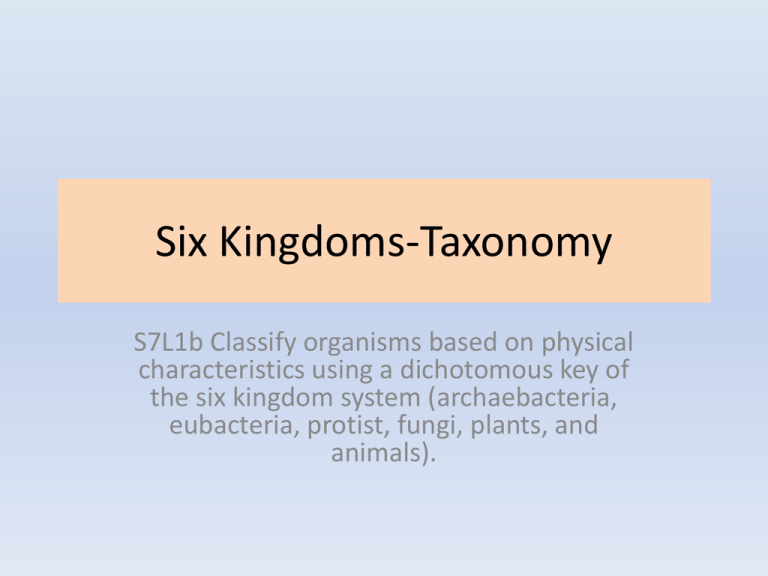 Six Kingdoms-Taxonomy
S7L1b Classify organisms based on physical
characteristics using a dichotomous key of
the six kingdom system (archaebacteria,
eubacteria, protist, fungi, plants, and
animals).
Current Version of the Hierarchy of Living Things
• Super kingdom is the broadest category and includes the
prokaryotes and the eukaryotes.
• Prokaryotes
– microscopic unicellular organisms
– few organelles
– no nucleus.
– Mostly photosynthesizers or decomposers
– Some are pathogens
• Disease-causing
– Further divided into two kingdoms
• Eubacteria and Archaebacteria
Current Version of the Hierarchy of Living Things
• Eukaryotes
– Unicellular AND multicellular
– Divided into four kingdoms
• Protista
• Fungi
• Plantae
• Animalia
Kingdoms Divide
•
•
•
•
•
•
•
Kingdom
Phylum or divisions
Classes
Orders
Family
Genus
Species
Current system of organization
• Carl Linnaeus
• Binomial nomenclature
• A system of naming organisms using two-part
names to label the species
• Scientific name
– Genus (generic)
– Species (specific)
– Homo sapiens is the scientific name for humans.