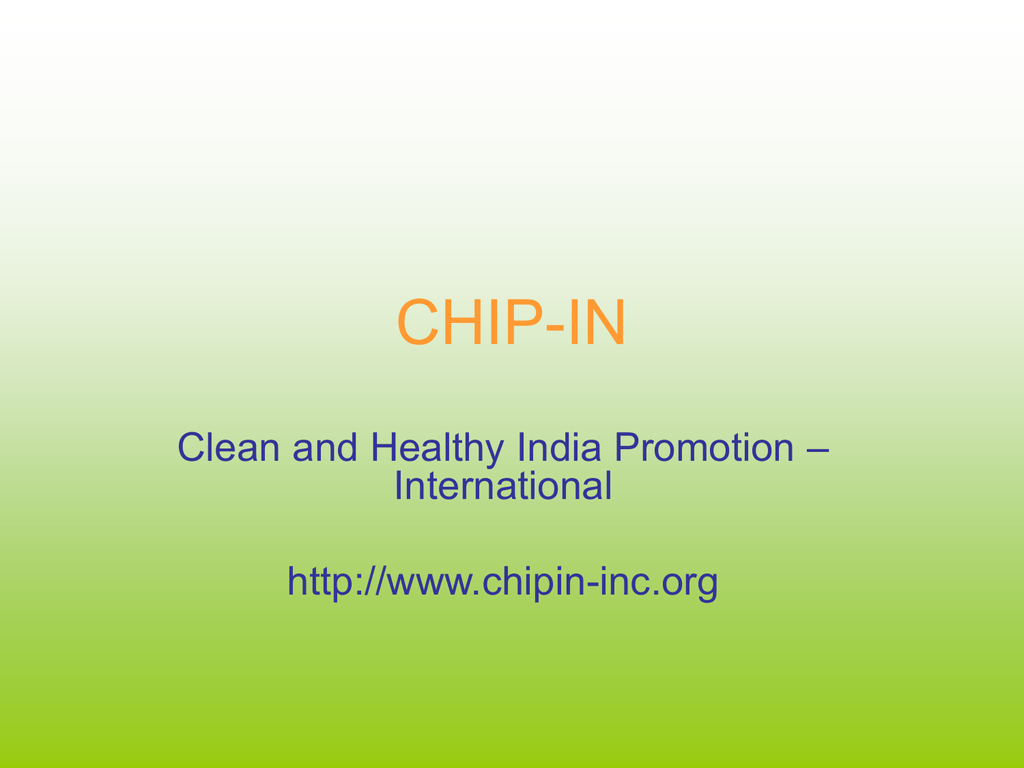 CHIP-IN
Clean and Healthy India Promotion –
International
http://www.chipin-inc.org
Tax Deductable Charity work
• During your next trip to India you can take
the message to your School, Community
or old work place.
• Improve their health and thereby wealth.
• Get tax deduction in USA, on your Air
ticket, Hotel and food etc.
AIM
• To improve the sanitation In India by education.
• For all to participate in cleaning India. It is
everyone's responsibility, not just that of
servants and cleaners.
• Anti littering, anti spitting, open urination and
defecation campaign.
• Gain government involvement to implement
some major changes in the present practice of
waste disposal, e.g. Dumping sewage in rivers
and Indian Railways dumping human excreta on
the tract.
Access to Sanitation
Country Open defecation
Mexico
USA
CHINA
INDIA
Rural
12%
0%
2%
69%
Urban Total
2%
4%
0%
0%
6%
4%
18% 54%
http://apps.who.int/ghodata/
Statistics for 2008
Popul.improved
Sanitation
85%
100%
55%
31%
Communicable diseases
• Tuberculosis: spitting. All+ve.
• Mosquito born diseases: Malaria, Dengue
fever, Chicken Guinea, Encephalitis Epidemics.
• Feco-oral (Water) contamination: Amebiasis,
Cholera, Typhoid, Intestinal worms, Hepatitis A,
• Rodent born: Plague
• Air born: Asthma( Trop. Pulm. Eosinophelia),
Pneumonia and TB.
Stat. on Health. WHO, 2009
COUNTRY
LIFE
ADULT
STUNTED
•
Mexico
USA
CHINA
INDIA
exp.
Mort.
> 5yr
76
78
74
64
121
108
115
215
15.5
3.9
21.8
47.9
TB
HIV-
2
0
15
26
Adult Mortality: Probability of dying 15-60yr/1000 population
Tuberculosis (HIV-ve): Per 100,000 population
Stunted>5yr:Percentage
Death>5yr:Percentage of all cause mortality.
DIARRHEA
Death
4.7
3.9
10.5
19.8
Why we need change?
• Health and Economic cost.
-$53.8 billion ( 6.4% GDP)/Year. World Bank (2006)
Hurricane Katrina $ 20,billion.(Worse in US history)
Hilton world wide 3500 hotels = $20 billion
State income Andhra pradesh,2006-7= $54.5 billion
State income Tamil Nadu,2006-7= $53.7 billion
State income Gujrat,2006-2007= $ 48.3 billion
-India spends 3.4% GDP on health care.
-91.4% of health care cost is paid privately.
- Majority of sickness in India are aftermath of poor
sanitation. Their eradication will save big money to
families.
Diseases and Cost
WHAT IS BEING DONE
• Total Sanitation campaign, Ministry of
Rural Dev., India.: Effective.
• National Urban Sanitation policy, Ministry
of Urban Dev., India.: Not as effective.
• Multiple NGO for clean water.
• Multiple NGO running Hospital and clinics.
• Free eye camps.
CONVENTIONAL STRATEGY
• PRIMARY PREVENTION: To prevent disease from occurring:
vaccination, water filter, Odomos, mouse trap, Mosquito nets,
controlling salt and fat in diet, Physicals, Mammogram etc.
• SECONDARY PREVENTION: Treating Hypertension, Diabetes,
osteoporosis, Tuberculosis exposure ,tummy worms,
• TERTIARY PREVENTION: Preventing further complications of
disease. Like prevent repeated heart attack, stroke, tuberculosis,
diarrhea, cholera, malaria
CONVENTIONAL STRATEGIES
NOT WORKING
• PRE PRIMARY PREVENTION NEEDED:
• So water in not infected.
• So there are no flies, mosquitoes and mice.
• So Air is not polluted.
(ALL CAUSED BY BAD SANITRAY PRACTICES)
• This will help PRIMARY,SECONDARY AND
TERTIARY PREVENTION to succeed.
EDUCATION
• Educate on germs, can not be seen but cause diseases.
• Anti littering campaign. Main cause of dirtiness.
• Bag house hold garbage. Bin liners, Plastic shopping
bags.
• Throw in Dumpsters only, or Far away from homes.
• Safe food handling. Use gloves and tongs.
• How do we get feco oral contamination. Public
defecation and Urination ultimately gets in food and
water, that we consume.
• How spitting spreads Tuberculosis.
• How do we get mosquitoes and related diseases.
• How does dirty surrounding brings in mice ,mosquitoes
and diseases back in home, through them.
TOOLS
• Garbage bins and Dumpsters for Indian
situation:
– Made of thick plastic or other cheap material
to avoid theft.
– Multiple holes, to avoid water collection and
mosquitoes and flies.
• Gloves (McDonalds).
• Bin liners. (Plastic shopping bags)
• Tongs and grabbers
Dumpster (Two Pieces)
Dumpster (Assembled)
Bins
Segments of Campaign
• CHIP-IN and NGOs:
– Volunteers to educate, Monitor and mentor.
– Private sponsorships, Adopt a Street etc.
• Local Govt.:
– Education: Cinemas, Posters,
– Provide: Sulabh Shauchalaya (Mutralaya), Dumpsters, Trash bins.
– Regulate: Safe food handling: Gloves, Covers
• State Govt.:
– Education: School Curriculum (more effective), TV and radio.
– Tax exempt: Sulabh Shauchalaya, septic tanks
– Enforce: Reward and punish. Fine)
• Central Govt:
– Clean Rivers: Safe waste disposal.
– Tax promotion for Sanitation projects like Septic tank and Sulabh
shauchalaya, Dumpsters and Bin liners and other sanitary equipments.
– Indian railway to change its toilets in train. Do not dump on tracts.
Funding
• Local businesses can be asked to sponsor bins
and dumpsters.
• Cleaners can be paid directly by the sponsor for
bin liners and cleaning.
• Local government help where no sponsor is
available.
• National Sanitation is a potential $152 billion
market.64% for infrastructure and 36% operation
and maintenance.( World Bank).
CHIP-IN INITIATIVE
• Education on germ and hygiene is the key.
• Any one living in the west knows the basic sanitary
practices:
–
–
–
–
Not littering.
Bagging.
Not depending on servants, and clean them selves.
Keeping the back yard clean, not just the front.
• Use these "Trained volunteers" to help educate these
practices during their personal visit to India.
• Tax deduction is a bonus besides self satisfaction
CHIP IN (Details)
•
•
•
•
Any one going to India on personal trip .
Download curriculum from CHIP-IN web site.
Must make presentation in the institution.
join the students in cleaning the premises
(Optional).
• On return, they get a certificate, that will make a
portion of their trip tax free.( Will be more than
the registration fee, in most cases.)
• Encourage them to be the Ambassador to that
school, and follow up.