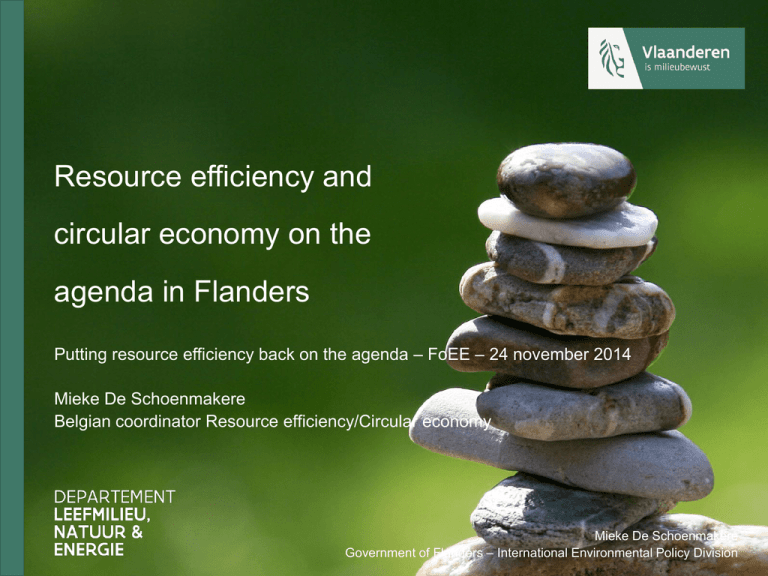 Resource efficiency and
circular economy on the
agenda in Flanders
Putting resource efficiency back on the agenda – FoEE – 24 november 2014
Mieke De Schoenmakere
Belgian coordinator Resource efficiency/Circular economy
Mieke De Schoenmakere
Government of Flanders – International Environmental Policy Division
Is resource efficiency slipping off
the agenda?
It shouldn't be!
Roadmap Resource efficiency =
wide range of areas
covering a
Confronted with many problems
But also a lot of opportunities at
environmental and at economic level
Through resource efficiency and circular
economy
Is resource efficiency slipping off
the agenda?
 Who is responsible for it?
EU?
MS?
Business?
NGO's?
Consumers?
…
Shared responsibility!
Complicated issues ask for a mix of
solutions at different levels
Circular economy in Belgium
The Belgian Presidency of the EU
•
•
Second half 2010
Council conclusions on 'Sustainable materials management
and sustainable production and consumption: key
contribution to a resource-efficient Europe'
all key stakeholders, including business, trade unions, scientists/academia,
NGOs, as well as national and
regional governments and local authorities, with a view
to creating an EU platform for the transition to
resource-efficient economy
cross sectoral approach
Roadmap to a Resource efficient Europe
•
•
September 2011
One of the objectives: national strategy on resource
efficiency
•
•
Including actions on Circular economy
Belgium
•
Competences spread
•
•
Federal level
Regional level: Brussel Capital Region, Flanders, Walloon Region
Circular economy in Flanders
Action at different levels
Legislation: transposition of the Waste
Framework Directive (2010)
from 'Waste decree' to 'Materials
decree'
from 'Waste hierarachy to 'Materials
hierarchy'
= result of transition that started
years befor
Action Plan: Flemish Materials Programme
http://www.vlaamsmaterialenprogramma.be/
(English version of the brochure is
available)
Circular economy in Flanders(2)
•
People, profit, planet approach - economic,
ecological and the social dimension.
•
Focus on cooperation and sharing responsibility:
• Government as facilitator
• industry
• science and knowledge institutes
• civil society.
•
Experience in Flanders so far: RE/CE has helped to
create an understanding between societal actors that
we are tackling the same challenge.
The Flemish Materials Programme
•
Business world, authorities, knowledge institutions
and civil society
•
•
•
join forces
and combine ambitious long-term development,
policy-relevant research and concrete actions.
respectively done within
• Plan C (a transition network)
• SUMMA (a policy research centre) and
• an operational plan with 9 levers and 45
priority and concrete actions.
The Flemish Materials Programme: 9 levers
Flemish Materials Programme: specific sector
Example: Critical metals
Content
•
End-of-life vehicles:
•
500 000 cars exported / year from Port of
Antwerp for second or third life in developing
countries
•
Are we responsible for ESM end-of-life in
developing countries?
•
What about loss of critical metals due to
substandard recycling techniques in developing
countries?
•
WorldLoop for cars:
•
setting up local collection and recycling
facilities based on Flemish know-how
•
shipping hazardous elements + parts needing
high-tech treatment (e.g. printed circuit
boards) back to Flanders
Flemish Materials Programme:
specific sector (2)
Example: Critical metals
Bottom-up / Top-down: available high-end recycling
technology / safeguarding environmentally sound
management & critical materials stocks
Transition steps towards a circular economy:
• Emerging business by combining beginning & end
value chain
• Public-private participation
• North-South win-win
The Flemish Materials Programme: examples
• Better cooperation
•
Symbiosis project
• Smart investments
•
Materialsscan
• Sustainable design
•
•
•
Eco-design in higher
education
SIS toolkit
Ecolizer
Materialsscan – How does it work?
Overview material use: kg and
€
• Lost costs become visible >
waste costs
• Simulations on cost savings
• Scan is for free
•
More information (only in
dutch):
www.materialenscan.be
•
Materialbalance in permit
'omgevingsvergunning ' from
2016 onwards
Materialsscan – Successes and barriers
 Successes:
30 scans executed, 35 scans in progress
Broad range: Building-, wood-, plastic-,
textile-, metal- and foodsector
• New insights at companies
• Opportunities working together with other
companies
•
•
 Barriers:
•
•
•
•
•
•
Finding the right person
The right scope of scan
Difficult transfer of information from company
to scanner (kg and €)
SMEs often don't see added value > too much time
Other priorities
No interest > we don't have waste
Symbiosis
Exchange of materials, energy, water,
infrastructure, … , between companies
Need of cooperation knowledge- and
research institutes (better coordination
design and end of life phase)
Strong link with materialsscan
What is (im)possible when it comes to
high qualitative exchange of secundary
materials and resources?
EHE Kit – SIS Toolkit – Ecolizer 2.0
Questions?
Mieke De Schoenmakere
mieke.deschoenmakere@lne.vlaanderen.be
Thank you for
your attention!