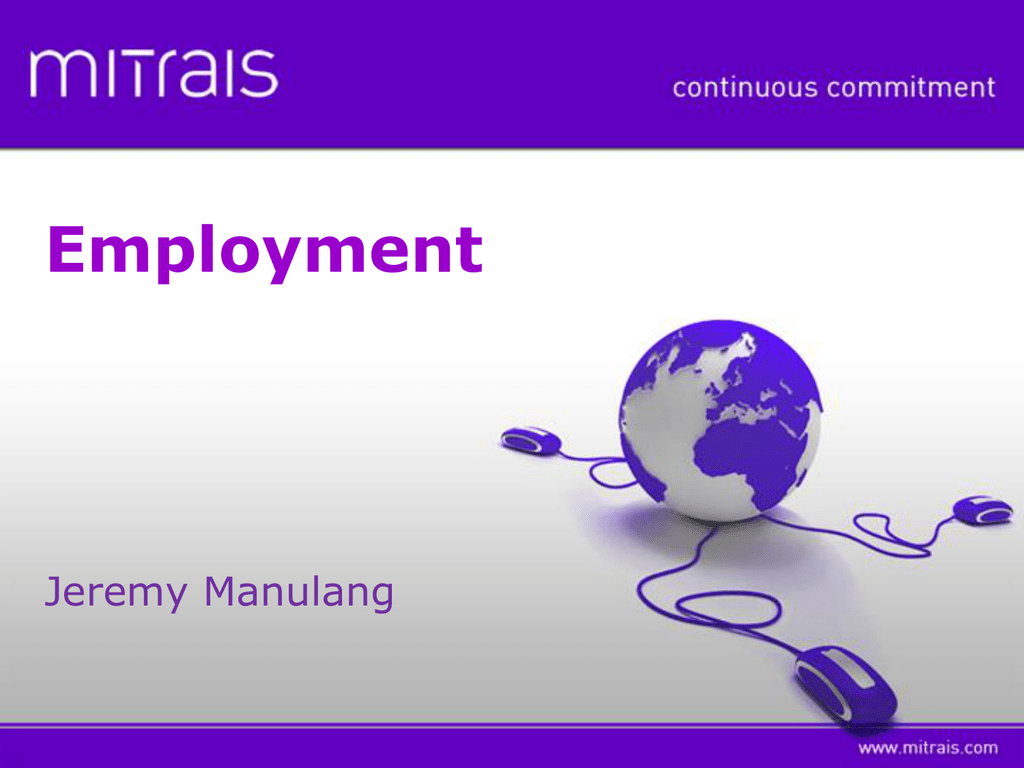 Employment
Jeremy Manulang
Employment
Overview
Vocabulary: The recruitment process
Reading : Retaining good staff
Listening : Headhunting
Language Review : Indirect questions
and statements
Skills : Managing Meetings
Case study : Slim Gyms
No matter how successful you are, your
business and its future are in the hands of the
people you hire.
Aiko Morita
Starting UP!
In your opinion, which factors are
important from getting a job? Is there
anything missing from the list?
Appearance
Intelligence
References
Blood group
Contacts
Hobbies
Marital Stat
Age
Sickness
Family
Experience
Personality
Astrology sign
Qualification
Handwriting
Tell your peers about……
Think about the jobs you've had and
interviews you've attended. Ask each
other about your best or worst:
a. Job
b. Interview
c. Boss
d. Colleagues
e. SALARY : No you can't! 
Discuss these statements..
1. At work appearance is more important
than performance
2. You should keep your private life
totally separate from your work.
3. People don't change much during their
working lives.
4. It is the best to work for as few
companies as possible.
5. Everybody should retire at 50.
Vocabulary
Match the verb 1 to 6 to the noun a to f
to make the word partnership.
1. To
2. To
3. To
4. To
5. To
6. To
train
shortlist
advertise
assemble
make
check
a. a vacancy/post
b. interview panel
c. the candidates
d. references
e. new staff
f. a job offer
Listening
• Listen to a consultant talking about
the recruitment process to check
your answer.
PUT THESE SENTENCES IN THE RIGHT
ORDER
THE RECRUITMENT PROCESS
• a. To train new staff
• b. To advertise a vacancy / post
• c. To shortlist the candidates
• d. To assemble an interview panel
• e. To make a job offer
• f. To check references
Answers: b-c-d-f-e-a
Complete the text
• These days many applicants submit their
………….................... (1) speculatively to companies they
would like to work for. In other words, they do not apply for
an advertised job but hope the employer will be interested
enough to keep their CV on file and contact them when
they have a vacancy. When replying to an advertisement,
candidates often fill in a / an ………………………(2) and write a
/ an ………………..(3). The employer will then invite the best
candidates to attend a / an …………….. (4). Sometimes
candidates will take a / an ……………………test (5) before the
interview to assess their mental ability and reasoning skills.
These days it is normal for successful candidates to have to
work a / an ……………….(6) in a company. This is usually
three or six months; after that they are offered a
permanent post.
(resume/CV, interview, psychometric test, probationary
period, application form, cover letter)
Discuss and Compare!
Which of these words would you use to
describe yourself in a work situation?
Motivated
Dedicated
Charismatic
Impulsive
Assertive
Persuasive
Outspoken
Trustworthy
quick-witted
Confident
Determined
adaptable
meticulous
law-abiding
enthusiastic
intuitive
passionate
straightforward
Reliable
proud
loyal
honest
decisive
shy
corrupt
flexible
dynamic
informal
selfish
forceful
ambitious
competitive
tactful
Reading
RETAINING GOOD STAFF P.70
Answer these questions:
1. What qualities of high performers are
mentioned in the article?
2. What are the problems of losing high
performers?
3. Which motivating factors are
mentioned in the article?
Use these words or phrases from the article to answer
the questions.
Pep talk
mentor
CV
Headhunting Financial package
Fast-tracking
Which word or phrase:
1. Is British English for the American English resume?
2. Refers to stealing employees from companies?
3. Do you often find in job advertisement referring to money and
benefits?
4. Refers to an older, more experienced person who helps you?
5. Usually leads to quick promotion?
6. Means a short chat to motivate staff?
Listening
8.2 Dr Simon Kingston works for the International
executive search consultants Heidrick and
Struggles. Listen to the first part of the interview
and complete the chart.
Methods for
identifying candidates
… (1) in newspaper
or… (2)
Asking for… (3)
from the organization
From our
… (5)
Own original
… (4)
From talking to… (6)
Cross - … (9)
From beginning to
… (7) the business
… (8)
• Listen to the second part of the
interview, and complete the
summary.