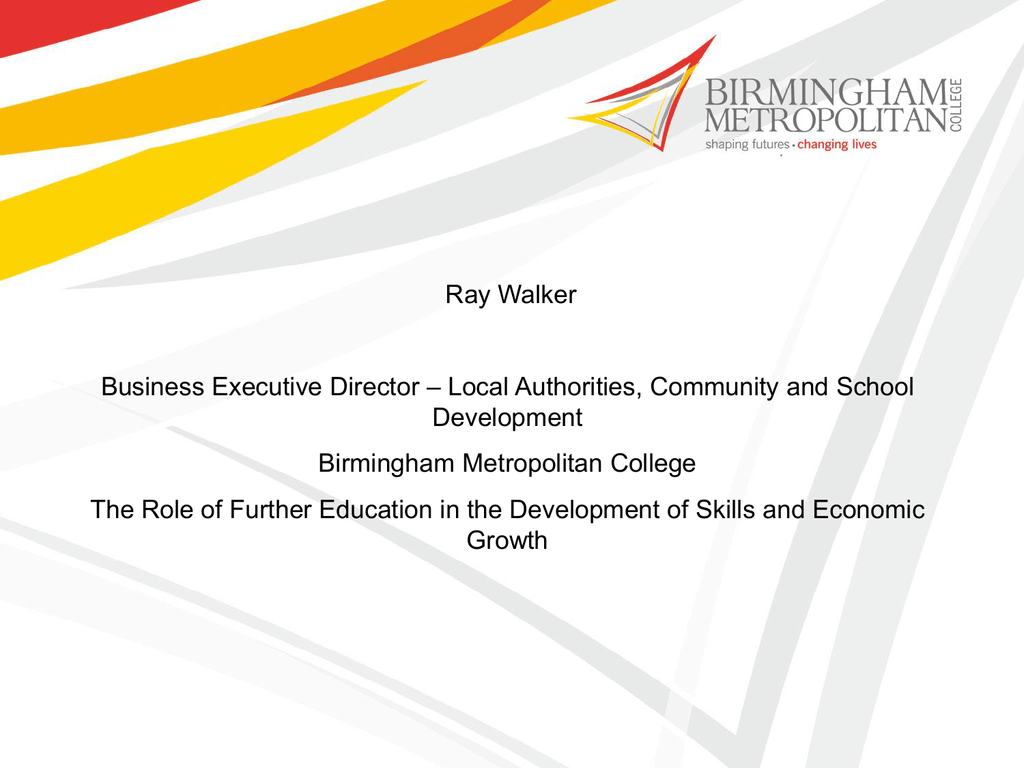 Ray Walker
Business Executive Director – Local Authorities, Community and School
Development
Birmingham Metropolitan College
The Role of Further Education in the Development of Skills and Economic
Growth
Challenge set down by government:
• " Skills for Sustainable Growth"
• "Investing in Skills for Sustainable
Growth"
• "New Challenges, New Changes"
• Promote Adult Skills.
• High Quality Teaching and learning
• Free Colleges/Providers from
bureaucracy to enable better response
to local needs/communities.
• Better investment in skills between the
taxpayer, learner and employer.
Apprenticeships:
• Significant increases in the number of
apprenticeships in the region.
• Greater increase in youth apprenticeships as well as
adult apprenticeships.
• Government funding for 250,000 more
apprenticeships over the next four years.
• More High level Apprenticeships.
• Apprenticeship Training Associations/Agencies
(ATAs) and Group Training Associations/Agencies
(GTAs).
Adult Skills Budget- Provision for the
unemployed:
• Meet the needs of those claiming JSA and
ESA in Work Related Activity Group.
• Referral via Jobcentre Plus
• Provision appropriate to learner and employer
needs.
• Job Outcome Incentive Payments.
Skills Conditionality:
• Skills training a condition of continued
receipt of benefit.
• Benefit sanction for non participants
Colleges and Training Providers to
support Service Academies:
• Combining work placements with preemployment training.
• Guaranteed Interviews with employers.
Key Developments to support growth via
skills development:
• Review of funding.
• Lifelong Learning Accounts Launch.
• Development of new industry – led
professional standard schemes –
ensuring qualifications are valued and
are of high quality.
• £210 million /year protection of informal
Adult Community Learning.
• Fully funded provision for the low
skilled, young people and jobseekers.
• Government backed loans for first time
in FE for learners aged 24+.
• Upfront cost of training not being a
barrier to following learning and skills.
Growth and Innovation fund:
• £50 million / year.
• Pump prime and pilot selected projects,
build leadership and management skills
in SMEs.
What else needs to be done?
• Greater integration of the pre 19 and
post 19 activity to address skills and
employability.
• Young NEETs can and often do
become older NEETs/long term
unemployed.
• Addressing the skills and employment
agenda much earlier with young people.
• Wolf Report – more appropriate
vocational learning for young people.
• Following vocational qualifications that
are recognised by employers.
• High quality Internships –a real
engagement with the world of work.
• New structural arrangements to deliver
education and training.
• Continued focus on functional skills and
employability skills.
• Differentiated approach for specific
disadvantaged groups.
• Programmes that integrate "wrap around"
support with good teaching and skills
delivery.