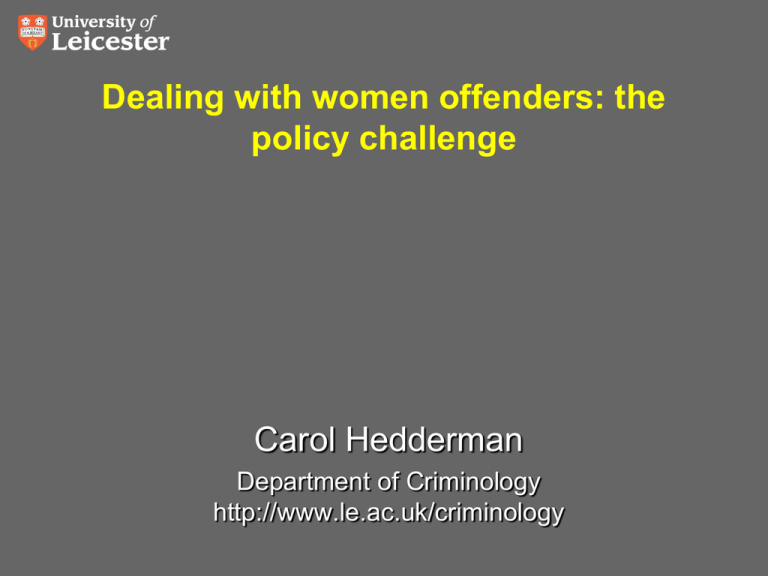 Dealing with women offenders: the
policy challenge
Carol Hedderman
Department of Criminology
http://www.le.ac.uk/criminology
The mission remains the same
The Corston Report (2007: 16)
• Equal treatment of men and women does not
result in equal outcomes…
• The majority of female offenders have
committed non-violent offences and present
little risk to the public...
• Custodial experience affects women differently
and disproportionately from men ...and they are
more likely to lose their home and children as a
result of imprisonment.
Two main challenges
Guarding against Government funding cuts
Evidence of impact is the best form of defence against cuts.
This is a real area of weakness.
• Many small projects run on shoestring budgets
• Insufficient thought and funding has been given to
learning from these projects without burdensome data
demands
• Funders agreeing a basket of common measures would
reduce burden on small projects and generate the best
evidence base
The other challenge
Reducing the number going to prison
• Prison population = no of sentences x length.
• Claims about reductions in the prison population
and increases in community sentences may be
true but this is not because the number of
women going into prison has fallen – it hasn't!
• Alternatives to custody are being used as
alternatives to each other not to prison.
• There is evidence to suggest that more women
are being sucked into the CJS.
The evidence
Report
Year Sentenced
Population
WNC
1991
1,148
Wedderburn/PRT
2000
2,666
WORP
2004
3,449
Corston
2007
3,345
Latest
2008
3,524
(National Statistics)
Receptions under
custodial sentence
2,247
7,006
8,264
8,056
8,862
No evidence of diversion: 11% increase in the proportion of
women being received into prison on sentences under six
months. In this context the rising number of SSOs is worrying.
Evidence of net widening: the increase in community orders is
exclusively among short orders.