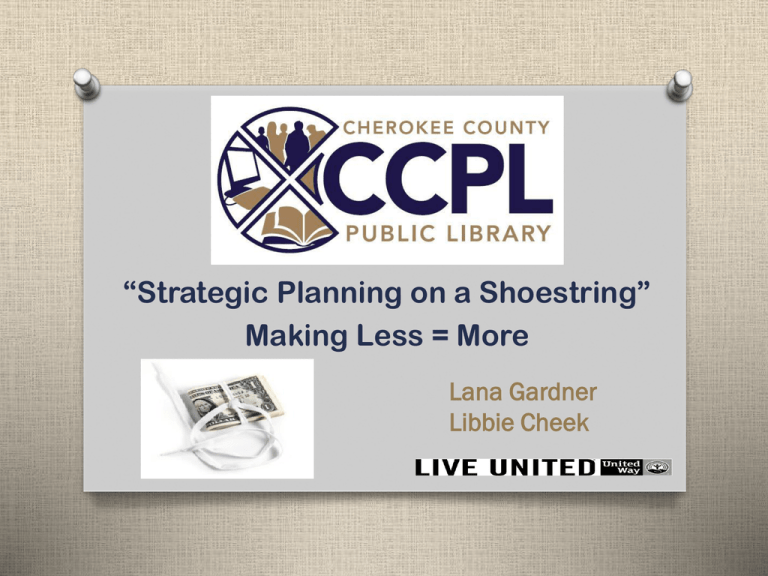 "Strategic Planning on a Shoestring"
Making Less = More
Lana Gardner
Libbie Cheek
STRATEGIC PLANNING – A GUIDE TO THE FUTURE
 Brings everyone to the table
 Identifies the purpose of the
organization
 Outlines actions to reach
set goals
 Changes over time
"Would you tell me, please, which way I ought to go from here?"
"That depends a good deal on where you want to get to," said
the Cat.
"I don't much care where--" said Alice.
"Then it doesn't matter which way you go," said the Cat.
"--so long as I get SOMEWHERE," Alice added as an explanation.
Where will your library be in
3
years
?
5
years
?
10
years
?
Prediction is difficult, especially about the future.
- Yogi Berra
Creating a
Strategic Plan
Things you should know:
It takes time
It takes cooperation
It requires an open
attitude to change
Step 1:
What is our purpose?
 To serve…
 To provide…
 To share…
 To enhance…
 To encourage…
 To enrich…
 To connect…
 To expand…
 To transform…
 To promote…
 To improve…
Mission Statement
Purpose – the work you do
Vision Statement
Future – the change you wish to create
Value Statement
Tools – the core beliefs and guiding
principles you use to
share your mission
Our Mission:
The Cherokee County Public
Library strives to connect the
community with quality
resources that encourage
literacy, expand learning, and
enrich lives.
Our Vision:
The Cherokee County Public Library is a cornerstone in
the community, a catalyst for literacy, and a center for
life-long learning. Providing free and equal access to
informational, cultural, and educational resources,
we are committed to:
 Delivering excellent service
 Responding to evolving needs
 Serving with trust and financial integrity
 Building community relationships
Step 2:
Who are our
stakeholders?
Get
them
involved!
Board of Trustees/Directors
Friends of the Library
Staff
Businesses
Community Organizations
Donors
Patrons
Step 3:
What is important?
 Knowing your community
 Knowing your staff
 Knowing your policies
 Knowing your limits
Step 4:
How do you know?
EXPLAIN
BOARD
PROVIDE
STAFF
FRIENDS
LISTEN
NON-USERS
PATRONS
COMMUNITY
PARTNERS
Cherokee
2020
Cherokee County
Community
Indicator Project
Initial Phase
Timeline
Public Health
• Community Leaders,
April 2009
• Research
Economic
Development
Education
• Document Published,
May 2010
• Issue Area Task Forces
Formed
Crime &
Safety
Family &
Youth at Risk
Cherokee 2020
Cabinet
Project Leaders
Issue Area Task
Forces
 Education
 Public Health
 Family & Youth at Risk
 Crime & Safety
 Economic
Development
Know(2)
 Early Childhood
 Do the Math
 Transitions
 Adult Education
For more information
on Cherokee 2020
or the United Way,
visit the web-site at
www.uwpiedmont.org
Or contact…
Libbie Cheek
United Way of the Piedmont
864-490-9813
lcheek@uwpiedmont.org
Step 5:
What next?
SO, WHAT DO YOU DO WITH ALL THESE
SURVEYS, NOTES, AND OPINIONS?
 Look for patterns in patron requests and needs.
 Compare current resources and services with needs
of the community.
 Be aware of and open to future changes!
 Establish strategies (goals) that are SMART--Specific, Measurable, Attainable,
Responsible and Time-specific.
 Be succinct…your strategic plan needs to be
available to and understandable by the community.
Strategic Planning
Forms and Information
Get Started:
 Survey Form
 SWOT Form
 Resource List
 Plan Outline
 SP Powerpoint
Contact:
Cherokee County Public Library
300 E. Rutledge Avenue
Gaffney, SC 29340
Tel. 864.487.2711
Fax 864.487.2752
Director: Lana Gardner
www.cherokeecountylibrary.org
Thank you!