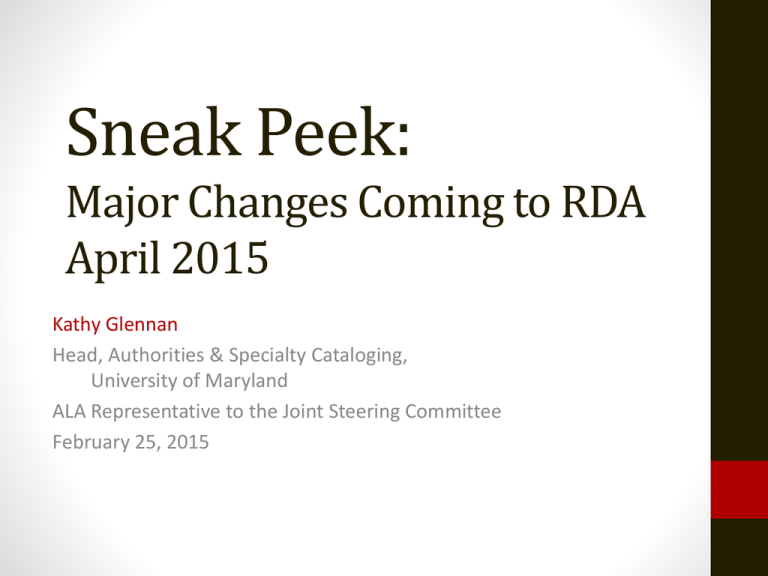 Sneak Peek:
Major Changes Coming to RDA
April 2015
Kathy Glennan
Head, Authorities & Specialty Cataloging,
University of Maryland
ALA Representative to the Joint Steering Committee
February 25, 2015
JSC Papers, 2014
Rejected
2%
Discussion
9%
Deferred
11%
Technical
6%
Clarification
49%
Major change
23%
End of the Cascading Vortex of
Horror!
• Remove the conditional
core status for
• Distribution Statement
• Manufacture Statement
• Copyright Date
• [… not identified] still
needed for publication
information, but no
longer required for
• Distribution elements
• Manufacture elements
• Option to continue using
• [distributor not identified],
etc.
light painting by christmasstockimages.com
Duration
• Simplify 7.22
• Single instruction about
recording duration
• No single standard
required for recording
duration
• 2:15:45
• 2 hr., 15 min., 45 sec.
• 2.2575 hr.
• Consistent use of
"approximately"
http://cat-machine.deviantart.com/
Color
• 7.17 will contain two
primary terms, with
option for more detail
Polychrome
Color
Monochrome
black and white
Subject Relationships
• New instructions for
subject relationships
– Chapter 23
• At a very high level
• Relates to a Work
• Encompasses thesauri,
classification,
keywords
• Moving descriptive
work relationship
designators to new
related Appendix M
Untitled Works
• Reworking of Chapter
6 to include specific
instructions for
works without titles
•
•
•
•
•
Manuscripts
Choreographic works
Art
Photographs
etc.
http://www.schoenberg.at
Statement of Responsibility
• Merging 7.23
(Performer, Narrator,
and/or Presenter) and
7.24 (Artistic and/or
Technical Credit) with
2.4 (Statement of
Responsibility)
• Expanding 2.17.3.5
to permit current
practice to continue
Creating Personal Name AAPs
• Prescribed order of
additions removed
from much of 9.19
• Enables flexibility for
RDA's international
adopters
• Guidance expected
to move to policy
statements
• No change in
application?
Books of the Bible
• Revising instructions
to remove AngloAmerican/Authorized
Version bias
• Will create lists for
books and groups of
books in "Tools Tab"
• Individual books of
the Apocrypha
entered under Bible
Questions?