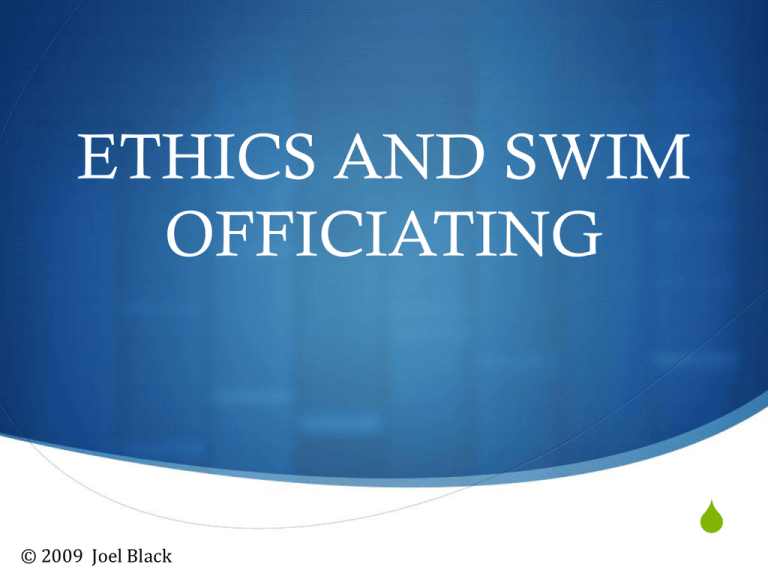 ETHICS AND SWIM
OFFICIATING
S
© 2009 Joel Black
WHAT ARE ETHICS ?
S A set of moral principles affirming a specified form of conduct.
S Synonymous terms – Morals, Values, Principles, Right and
Wrong, Virtues and Value System
S USA SWIMMING "RULES AND REGULATIONS"
ARTICLE 304 - CODE OF CONDUCT
S NCAA Rules "Ethical Behavior of Coaches" (Preface)
S National Association of Sports Officials (NASO)
"Sports Officials Code of Ethics"
(WWW.NASO.org)
S The benefit of the doubt goes to the swimmer.
S Call what you see, not what you don't see.
S Call what you see… and see what you call.
S FOR REFEREES:
Make Swimmer Centered Decisions
S
S
S
S
S BASIC LOVE FOR THE SPORT
S CARE ENOUGH TO LEARN THE RULES
S CARE ENOUGH TO MAKE A SACRIFICE FOR
THE SPORT AND THE ATHLETES
S CARE ENOUGH TO GO THE EXTRA MILE
S CARE ENOUGH TO "DO THE RIGHT THING"
S RESPECT FOR THE RULES
S RESPECT FOR THE COACHES
S RESPECT FOR THE SWIMMERS
S RESPECT FOR ONE'S COLLEAGUES
S RESPECT FOR MEET HOSTS
S RESPECT FOR PARENTS AND SPECTATORS
S REVIEW THE RULES PRIOR TO THE MEET
S ACCEPT THE ASSIGNMENT GIVEN TO YOU
CHEERFULLY
S COMPORT YOURSELF IN A PROFESSIONAL
MANNER
S TAKE RESPONSIBILITY FOR A PERSONAL
ERROR, THEN "MAKE IT RIGHT"
S BE ABSOLUTELY HONEST AND TRUTHFUL
WITH EVERY COACH, SWIMMER AND
COLLEAGUE
S THOUGHTFULLY CONSIDER EVERY
DECISION YOU MUST MAKE IN AN HONEST
AND FORTHRIGHT MANNER
S ASSUME THAT YOU WILL BE CALLED UPON
TO MAKE A "TOUGH" DECISION EVERY MEET
S
S WITHOUT INTEGRITY WE CANNOT BE TRUSTED
S WE CANNOT BE DEPENDED UPON TO RENDER FAIR,
HONEST RULINGS OR DECISIONS
S SWIMMERS OR COACHES WILL NOT BE ABLE TO
TRUST OUR JUDGEMENT, OR TO BE FAIR WITH THEM
S IF WE HAVE NO INTEGRITY, WE SHOULD NOT
OFFICIATE
S
CREDITS
S This training module has been produced under the auspices
and partnership of the respective Officials Committees of
the YMCA Swimming and Diving Advisory Committee
and USA Swimming.