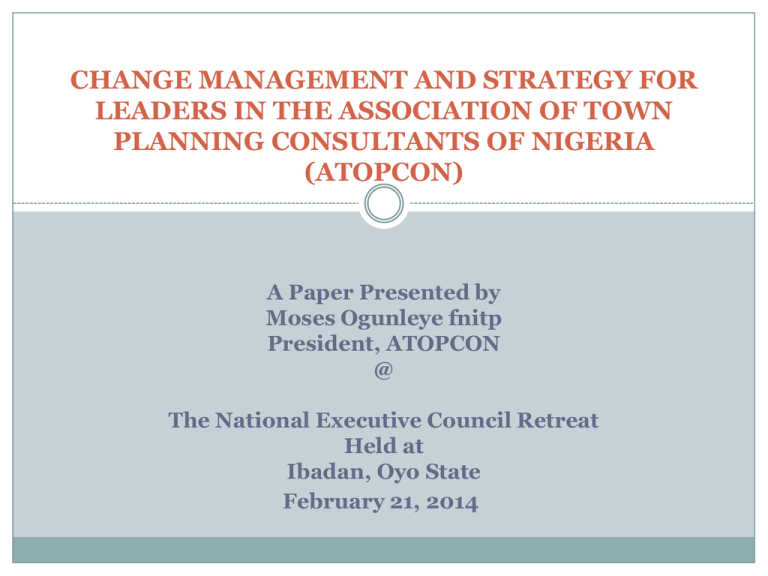 CHANGE MANAGEMENT AND STRATEGY FOR
LEADERS IN THE ASSOCIATION OF TOWN
PLANNING CONSULTANTS OF NIGERIA
(ATOPCON)
A Paper Presented by
Moses Ogunleye fnitp
President, ATOPCON
@
The National Executive Council Retreat
Held at
Ibadan, Oyo State
February 21, 2014
THE OBJECTIVES OF THE PRESENTATION
 To re-emphasize the certainty of change.
 To highlights systems dynamics and relate
same to operations of ATOPCON and
Consultancy Practice.
 To highlights management functions as it
applies to managing professional body like
ATOPCON.
 To improve the management skills of
ATOPCON officers.
THE NECESSITY OF CHANGE
 A change is a certainty. It must take place always.
 Indeed, its when change takes place that "value is
added".
 The change could be in a system (social,
technology, etc) behavioural (human beings, other
creatures).
 Change sometimes bring fears, loses, treats,
anxiety and low moments. Conversely it could
bring intangibles like freedom, joy, victory, and
tangibles like increased profit, membership
development etc.
The Necessity of Change……..
contd
 For every change that occurs, an action or
individual is responsible.
 For a change to be positive its process must
be well understood, while someone must
take responsibility for the change.
 A change that has been "scheduled" or
deliberate is likely to be better managed
than an emergent (reactionary) one.
The Necessity of Change……..
contd
 However every change must have a value and must
be sustainable.
"There is little point in making change that has value
if it does not stick. This is the root problem with so
many change programmes" Mick Cope.
 We often times have spend a lot of resources in
making worthwhile changes with resounding success
only to discover that only the value added remains
little after sometime.
 Why do this happens in many organisations?
SYSTEMS DYNAMICS
 What is a system?
 A group of things, pieces of equipment etc, that are
connected or work together. E.g a computer system,
transport system.
 It also means a particular way of doing things or in
which things function. E.g a Presidential system of
government.
 One of the characteristics of a system is that it is
amenable to change. Thus, a change will led to other
changes, hence dynamics.
Systems Dynamics……..
contd
 A system functions interdependent of another, hence
it remain a sub-system in the larger system –
INTEGRATION.
 Our ATOPCON remains a system. (The National, the
State Branches, the Firms).
 At larger system level, ATOPCON will be a subsystem. (Within the system of TOWN PLANNING
Family – NITP, TOPREC.
Systems Dynamics……..
contd
 In order to appreciate how a system works or its
level of efficiency, the system need to be
considered / defined using the following
Identify the objectives, constraints / opportunities of the
system
 State all possible approaches to limiting constraints /
enhancing opportunities
 Make trade off
 Do a synthesis

Systems Dynamics……..
contd
 APPLYING SYSTEMS APPROACH TO
ATOPCON
 What
are the objectives of the National Body /
State Branches
 What strategies have been used in achieving the
objectives
 Which is the better strategy, considering all facts.
UNDERSTANDING STRATEGIC MANAGEMENT
The Nature Strategic Management
 Involves a major decision that determines (a
precursor to) many other activities.
 Usually such decision leads to choosing a new
course of action or rejuvenating an existing one.
 Considers the implications of actions on all matters
related to management function.
Understanding Strategic Management..
contd
 It differs from mere business considerations:
why?
Deals with concerns which are central to the survival of
entire organisation e.g for ATOPCON – change in the
Constitution, Membership Criteria, etc.
 Addresses issues that are unusual to the organisation
(Non-routine issues)
 Affects the way low level decisions in the organisation
are made.

The Strategic Management Process (as adopted
to ATOPCON Scenario)
INPUT
1
Strategy
Formulation
Members
Needs
Resources (e.g
Money, People, time,
Information)
2
Strategy
Implementation
3
Strategy
Evaluation &
Control
OUTPUT
Satisfaction
Job Opportunities
Influence in
governmental and
professional cycles
MANAGING SYSTEMS AND CHANGE
 There is the critical need to note that all
systems operate with an environment.
 No environment is static, continuous
process of function, hence "oceanic" change.
 What are the characteristics of an
environment
Complexity,
Dynamism, Multi-facets far
reaching impacts.
Managing Systems And Change…. contd
External System Environment
•Social
•Physical
•Economic
•Technology
•Regulatory
•Others
Internal System Environment
•System Resources
•Behaviour
•Strength & Weakness
Managing Systems and Change……
contd
 The degree of understanding of the characteristics of
the environment where one operates goes a long way
to determine the ability to manage the change
therefrom.
 To what extent do you understand your setting –
external and internal?
 Should issues like happennings in Political Parties,
the Nigerian Banking System, the Nigerian Football
Federation, NAFDAC be of any particular interest to
us?
MANAGEMENT FUNCTIONS
Preamble
 Leaders or Officers in ATOPCON should measure their
success by how well they meet the aspirations of
members and the corporate goal(s) of the Association.
 In whatever level one operates, the early management
responsibilities and skills identified by practitioners are
key for leaders.





Planning
Organizing
Staffing
Controlling
directing
Management Functions…..
contd
 Which of the five is most important?
 In which of them should a practitioner in Town
Planning place emphasis in order to operate
efficiently and effectively?
 All the five are very important, they are inextricably
linked.
 A consultant strength must be in all
CASE STUDY – THE "X" AND "Y" THEORIES
THEORY X
 A manager that accepts theory X normally
exercise authoritarian type of control over
workers, allows little participation in decision
making.
 Employees generally favour lack of
responsibility, particularly in decision making.
Case Study – The "X" and "Y" Theory… contd
THEORY Y
 Employees are willing to get the job done
without constant supervision.
 Assumes average workers want to be active and
find the physical and mental effort on the job
satisfying.
 Assumes average worker seeks opportunity for
personal improvement and self respect.
KNOWLEDGE AS CAPITAL
 A critical resource required by leaders and
consultants is the knowledge / talent. Indeed,
talent has been described as the only real capital
base.
 But then, how does the Consultant measure,
market and manage this intangible capital base.
 There is the dilemma of "time costing" in "talent
selling". Remember how relieved client can be
when his job is concluded within time budget.
Knowledge as Capital……
contd
 Relate this to the Client's reaction when the task is
carried out within a short time and he raised the
puzzle of why he should pay the amount for the work
carried out within "so short" a time.
 Our strength is in our knowledge and expertise,
which can be applied all through
"Knowledge management is crucial because what
worked yesterday may not work tomorrow"
 How rich is your knowledge capital / or what is the
value of your knowledge capital?
Knowledge as Capital……
contd
 We can enhance our knowledge capital in many
ways:







Time Management
Information Technology
Negotiation Strategies
Cost / Financial Management
Decision Making Tools
Relationship Management
Communication Management
 How current is your knowledge in all these.
MODERN MAN'S EIGHT DISEASES (INCLUDING
LEADERS MAYBE SOME CONSULTANTS
 Wealth without work
 Pleasure without conscience
 Knowledge without character
 Commerce without morality
 Science without humility
 Worship without sacrifice
 Politics without principles
• MAHATMA GANDHI
 Rights without responsibilities
• MOSES OGUNLEYE
CONCLUSION
 We can help our organization / client to
move from a world that they know and shift
them into the area of unpredictability and
uncertainty.
 We can ensure that ideas are really pushed
to their limits to understand what value they
might add.
Conclusion……
contd
 See very well and assist others see the big
picture.
 The decision to adopt a particular change in
style is not black and white.
 Smarter consultants will help build smarter
organizations.