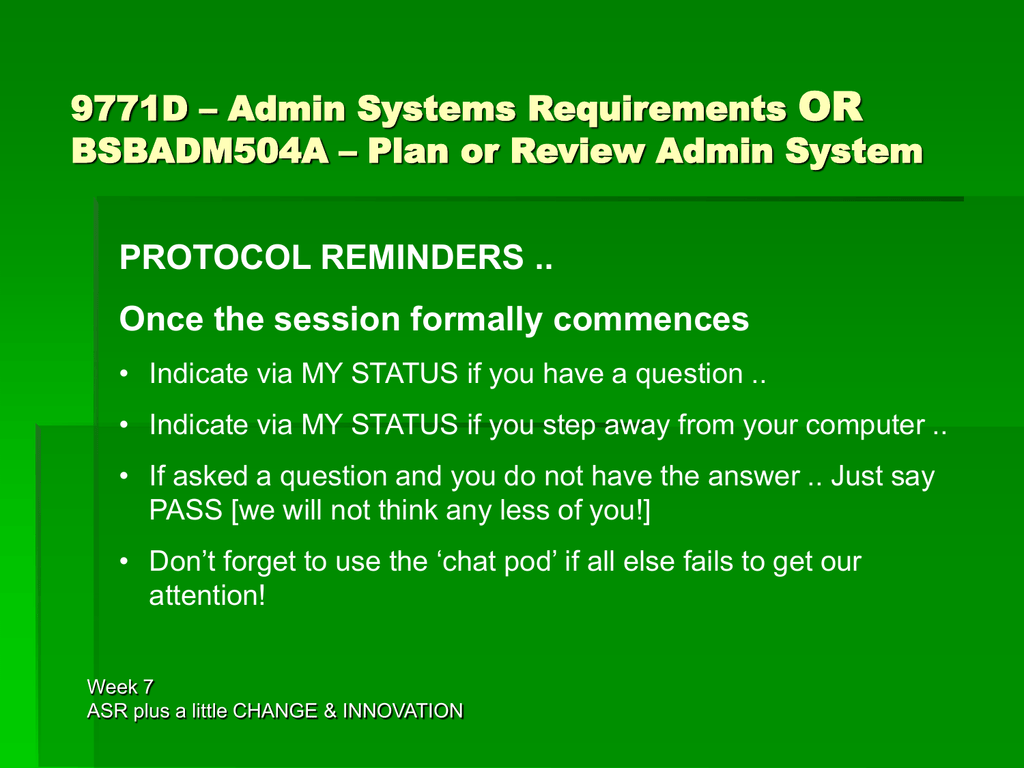 9771D – Admin Systems Requirements OR
BSBADM504A – Plan or Review Admin System
PROTOCOL REMINDERS ..
Once the session formally commences
• Indicate via MY STATUS if you have a question ..
• Indicate via MY STATUS if you step away from your computer ..
• If asked a question and you do not have the answer .. Just say
PASS [we will not think any less of you!]
• Don't forget to use the 'chat pod' if all else fails to get our
attention!
Week 7
ASR plus a little CHANGE & INNOVATION
THIS WEEK –
 2 x powerpoint presentations
 Continue External exam
discussion/revision in relation to
ASR Range Statement
CRITERIA FOR PERFORMANCE
LEVEL GRADING

To receive a PASS, COMPETENT OR JOB READY, learners must:
 Develop a business case for an administration system based on actual or
simulated detailed requirements, including specification of requirements for
new system, budget, implementation plan covering policies and
procedures, training, contingencies and monitoring
 Develop a project plan using appropriate project management tools
 Select new system or modify current system against specification
 Develop consultation and communication plan with users and stakeholders
to ensure system meets needs and is implemented efficiently
 Manage and monitor implementation of system including:
 Writing procedures for system users
 Training for system users
 Monitoring system for continuous improvements
CRITERIA FOR PERFORMANCE
LEVEL GRADING

To receive a CREDIT, learners must satisfy all the criteria for a PASS
GRADE plus demonstrate competence in:
 Researching changing needs and report on modifications identified
 Developing a CONTINGENCY PLAN
 Presenting a workplace report using advanced presentation and language
skills

To receive a DISTINCTION, learners must first satisfy all the criteria for a
CREDIT GRADE, plus demonstrate competence according to the
following criteria:
 Outstanding problem solving ability for contingencies
 Best practice presentation of report reflecting research, planning and
evaluation
AND
 Apply research findings for relevant legislation and regulations to
organisational needs.
Teacher Student Study
Guide
 Swaggies Scenario
 Business Case
 http://www.mariosalexandrou.com/defin
ition/business-case.asp
Let's relate all this to the
supplied Swaggies Case
Study
 Administration system may include:
 Paper-based system
 Electronic system
 Legislation, codes and national standard relevant
to the workplace which may include:
 Award and enterprise agreements and relevant industrial
instruments
 Relevant legislation from all levels of government that affects
business operation, especially in regard to Occupational
Health & Safety and environmental issues, equal opportunity,
industrial relations and anti-discrimination
 Relevant industry codes of practice
Case Study & Range
Statement contd
 System requirements .. may include:










Components of the system
Type of system
Size of system
Work practices
Organisation/staff requirements
Number and type of users
Purpose and nature of the organisation
Purpose and nature of system
Skills of existing staff
Staff training needs
Case Study & Range
Statement contd
 System users may include:
 The organisation's personnel
 Casual personnel
 External clients .. Any others?
 Suppliers/developers may include:








Internal staff/clients
Administration systems consultants
Information technology technicians
Efficiency consultants
Computer/software suppliers
Equipment suppliers
Information technology trainers
Office equipment suppliers
Case Study & Range
Statement contd
 Implementation strategies may include:














Testing
Trialing
Temporary reduction of work load
Boosting staff confidence
Team goal setting
Changing team/organisational culture
Re-defining staff roles
Re-distributing office tasks
Change management strategies
Providing staff training/information sessions
External consultants
Modifying system
Informing relevant persons
Ensuring system functions correctly
Case Study & Range
Statement contd
 Communication strategies may include:








Internal newsletter
Meetings
Training days
Professional development time
Office memorandum
Facsimile messages
Email messages
Photocopied instructions
Case Study & Range
Statement contd
 Training for Staff may include:







Professional development
On the job trainers
Videos
On-line tutorials
Training handbooks
Coach, mentor and/or buddy systems
Skills assessment
Case Study & Range
Statement contd
 CONTINGENCIES may include:




Temporary reduction of work output
Loss of staff confidence
Need for additional training
Need to modify system
Case Study & Range
Statement contd
 MONITORING of system may include:




Feedback from internal/external clients
Observation by trained technician(s)
Extra administrative support and back-up
Utilising monitoring tools and processes
Case Study & Range
Statement contd
 Security may include:
 Safeguards against computer viruses
 Passwords
 Confidentiality agreements
 Changing needs may include




Growth or decline in the size of system
Change in the nature and purpose of the system/organisation
Technological advances in administration systems
Change in user requirements
Case Study & Range
Statement contd
 Further modifications may relate to:




Specialised software
Additional equipment, training
Redefinition of administrative roles and duties
Negotiation of timeframes for system implementation
 Monitoring Staff Training needs may include:
 Ongoing assessment of staff skills
 Ongoing feedback opportunities
 Providing professional development opportunities
NEXT WEEK
 More Revision – Another Case Study?
 Discuss extra study sessions/ study
strategies.