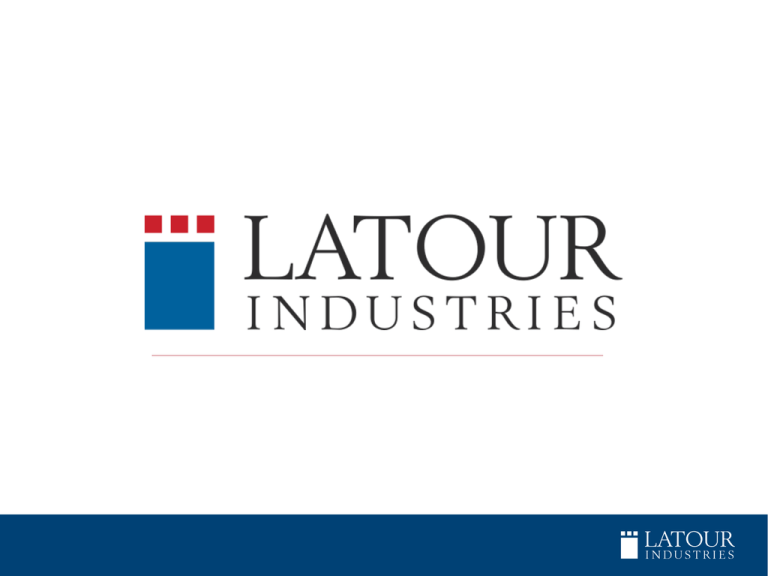 Latour Industries today consists of seven companies,
with a total turnover of SEK 1.1 billion (pro forma)
LTM revenue, 20140630 (pro forma)
Percent; 100% = SEK 1.1 billion
Elvaco
Bastec
4%
6%
AVT
7%
40%
Specma Seals 9%
12%
Kabona
21%
REAC
LSAB
Increased focus on energy efficiency, and buildings are
one of the most important levers to reduce consumption
General focus on
energy efficiency
▪ EU Energy Efficiency Directive 2012/27/EU
▪
Buildings important
lever to reach
targets
requires "saving 20 % of the Union's primary
energy consumption by 2020 compared to
projections"
General increase in prices for electricity, oil and gas
▪ Buildings represent ~40% of the EU's final energy
▪
consumption
Member states required to establish and apply
minimum energy performance requirements for new
and existing buildings
– Mandatory certification of building energy
performance
– Nearly Zero-Energy Buildings (NZEB) to become
norm for all new buildings by the end of 2020
– Intelligent metering systems to assist the active
participation of consumers in the electricity and gas
supply markets
The activities related to building automation and energy
efficiency can be divided into six segments
Meters and
detectors
▪Consumption
▪Climate
▪Flow
▪Pressure
▪Smoke
▪Presence
Collection
▪Central
systems to
collect meter
data for a large
number of sites
▪Local systems
to collect meter
data and relay
to central
system
Meter data
management
▪Data center
▪Visual
presentation
and decision
support
▪Alerts, e.g.,
leakages
▪Invoicing
support
Energy
optimization
▪Intelligent
algorithms
based on, e.g.,
temperature,
building features
and weather
forecast
Control
Actuators
▪Control signals
▪Valves
▪Dampers
▪Controllers
to actuators
based on meter
readings and
predetermined
rules
The Latour companies in this industry cover different
segments and building categories
Meters and
detectors
Collection
Meter data
management
Energy
optimization
Non-residential
premises
Residential:
Multi-dwelling
buildings
Residential:
One- and twodwelling
buildings
▪
▪
▪
▪
Companies remain as separate entities within Latour
Latour to provide means for and encourage collaboration between companies
Ongoing effort to boost geographic expansion outside Sweden
Active search for additional acquisition candidates that complement existing portfolio
Control
Actuators
The acquisitions of Kabona, Elvaco and Bastec are all in
line with Latour's investment criteria
Prospects for
identified niche
Development
potential in the
company

 Addresses identified trends

 The industry is showing profitable growth

 Favorable position in the value chain
 Next wave of development has begun

 Potential for geographic expansion

 Latour adds value

The new acquisitions have both shown solid historical
revenue growth
Net sales (pro forma)
SEK million
+15%
48
2011
64
69
2013
R12 201406
38
42
47
2012
2013
R12 201406
53
2012
+17%
31
2011
SEAMLESS INTEGRATION WITH LEADING METERING TECHNOLOGY.
Företagspresentation
Elvaco AB – Företagspresentation
2014-08-26
Elvaco
 Helhetsleverantör för
energimätning
 Egenutvecklade produkter
 Utmärkande teknik
Elvaco AB – Företagspresentation
"Elvaco skall vara det självklara valet för
kvalitetsmedvetna elnätsbolag, fjärrvärmebolag
samt fastighetsbolag som söker en långsiktig
samarbetspartner inom energimätning."
9
Historik
1982
Elvaco AB
grundades
Elvaco AB – Företagspresentation
1986
Första
leveransen
1999
100% fokus
på mätning
2013
100 000
enheter/år
65 Mkr oms.
20 anställda
10
Geografi
 Huvudkontor i
Kungsbacka
 Export till 27
länder
 Direktförsäljning
 Integratörer
 Grossister
> 5 Mkr
> 1 Mkr
> 0.1 Mkr
< 0.1 Mkr
Elvaco AB – Företagspresentation
11
Produktportfölj
Egna mätare
▪ Temperatur
▪ Luftfuktighet
Kommunikation
▪ M-Bus interface för
tredjepartsmätare
– Master / slav
– Trådad / Trådlös
▪ Externa omvandlare,
t.ex., puls till M-Bus
▪ Antenner
Insamling
▪ Externa/integrerade
M-Bus masters
– GSM/GPRS
– TCP/IP
▪ Kommunikationscentraler
▪ Centralsystem
Installationstjänster
▪ Projektplanering
▪ Installation
▪ Driftsättning
▪ Kvalitétskontroll
▪ Utbildning
Drifttjänst
▪ Insamling
▪ Kvalitetskontroll
▪ Presentation
▪ Underhåll
▪ Support
Tredjepartsmätare
▪ EL (Landis+Gyr, ABB,
Kamstrup)
▪ Värme (Landis+Gyr,
Itron)
▪ Vatten (Kamstrup,
GWF, Itron)
▪ Gas
Elvaco ABAB – Företagspresentation
Elvaco
12
12
USP
 Mätprodukter med IoT tänk
 Dynamik ger stora integrationsmöjligheter
 Enkelhet och driftsäkerhet
 Skapar nya affärsmodeller för våra kunder
Elvaco AB – Företagspresentation
13
Kunder
Fjärrvärme- och elnätsbolag
Fastighetsbolag
Övriga branscher
Elvaco AB – Företagspresentation
14
Referenser
E-On Värme Sverige AB
 25 000 fjärrvärmemätare i villor
 Drift och övervakningstjänst
 Mätvärden levereras till SAP
för rapportering/debitering
Vätterhem
 8 000 lgh/25 000 mätare av el,
temperatur, vatten
 Drift i egen regi med
Elvacos insamlingssystem
 Mätvärden levereras till
fastighetssystem
rapportering/debitering
Elvaco AB – Företagspresentation
15
Kundcase undermätning
Leverans av mätare
 Temperatur
 Vatten
 El
 Huvudmätare
Leverans av
infrastruktur
 Gateways
Leverans av tjänster
 Projektering
 Relationshandlingar
 Utbildning
 Drifttjänst
 Alt. systemleverans
Framtiden
Kontinuerlig utveckling
 Nya gateways
 Förbättrade trådlösa
lösningar
 Cloudplattform
 Produktionsoptimering
Expansion
 Internationell satsning
 Segmenterad försäljning
 Fler integrationspartner
SEAMLESS INTEGRATION WITH LEADING METERING TECHNOLOGY.
Tack!
Elvaco AB – Företagspresentation
2014-08-26
BASTEC utvecklar och marknadsför BAS2
Det lättanvända systemet för:
Styrning – Reglering – Övervakning
Energibesparing – Energiuppföljning
I samarbete med lokala entreprenörer i hela Sverige
BASTEC AB
• Omsättning 45 msek
• Årlig tillväxt 12%
(snitt senaste 5 åren)
• God lönsamhet
• 28 anställda
• Egen produktutveckling – BAS2
• 80 återförsäljare/systemintegratörer
Affärsidé
BASTEC ska erbjuda marknadens
mest lättanvända och mest flexibla system
för byggnadsautomation som leder till
största möjliga energibesparing
och ger lägst totalkostnad.
Affärsmodell / -fördelning
42 %
57 %
Produktförsäljning
Egna entreprenader
via återförsäljare/
& slutkundsprojekt
systemintegratörer
(endast Skåne)
1%
Export
Ett urval av våra produkter
BAS2 XE16-COM
BAS2 E16
BAS2 XL13
BAS2 XE16-LT
Fördelar med BAS2
• Lätt att använda och lätt att förändra
• Ingen huvuddator (DHC) behövs
• Kostnadsfri programvara med utvecklingsverktyg
• Inga tillkommande dolda kostnader
• Kortare startsträcka och mindre ingenjörstid
• Bättre lönsamhet och nöjdare kunder
• Integrerad energiuppföljning
• Kostnadsfri inbyggd webbserver och appar för iPhone/iPad
och Android utan ingenjörsarbete!
BAS2 används i många olika slags anläggningar
Små anläggningar
Stora anläggningar
Forskningsanläggningar
STF Storulvån
Malmö Airport
Max IV
Äldre fastigheter
Nybyggnation
Kontorsfastigheter
Malmö
Skånes Universitetssjukhus
Wenner-Green Center
BAS2 finns idag installerat i ca 3000 fastigheter
Med många nöjda kunder och samarbetspartners.
Intelligent ByggnadsAutomation
på ett enkelt sätt!
BAS2 har en enkel uppbyggnad
Drifttekniker
jour/servicedator
Mobiltelefon
(App/E-mail/SMS)
Fler komponenter, men lika enkelt!
Mobil-appar
iPhone/Android/Win.
Energioptimerare
Drifttekniker
jour-/servicedator
Systemintegratör
RTU
master
Driftkontor
RTU
slav
TCP
master
TCP
slav
Internet/LAN
(TCP/IP-nätverk)
LAN
LAN
2-tråd
E-post
LAN
MiniCall-text
SMS
SOS
Alarm
Larmserver
Ikarus/Nimbus
LAN
2-tråd
M-bus
Energimätare
Fokus framåt…
Lansering av BAS2
version 7.2 med appar
för iPhone/iPad och
Android
Integration med
Kabonas EcoPilot och
Internationell
Elvacos mät- och
expansion
datainsamlingssystem
Frågor ?