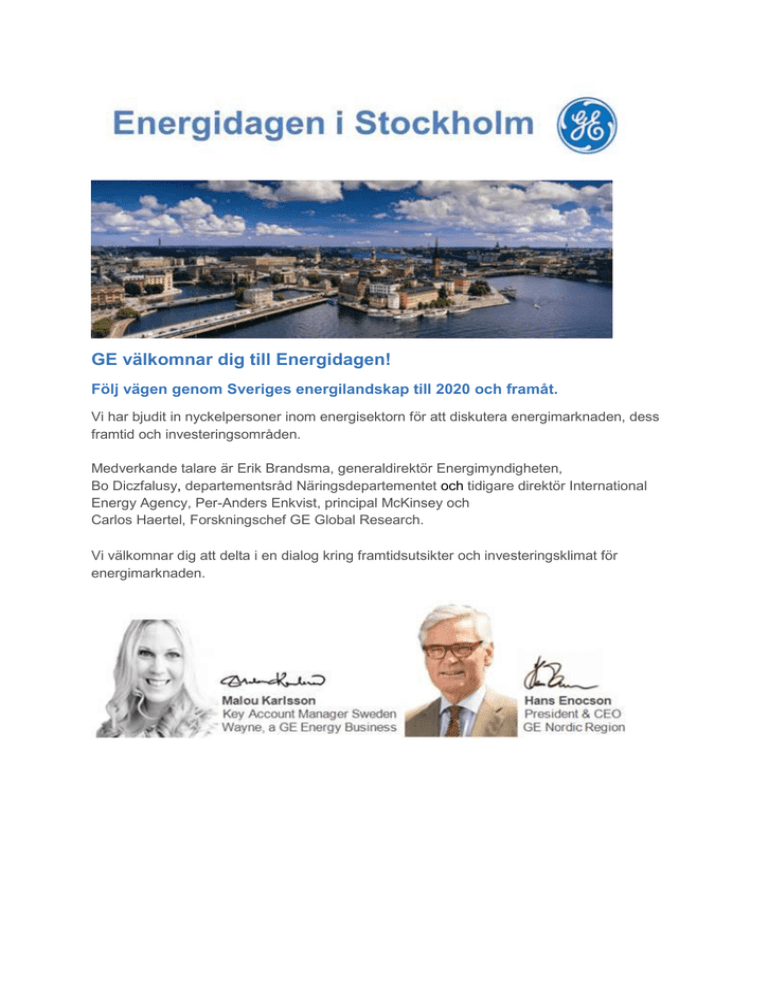 GE välkomnar dig till Energidagen!
Följ vägen genom Sveriges energilandskap till 2020 och framåt.
Vi har bjudit in nyckelpersoner inom energisektorn för att diskutera energimarknaden, dess
framtid och investeringsområden.
Medverkande talare är Erik Brandsma, generaldirektör Energimyndigheten,
Bo Diczfalusy, departementsråd Näringsdepartementet och tidigare direktör International
Energy Agency, Per-Anders Enkvist, principal McKinsey och
Carlos Haertel, Forskningschef GE Global Research.
Vi välkomnar dig att delta i en dialog kring framtidsutsikter och investeringsklimat för
energimarknaden.
Anmälan
Datum: Tisdag 5 november, 2013
Tid:
8:00 – lunch, därefter valbara fokusgrupper till ca 15:00
Plats: GE, Vendevägen 89, Stockholm
GE:s kontor når du via flera kollektivtrafikalternativ; tunnelbana Danderyds sjukhus,
Roslagsbanan Mörby station, samt med ett antal busslinjer.
Karta
Anmäl dig här
Kontakta David Stråberg via e-post eller telefon 08-559 501 02
om du har några frågor.
Program
8:00
Registrering och kaffe
8:30
Välkommen och introduktion
Moderator Bo Normark, vd, Power Circle
Framtidsspaning med McKinsey – utveckling och framtidsscenarion i
Sverige och Europa
Per-Anders Enkvist, principal, McKinsey & Company
Förutsättningar för framtidens energiförsörjning
Bo Diczfalusy, departementsråd, Näringsdepartementet, tidigare
direktör International Energy Agency
Energidiskussionen efter 2020 – prioriteringar och dilemman ur ett
svenskt perspektiv
Erik Brandsma, generaldirektör, Energimyndigheten
Innovation in energy technology and green strategy (på engelska)
Carlos Haertel, Director, GE Global Research
Paneldiskussion
12:00 Lunch
12:45 Valbara fokusgrupper
Nuclear: "Innovativa nukleära lösaningar för Sveirge"
Digital Energy: "Sourcing av högspänningslösningar från Kina för
moderniseringsprojekt av elnät"
Wayne (ett GE Energy företag) & GE Lighting: "Hur får oljebolagen sina
nät att lysa starkast?"
Measurement & Control: "Industriell CT (Computed Tomography) & RVI
(Remote Visual Inspection) i elproduktionssektorn"
- M&C kommer inte att hålla en in egen fokusgrupp utan istället presentera i
de andra grupperna.
GE follows global integrity policies that require us to obtain confirmation that your participation in this event complies with
your organization's guidelines and local laws. We trust that you will take care of all necessary disclosures and approvals in
connection with this invitation. Your understanding and cooperation in this regard is greatly appreciated.