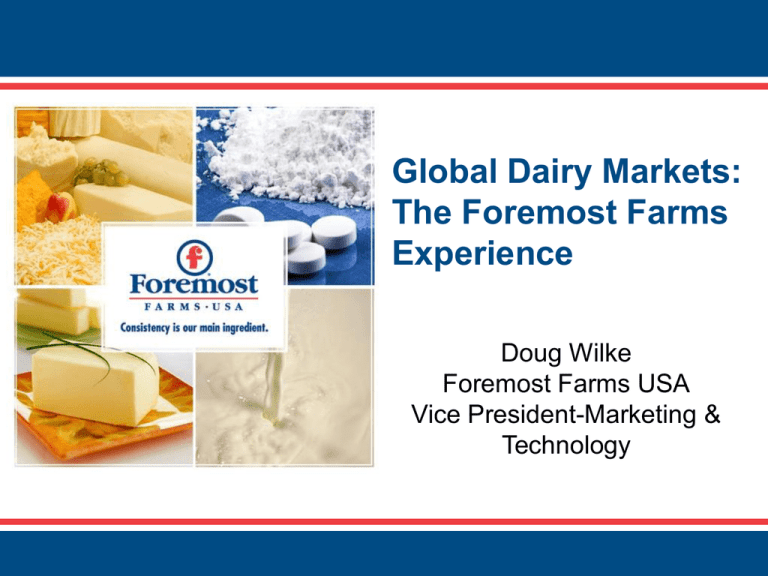 Global Dairy Markets:
The Foremost Farms
Experience
Doug Wilke
Foremost Farms USA
Vice President-Marketing &
Technology
A Snapshot of Foremost Farms
Established:
1995
Member Milk Volume:
5.7 billion pounds
Member-Owners:
1,900
FY 2011 Revenues:
$1.7 billion
Employees:
1,100
Rankings:
No. 8 in milk volume
among U.S. dairy cooperatives
No. 20 (Dairy Foods magazine)
in annual sales among Top 100
U.S. dairy processors
Our Locations
Our Products
Major Manufacturer & Domestic Marketer of Cheese
• 9 cheese plants
• Over 500 million lb. Cheese
• One of the largest Mozzarella
cheese producer in U.S.
• Over 25 varieties
o 75% Italian
o 25% American
o Industrial (30%); foodservice
30%) and retail (40%)
Our Ingredient Business is Global
Produce approximately
300 million pounds of
dairy ingredients for
these target markets:





infant formula
bakery/pizza
pharmaceutical
food
feed
Butter – 35 million pounds
Primary Products Exported
•
•
•
•
•
Whey protein products
Pharmaceutical lactose
Demineralized whey
Permeate
Some cheese and butter
Our Customers are Global Players
• Three of the five largest infant formula
providers
• Kerry Bio Science
 Global food and pharmaceutical company
 Long-term agreement on pharmaceutical
lactose
• James Farrell & Co.
 International trading company
 Our marketing partner for ingredient exports
Ingredient Export Map
Exports as a % of
ingredient sales
2011: 31.9%
2010: 29.9%
2009: 26.5%
Ingredient & Pharma
Pharma
Ingredient
There's Opportunity for "US"
•
•
•
•
Globalization is here to stay
World dairy demand will outpace supply
Imbalances will drive volatility
U.S. has finite window of opportunity before
other suppliers emerge
• Some structural constraints keep the U.S. from
being a consistent supplier
• Maintaining status quo will weaken U.S. industry
The Keys to Success
• Work more closely with buyers to better
understand their needs
• Make the commitment to be a consistent seller
to global markets
 Adjust underlying policy and regulatory influences
 Build partnerships to market dairy ingredients to
global buyers
 Develop the products that better meet buyers'
specifications and quality requirements
 Help buyers manage price volatility
 Serve global buyers in good years and in bad
Thank You!