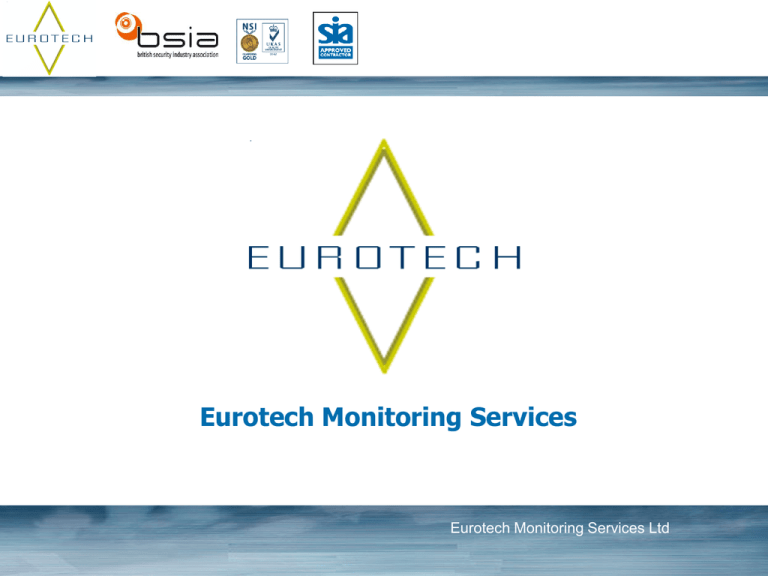 Eurotech Monitoring Services
Eurotech Monitoring Services Ltd
Who are Eurotech
• Independent, privately owned Security Company, founded in
1979.
• Formally a Manned Guarding company with over 30 years
experience in the industry.
• Since 1999 we have focused on developing the control centre
and response services, and specialise in the following areas:
•Control Room
•Monitoring
•Helpdesk
•Response services (commercial and residential)
•Management Services
Our Services
Control Room
Outsourced Control Room Services, Lone Worker Monitoring,
message handling, helpdesk facilities, CCTV Monitoring.
Response
National Keyholding & Alarm response, assisted open up, escort
services, daily open/lock up service, mobile patrols, vacant property
inspections.
Our Services Continued
Vehicle Tracking
Tracking of vehicles, fleet management.
Health & Safety/Maintainance Checks Facility
Service provided via real time mobile patrol device.
Management
Via associated companies we can provide all physical and technical
security requirements i.e installation of gates, locks, doors, access
control, alarm systems, CCTV etc.
Our Control Room Service
• Our control Room is operated 24hrs a day by fully trained
operatives and a Duty Manager.
• All staff are fully trained & conversant with control room
instructions.
• Full support is available to our control room staff by a rostered
management call out system.
• There is full Site & Security Officer supervision via our 24 hour
manned control room, mobile patrols, spot checks and check
calls via telephone.
• Our Control room uses the very best in modern technology to
support your staff in their daily functions.
• Our Control room is built to BS 7499 standards.
The Control Room
Our National Keyholding Service
• Eurotech provides keyholding services to sites throughout the
Greater London area. (We have two offices in North & South
London)
• Eurotech provides national coverage for additional sites via our
network of keyholding partners.
• Our Keyholding network covers across the UK and Ireland.
• Eurotech act as a centralised point of contact for administration
operations, reporting and invoicing.
Our National Keyholding Service
Providers (SPs)
• All SPs are SIA/ACS accredited – they are full audited by
Eurotech on a yearly basis.
• SPs are experienced professionals with a wealth of expertise and
local knowledge.
• All Operations are co-ordinated by our 24 hour control room.
Our Accreditation
• The company is a NSI Accredited organisation (Gold Standard)
• An SIA Approved Contractor (Security Industry Authority)
• BSIA members (British Security Industry Association) ISO 9002
adhering to BS7499, BS7858 and BS7984
• Safe Contractor
• Members of ROSPA The Royal Society for the Prevention of
Accidents
The Eurotech Partnership
•
Eurotech will provide complete control room services & operational support.
•
There is now a centralised system and point of contact via the control room. We
will monitor:
Booking officers on and off duty
Receiving check calls and following up calls not made
Daily operational logs
Message Handling/Passing
Any other operational issues
Provide a fully integrated Security Systems Support/Consultancy
CCTV Monitoring
Alarm Monitoring
How Does the Partnership Work
The Control Room System
TimeGate – Maintaining Client Data
We use TimeGate to Manage Rosters
We use TimeGate to Monitor Duties
Additional Services - Pay & Bill
Branch
Invoice
Header
Site Group
Sites
Billing
Process
Employee
Duties
Invoice
Detail
Interface
Misc
Charges
Invoices
Additional Services – Web based system
System Benefits
Efficiency
 Reduced back office manning
 No upfront costs
 Ownership economies of scale
Competitiveness
 Real time manpower management
 Full financial and operational reporting
 Internet platform for clients, management and staff
Effectiveness
 IT fully managed
 Systems integrated with NSI Gold partners
 Businesses processes align with QMS
Client Benefits
In-depth Knowledge of keyholding requirements, procedures & expectations.
Can provide Clients with a range of additional services.
We can centralise all of the clients security requirements and reduce costs
Full Audited reporting mechanisms and management systems ensuring
complete account ability.
Dedicated account manager
Our Staff and Partners
• All staff are fully screened to BS 7858, SIA Licensed, vetted for
10 year checkable history, criminality and credit check.
• All staff undergo a four day SIA training course and a two week
in-house training course specific to their area of responsibility.
• All company personnel undergo a six monthly career
assessment.
• All Keyholding Partners and Associated companies are all NSI
and SIA Accredited companies adhering to quality management
systems
Thank You Questions and Answers
Thank You !