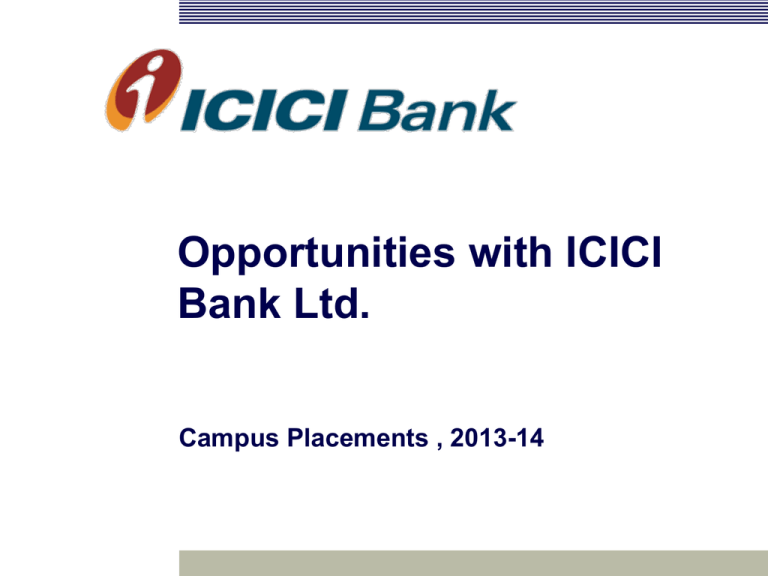 Opportunities with ICICI
Bank Ltd.
Campus Placements , 2013-14
ICICI Group: A financial superhouse

Strong brand identity that instills confidence among
customers

Facilitates diversification and new initiatives

Brand present across all distribution channels
…among India's top financial services brands
ICICI Bank: Mirroring India's change
International
Development
Finance
Project finance
to India's
corporate
sector
Commercial
Banking
Capitalizing
on
liberalization
of the financial
sector
Retail
Banking
First mover in
consumptionled growth
opportunity,
leveraging
technology
Insurance
Becoming a
universal
bank
Serving
Indian MNCs,
NRIs and local
communities
2000
1996
1955
A well
capitalized
Bank, offering
services across
products
2012
2003
1994
2nd largest
Bank of the
country
The ICICI Group: Our strategy
International Retail
Banking
Leverage NRI opportunity and
technology capabilities
Rural Banking
Invest for future growth
Insurance & Asset
Management
Enhance and leverage market
leadership position
Domestic Retail
Banking
…multi-specialist financial
services group
4
Shareholder value
Global Corporate
and Investment
Banking
Enhance share of retail
deposits and sustain
leadership position in credit
franchise
Leverage corporate
relationships, structuring
expertise, balance sheet and
global syndication capability
Key Milestones
1955
Formation of Industrial Credit & Investment Corporation of India Ltd as a
development financial institution to provide foreign currency loans to industry
1994
Formation of ICICI Bank Ltd as a subsidiary
1998
Name changed to ICICI Limited; entry into retail credit
1999
First Indian company and first financial institution from Asia (ex-Japan) to list on
NYSE
2000
ICICI Bank becomes first Indian bank to list on NYSE; acquires Bank of Madura
2000
Entry into insurance
2002
Merger of ICICI and ICICI Bank
2003
Beginning of international scale-up: first overseas branch in Singapore
2007
Acquisition of Sangli Bank
2010
Merger with Bank of Rajasthan
2012
Roll out of twenty five 24x7 Electronic Branches across 18 locations
Awards & Accolades

ICICI Bank in the Private Sector Bank category won the Best
Technology Bank Of The Year, Best Financial Inclusion Initiative
and Best Use Of Technology In Training and e-Learning by Indian
Bank's Association (IBA) Technology Awards.

Ranked 2nd in the Banking sector and 10th in the overall "BT 500
India's Most Valuable Companies", by Business Today
 For the second consecutive year, ICICI Bank was ranked second in
the "India's 50 Biggest Financial Companies" , in The BW REAL
500 by Business World

ICICI Bank tops the list of "Most Trusted Private Sector Bank" and
ranks 10th in the list of "India's Most Trusted Service Brands" by
Brand Equity, Most Trusted Brands 2011

ICICI Bank ranked 5th in the list of "57 Indian Companies", and 288
th in World Rankings in Forbes Global 2000 list

ICICI Bank received the Best Manpower Efficient Award amongst
private sector banks by FICCI – IBA
Our main Groups
Rural
& Banking
Inclusive
Retail
Banking
Wholesale
Wholesale
Banking
Banking
SMEAG
SMEAG
Operations
Operations Group
Group
Retail Banking
Rural & Inclusive Banking is responsible for
priority sector lending and capitalize on
profitable opportunities in the rural
economy
Wholesale banking is based on providing
comprehensive and customized financial
solutions to large corporate customers
SMEAG focuses on providing
comprehensive Banking solutions to
medium size enterprises
Responsible for Banking operations
which support the various businesses of
the Bank
India's biggest private sector Bank with a
spread of 2,755 branches
Rural & Inclusive Banking (RIB)
 Rural & Inclusive Banking business is critical to the Bank's strategic
objectives
 The group encompasses achieving the priority sector lending &
financial inclusion targets and capitalizing on profitable business
opportunities in the rural economy
 We work with various entities of rural economy including large
companies, small agricultural enterprises and individuals with backward
or forward linkages in the entire agricultural supply chain
 Offers a complete suite of customized products and services to meet the
individual financial requirements of farmers, agricultural traders,
processors and rural entrepreneurs
 Cater to the un-banked population through its innovative products &
services.
8
What's in it for you…
 A young & dynamic work environment
 A chance to work with the economy shapers & the policy
drivers
 Constant opportunity to set industry benchmarks
 Job sizes far bigger than that of your peers
 An organization that compels you to deliver, often beyond
your own expectations
We are looking for…
A young professional who:
 Has drive for results
 Takes initiative
 Has willingness to learn
 Bounces back from setbacks and never
gives up
 Has energy and dynamism
 Has confidence
 Is patient and courteous
The role being offered:
Sales Executive
 Field investigation of the client. Ensuring
payment to the seller. Ensuring purchase of
the asset (end use monitoring)
 Execution of loan document: preliminary
loan application form, pre sanction & post
sanction documents
 Loan Utilization verification: Verifying end
utilization of funding made to customer
Recruitment Process
 Case-based Personal Interview
 Offer letters with CTC details to select
candidates
 Orientation & Induction on Day 1 of joining
Salary for Development Officer II
2013 DO-II Cam pus offer
Rem u n er at io n Det ails
M o n t h ly
Basic
6,500
Supplem entary Allowance*
9,130
Superannuation Allowance * *
975
To t al
1 6 ,6 0 5
Ret ir als
Retirals (PF, Gratuity) * * *
1,321
To t al CTC
1 7 ,9 2 6
Perform ance Bonus (Average) #
1,575
To t al (in c l PB & Lo an s)
1 9 ,5 0 1
A n n u al
78,000
109,560
11,700
1 9 9 ,2 6 0
15,857
2 1 5 ,1 1 7
18,900
2 3 4 ,0 1 7
* * Supplem entary allowance includes HRA (A+ city), Additional HRA, Conveyance / Travel
allowance, Telephone reim bursem ent, LTA, M edical, Canteen and any other allowance.
* * You have an option to join the Superannuation schem e and in such case the 15% of your
annual basic salary will be credited to the Superannuation Fund and the superannuation
allowance will be withdrawn
# Please note that there is no m inim um guaranteed bonus. The bonus ranges from 0 to 100%
of Basic salary
* * * Com pany contribution towards PF is 12% and Gratuity is 8.33%
Thank You.....