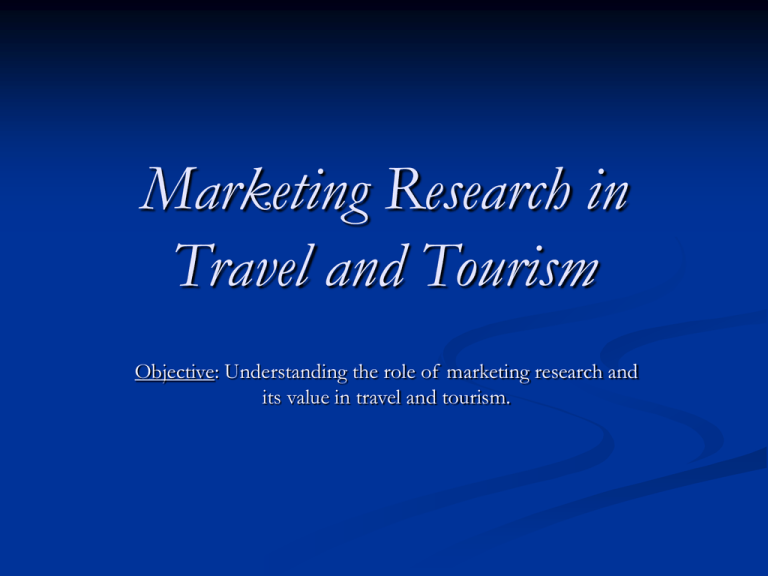 Marketing Research in
Travel and Tourism
Objective: Understanding the role of marketing research and
its value in travel and tourism.
Marketing Research


Marketing research includes all forms of
research-based information used in making
marketing decisions, including consumer
research, database analysis, and marketing
information systems (MIS).
To facilitate marketing decision making,
marketing research gathers, processes, analyses,
stores and communicates information.



Due to technological developments, today,
information gathering is handled with the help
of advent computer technology, faster data
processing, and sophisticated database software.
Today, most of the information is gathered via
the Internet, mobile phones, telephones and
other traditional methods including
questionnaires and interviews.
In order to provide solutions to management
problems, marketing research helps to reduce
the amount of uncertainty and risk.



Marketing research helps to make informed
decisions.
However, in the travel and tourism industry, the
use of marketing research is still less effective
when compared to the research carried out in
other major industries.
This is because of the managers in travel and
tourism who assume that less research is
required, since they are face to face with their
customers most of the time. This may be true
for small operations.
Main Categories of Marketing
Research and Their Use

Market analysis and forecasting;
used in/for marketing planning
 to measure and project market volumes, shares and
revenue by relevant categories of market segments
and product type.


Customer research;
used in/for segmentation, branding and positioning
 to measure customer profiles, awareness, attitudes,
and purchasing behavior (quantitative)
 To assess consumer needs, perceptions and
aspirations (qualitative).


Product and price studies;
used in/for product formulation, presentation,
pricing and market assessment
 to measure and consumer testing of amended and
new product formulation, and price sensitivity
studies.


Promotions and sales research;
used in/for efficiency of communications
 to measure consumer reaction to alternative
advertising concepts and media usage, response to
forms of sales promotion, sales-force effectiveness
and website responses.


Distribution research;
used in/for efficiency of distribution
network/channels
 to measure distributor awareness of products,
stocking and display of brochures and effectiveness
of merchandising. Includes retail audits and
occupancy studies, analysis of website usage and of
call centers.


Evaluation and performance monitoring studies;
used in/for overall control of marketing results and
product quality control
 to measure customer satisfaction overall and by
product elements. Includes marketing tests and
experiments and use of mystery shoppers.

Types of Marketing Research Used
in Travel and Tourism

Most common types of marketing research used
in travel and tourism;
Continuous and ad hoc
 Quantitative and qualitative
 Primary and secondary
 Omnibus and syndicated
 Occupancy studies

Continuous and ad hoc



Key trend data should be measured on a regular;
daily, weekly, or monthly basis.
Examples include data covering enquiries, sales,
booking types and patterns, market shares,
customer satisfaction, seat or hotel bed
occupancy.
Very important for customer satisfaction and
developing the marketing mix.


There may also be specific marketing problems
requiring research. These require specific or ad
hoc investigation e.g. Is the market potential
good enough to make a new hotel investment,
what size and what service level would be
profitable?
Modern continuous research include Internet
search of websites and advertising links. Websites
are monitored for traffic, number of clicks and
page uses generated. Website information can be
adjusted based on the words used while Googling
by potential customers.
Quantitative and Qualitative



With the help of quantitative research, numerical
estimates can be made based on the structured
questions asked to random samples of existing
or potential customers.
Every respondent is asked the same questions,
therefore, variations to suit individual
circumstances are not possible.
With the help of such research, a coach operator
can find out on average how much money
customers spend, how many nights they stay, etc.




To measure consumer motivations and attitudes,
qualitative research is used.
Most have exploratory or open-ended questions
with small samples of carefully targeted
individuals (focus group).
With the help of such research, a company can
understand how customers feel about Brand A
compared with Brand B, what attitudes and
values are perceived as adhering to Brand A and
not Brand B, etc.
Such research is helpful to understand and
communicate positioning and branding values.
Primary and Secondary



Primary data collection requires the gathering of
data not available from any other (secondary)
source.
Secondary data are information originally
collected before for a purpose but available for a
company to use.
Includes all published sources such as Internet
usage data, government statistics, trade
association surveys and commercial publishers'
market surveys.



Secondary data collection is always cheaper and
quicker.
Data collection always starts with secondary data
collection before primary research.
When the secondary data collection is efficiently
done, less expensive primary data collection
takes place.
Omnibus and Syndicated



Large market research companies collect their
own data from survey samples and sell them to a
range of customers. Such research is known as
omnibus surveys.
They are potentially open to all users.
Such surveys are cost effective for companies
which looks for answers to four or five key
questions, compared to collecting the data
themselves.



Besides getting answers to specific questions,
such data provide information on the profile
characteristics by age, postcode, readership of
media, etc.
In the UK, the United Kingdom Tourism
Survey is a well-known survey of UK tourism.
Such research is carried out by the Ministry of
Culture and Tourism in Turkey.
Data covers choice of accommodation,
transport mode, areas and destinations visited,
purpose of trip, etc.



Omnibus surveys may also be carried out for
specific market segments such as backpackers,
business travelers, etc.
Syndicated surveys may also provide similar
information, however they are commissioned by
a group of clients on a cost-sharing basis. For
instance hotels in Kemer receive details for their
own operations by sharing costs. They can also
get relevant comparisons with competitors.
Both omnibus and syndicated research provide
cost-effectiveness especially for small firms who
are also provided technical assistance.
Occupancy Studies



Since it is very valuable to understand key trends
in the industry, a small but representative sample
of businesses in tourism such as hotels are asked
to maintain their daily records on arrivals and
departures and rates paid.
These data can then be analyzed on a weekly,
monthly or quarterly basis.
They can be communicated to the sector as a
whole.
Marketing Research Tool Kit

Desk research (secondary sources)
Sales/bookings/reservation records; daily, weekly,
etc by type of customer, type of product etc.
 Visitor information record, e.g. guest registration
cards, booking form data, call centre or website data
 Government publications/trade association
data/national tourist office data/abstracts and
libraries
 Commercial analyses available on subscription or
purchase of reports

Previous research studies conducted; internal data
bank
 Press cuttings of competitor activities, market
environment change.


Qualitative or exploratory research
Organized marketing intelligence, such as staff
feedback, sales-force reports, attendance at
exhibitions and trade shows
 Focus group discussions and individual interviews
with targeted customers/non-users, especially to
identify the perceptions and attitudes of key users
and non-user groups

Observational studies of visitor behavior, using
cameras, electronic beams or trained observers
 Marketing experiments with monitored results


Quantitative research (syndicated)
Omnibus questions to targeted respondents
 Syndicated surveys, including audits


Quantitative research (ad hoc and continuous)
Studies of travel and tourism behavior and
usage/activity patterns
 Attitude, image, perception and awareness studies
 Advertising and other media response studies

Customer satisfaction, value for money and product
monitoring studies
 Distribution studies amongst the range of
distribution channels being used or investigated for
future use

Customer Access: A Priceless Asset


Due to the inseparable nature of travel and
tourism operations; service producers and
customers being on the premises, there is a
major opportunity to organize internal research
Feedback from customer contact staff and
customers themselves provide valuable stream
of marketing decision information in travel and
tourism organizations.
Researching Customer Satisfaction
and Value for Money



Large tour operators typically conduct selfcompletion customer satisfaction surveys to all
travelers returning from holidays generally on
flight back home.
Such data is helpful in analyzing satisfaction and
value for money.
Since those surveys ask "profile information",
data can be analyzed by age of respondent,
region of origin, postal codes, cost of package,
etc.


"Mystery shoppers" is an alternative research
technique to collect data on the quality of
service delivery.
It is widely used in accommodation and
restaurant sectors of tourism.
Sources



Kotler, P.; Bowen, J. and Makens, J. (1999).
Marketing for Hospitality and Tourism (2nd ed.).
Prentice Hall. NJ.
Kotler, P. and Armstrong, G. (2006) Principles
of Marketing (11th ed.). Prentice Hall. NJ.
Middleton, V.T.C.; Fyall, A.; Morgan, M. and
Ranchhod, A. (2009) Marketing in Travel and
Tourism (4th ed). Elsevier. Oxford.