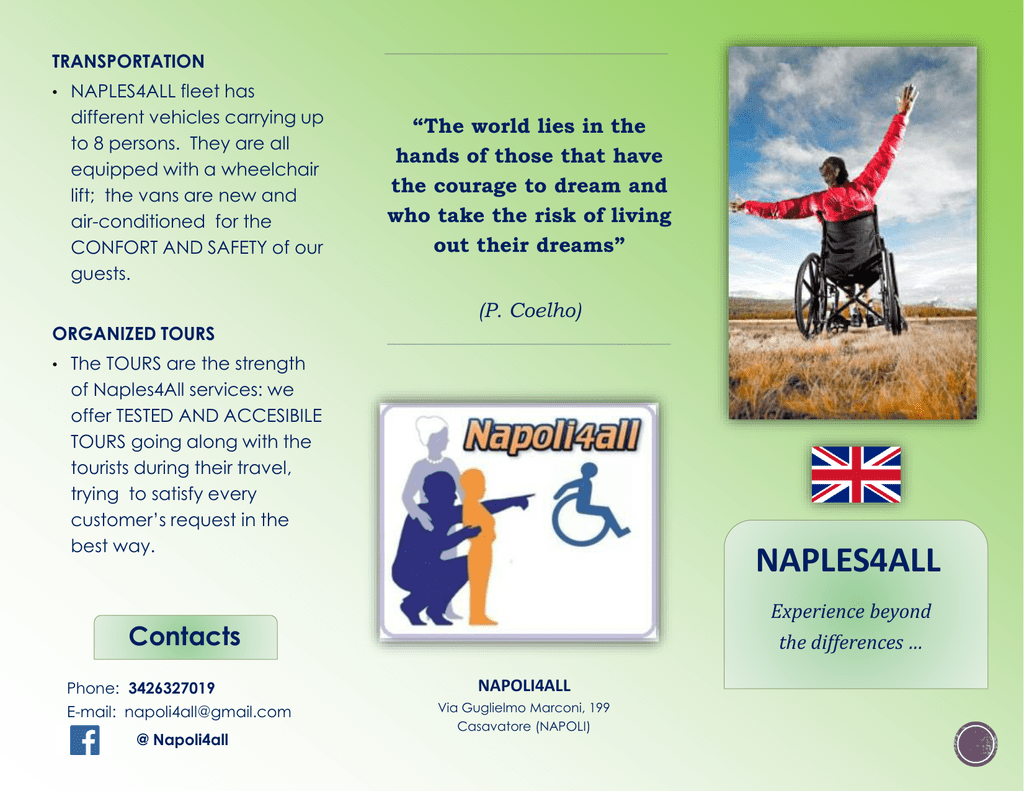 TRANSPORTATION
• NAPLES4ALL fleet has
different vehicles carrying up
to 8 persons. They are all
equipped with a wheelchair
lift; the vans are new and
air-conditioned for the
CONFORT AND SAFETY of our
guests.
"The world lies in the
hands of those that have
the courage to dream and
who take the risk of living
out their dreams"
(P. Coelho)
ORGANIZED TOURS
• The TOURS are the strength
of Naples4All services: we
offer TESTED AND ACCESIBILE
TOURS going along with the
tourists during their travel,
trying to satisfy every
customer's request in the
best way.
NAPLES4ALL
Experience beyond
Contacts
Phone: 3426327019
E-mail: [email protected]
@ Napoli4all
the differences …
NAPOLI4ALL
Via Guglielmo Marconi, 199
Casavatore (NAPOLI)
Tourism for All
NAPLES4ALL promotes
services for accessible
tourism for individuals and
groups, according to any
particular need and
different destinations.
NAPLES4ALL aims to:
•
Provide "Tourism for all"
services, in order to guide our
guests among the large
number of (educational,
environmental, wine and food,
ecological, etc.) proposals
offered in our region,
guaranteeing accessibility and
full enjoyment.
•
Allow disabled people to join
events, visit museums and art
exhibitions, to go to parks,
theatres, sport facilities and
events.
•
Give reliable, updated and
verified information about
tourism facilities.
NAPLES4ALL activities:
• Social transport- private transport
for disabled people and persons
with impaired mobility.
• Tours, educational excursions
and transportation to shows,
events and live performances
gathering groups for leisure
activities.
Our professional staff ensures
maximum flexibility and 24/7
availability.
.