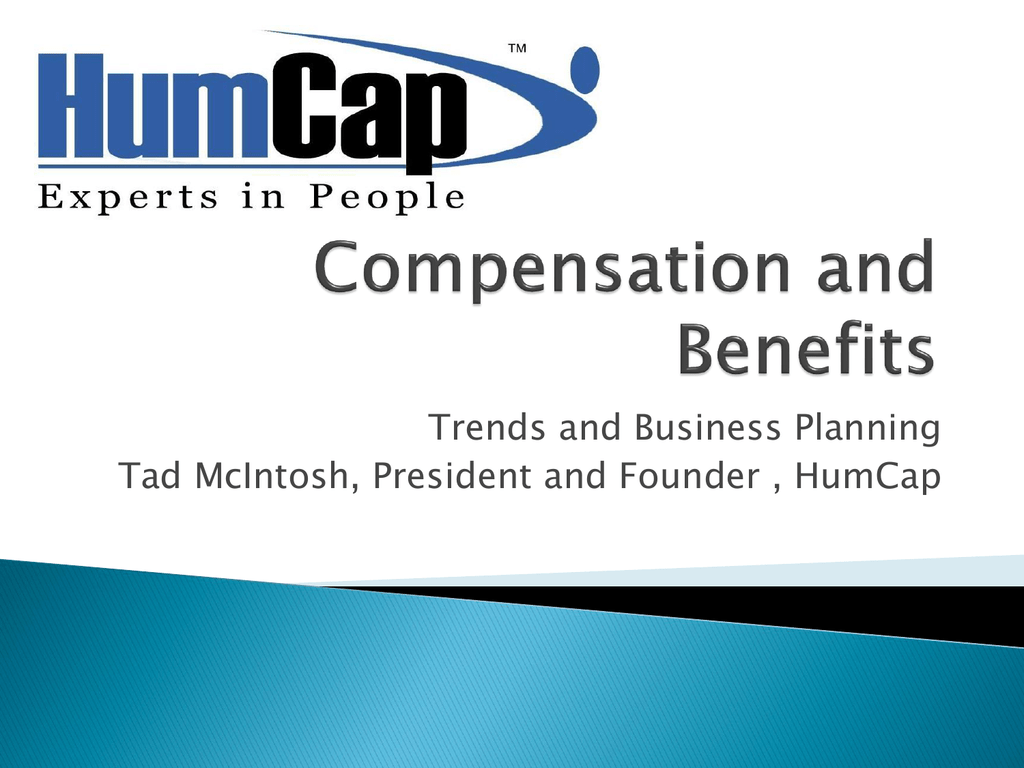 Trends and Business Planning
Tad McIntosh, President and Founder , HumCap

Average college graduate receives roughly
$50k per year (business degrees)
◦ Chemical engineer- 65k
◦ Computer Science - $62 k

Group Benefits are similar for new grads but
less expensive for the company to provide
based on the health risk

Competitive salary
◦ Base-lined annually to market conditions


401(k) with a 4% match to employee
contributions
Fully paid health premiums for all employees
◦ Available Health Savings Account (HSA)

Profit sharing that compensates each person
at each level based on performance of entire
company
◦ Delivered to team members in non-executive ranks
before being distributed to senior team members

In addition to base salary, some Accenture
employees are eligible for variable pay, OT
pay, and other performance awards
◦ Also, Accenture equity gained through share option
grants and discounted share purchases



401(k) 6% match from Accenture with 100%
vesting after two years of service
Medical, dental, disability, life, legal,
accidental death insurances
Flexible spending accounts and transportation
program to use pre-tax dollars to pay health care and
transportation expenses

Freezing pay was common for companies in
2009-2010
◦ Only 7% of companies claim they will freeze pay for 2011
◦ Technical companies will average around 3% salary
increase

Majority of companies aiming to strengthen their
pay for performance programs
◦ Differentiating increases between low and high
performers continues to be in focus
◦ On average, for 2010, high performers received 4%,
average received 2.5%, and low received 1.1% increase.

Use of variable pay has become more
widespread
◦ Provides the opportunity to reduce fixed costs
◦ Allows considerable differentiation of award
opportunities based on performance
◦ Can motivate participants to focus attention and
efforts on critical organizational initiatives to
improve productivity

Multi-year variable pay
◦ A valued retention tool when low salary increases
and smaller annual incentive payout

Average annual premiums for 2010 were
$5,049 for single, and $13,770 for family
◦ 5% and 3% higher than the previous year,
respectively- Large company averages



99% of large firms (>200) offer health
benefits in the future
68% of small firms (<200) are likely to offer
health benefits in the future
Towers Watson Survey

Major medical coverage will likely change
more in future than in the past
◦ 42% of employers believe that diminished benefit
packages will be a likely outcome from health care
legislation

Creates opportunity for companies to
◦
◦
◦
◦
Offer a more comprehensive benefits package
Make Choices on where to spend benefit dollars
Help Small companies compete with big ones
Be more of an anchor for companies that don't
change

Health care cost increases have reached a
plateau — but are still three times the rate of
Average cost trends
inflation
without changes to
plan design and/or
employee
contributions would
have been 8% in 2010
and are expected to be
slightly higher (8.5%)
in 2011.
18%
14.7%
15%
13.0%
12%
9.7%
9%
10.6%
10.3%
8.5%
7.5%
8.0%
6%
6.0%
6.0%
2007
2008
7.0%
7.0%
6.0%
3%
0%
1999
-3%
2000
2001
2002
2003
Health Care Trend
2004
2005
CPI-U
2006
2009
2010
Public Sector and Education
2011*

Affordability gap widens
200%
180%
160%
140%
120%
Affordability
Gap
100%
80%
60%
40%
20%
0%
2000 2001 2002 2003 2004 2005 2006 2007 2008 2009 2010 2011
Active
Insurance
Premiums
ActiveWorker's
Workers'Health
Health
Insurance
Premiums
Workers'
Earnings
Workers'
Earnings
Cumulative health
care costs have
grown more than
four times faster
than workers'
earnings over the
last decade,
leading health
benefits to become
a much larger
portion of
employees' total
rewards.

Employers are less confident they will offer
health care benefits a decade from now
◦ Confidence is below levels reported in 2003, when
health care cost trends were upwards of 13%
80%
70%
62%
59%
60%
50%
74%
73%
18%
15%
57%
12%
43%
38%
40%
9%
30%
6%
20%
3%
10%
0%
0%
2003
2005
2007
High Confidence
2008
2009
2010
Annual Trend
Public
Sector
and
Education
Yet confidence is
higher over the
shorter horizon:
71% are "very
confident" about
offering health care
benefits five years
from now.




Survive the first 12-24 months in Business
Business means earning revenue not science
projects or free web apps
Main goal in Business is Return on Investment
for shareholders
HR and Benefits are necessary to grow but
not to start a company






Free pizza for work
Stock options / Equity for work
Keep costs as low as possible
Don't pay what you don't have
Plan on your money needing to last 3 times
as long as reasonable business plan
Call on friends and family for help- if they
don't help, they either don't like you or don't
believe what you are doing will work






Some salaries can and will need to start
Be creative to get going
Money is not the only motivator
Salary is a benefit of employment not
ownership
Perks can begin to kick in
Benefits can be added but are demotivating
to take away




Funding is not always needed to have a real
company
Real salaries should start at A round or
revenues to substantiate commercial viability
PTO is normal but usually not taken
Some benefits should start
◦
◦
◦
◦
401(k)- very important long term
Life
LTDHealth


Don't get pulled into competing with the big
company benefits
Be Creative on how you implement
 Do
NOT overbuy too
soon!






Work environment is why many people leave
big companies
Be a great place to work
Survey what people want
Set a budget and stick to it
Determine what is REALLY important to you
and the employees
Free pizza

Base
◦
◦
◦
◦


Look at surveys
Look at what experience is necessary versus wanted
Can you fractionalize your need?
Can you outsource some things ?
Bonus numbers
Profit sharing








Most Funded companies use as incentive
Equity is very expensive
Look long term value possibility
Be careful on what you do
Most options end up as worthless
Think Facebook story
Don't promise what you can't legally give
Consult the Lawyer that incorporated you



Everyone needs
Most start too late
Great benefit that is not too expensive






Very expensive bought individually
Much cheaper for companies to buy
LTD is a great benefit
You must communicate the value
You can offer this as employer paid
You can offer employee paid versions





Helps fill out the benefit offering
Helps people customize the plan they need
Helps with pre tax / section 125 treatment
Very popular with small companies
Watch out for people being sold





Think Long term
Think how can we start where we are and get
better every year
Watch over buying at funding
Be smart by using " Been there- done That"
advisors
Hire good outside advisors at all levels
◦ Lawyer- CPA – CFO- HR –
◦ Fractionalize if you can

Email questions or needs to me if I can help
◦ [email protected]
◦ Tad McIntosh, HumCap
Good Luck in your career and New Ventures!