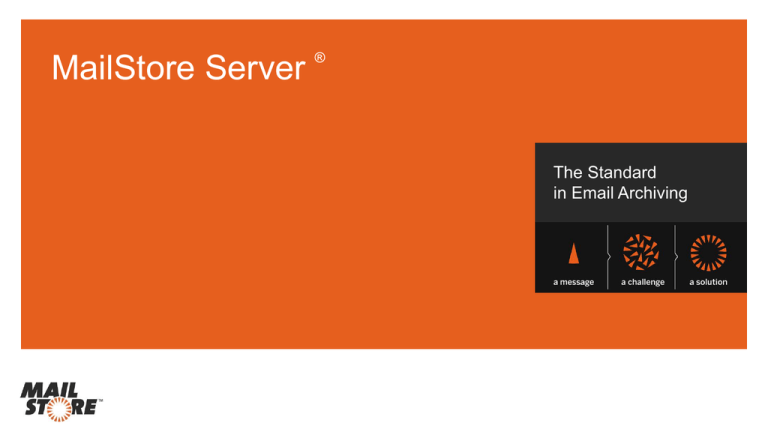 MailStore Server
®
The Standard
in Email Archiving
Advantages of Email
Archiving
Advantages
For Administrators
Permanently reduce the workload of email servers
Simplify email backup and restore
Lower storage requirements and cost
Increase email availability
Centralization of distributed emails (e.g. PST files)
Advantages
For the Company
Total protection against data loss
Meet a growing number of regulations on email compliance,
eDiscovery, and other legislation
Increased productivity
Reduce IT costs
Advantages
For Users
Extremely fast search of all emails and attachments
MailStore Mobile Web Access for iPhone, iPad, iPod touch,
BlackBerry, Google Android and Windows Phone
Mailbox quotas become redundant
Why MailStore?
Why MailStore?
MailStore is Specifically Optimized to
Meet the Needs of SMEs
Highly safe investment: For years, over 10,000
customers in 60 countries, relied on MailStore
Easy to set up in just a few minutes and
intuitive to use
Low cost and system requirements
Integrated storage technology that does not require a
SQL server
Businesses of all sizes can benefit from
the legal, technical, and financial
advantages of modern and secure
email archiving with MailStore Server.
Why MailStore?
Comprehensive Compliance Concept
Regular certification in accordance with
international standards
Technology concept




100% complete archiving of all emails possible
Tamper-proof thanks to AES256 encryption, SHA1 hash values,
and other measures
Configurable retention policies
Integrated auditing system delivers seamless logging and
transparency
MailStore Server helps companies
meet a growing number of regulations
on email compliance, eDiscovery, and
other legislation. MailStore Server is
also an important tool that helps
these companies protect themselves
against general legal risk or customer
complaints.
Why MailStore?
Supports Most Common Email
Systems and Archiving Methods
Microsoft Exchange 2003, 2007, 2010 & Office 365
MDaemon, Kerio Connect and IceWarp
All IMAP or POP3 compatible email servers and
webmails services
Microsoft Outlook and other email clients
PST, EML, MSG and MBOX files

Archiving of existing mailboxes,
shared mailboxes, public folders,
and PST files

Archiving of all emails as they are
received and sent

Emails can be deleted from
mailboxes once they have been
archived according to a rulebased process
Why MailStore?
Search Emails Extremely Fast
MailStore Outlook Add-in
Seamless integration in Microsoft Outlook
MailStore Web Access
Access using any internet browser

When accessing the archive,
users can perform a full-text
search (including all file
attachments) or use the regular
folder structure.

Emails can be recovered using
one-click restore or simply
opened to forward the
message or send a reply.
MailStore Mobile Web Access
For smartphones and tablets
MailStore IMAP Server
Integration of the archive as a read-only mailbox into any email
program or onto a mobile device via an integrated IMAP server
Why MailStore?
MailStore Server Grows Along with
Your Company
Highly sophisticated and scalable storage technology
that does not require external databases
Available immediately after setup is complete

The archive consists of any number
of archive stores – for example one
per quarter or year

For the end user, the archive store
concept is completely transparent.
The user works with one combined
view on the entire archive.
Scalable to any volume of data or number of users
Alternatively, external DBMS such as Microsoft SQL
Server can be used
Why MailStore?
Not a One Way Street
All email can be restored from the archive in standard
formats at any time
This guarantees companies independence
over the long term …
Supported Export Destinations
… even from MailStore Server itself

Microsoft Exchange mailboxes

Mailboxes from any email server
(IMAP)

Forwarding via SMTP

Directory in file system (RFC822
EML, MSG, and PST files)

Microsoft Outlook and other email
clients
Rely on the Experts
Rely on the Experts
One of the World's Leading Solutions for Email Archiving

Over 10,000 customers from all
sectors in over 60 countries

These include countless public
and educational institutions

Smallest customer:
< 5 users

Biggest customer:
> 8,000 users
Rely on the Experts
What Others Are Saying
"By archiving our emails with MailStore we were able to switch from old server to
new server - without an extensive migration process for a large number of mailboxes.
Our users are now able to access their old emails via MailStore and there was no
need to burden the new server with loads of old emails."
Takahiro Shima
Yahoo! JAPAN
"I liked MailStore Server. I liked it a lot. I felt it was incredibly easy-to-use, extremely
flexible, reasonably priced and well supported."
MSExchange.org
"With low prices, a very simple installation and excellent ease of use, it is a good fit
for small businesses."
NetworkWorld
Rely on the Experts
Top-Rate Support
Assistance from specialized IT experts, not through a call center
Support teams in Duesseldorf (Europe), Ottawa (North
America), Dubai (Arabian Peninsula), Nairobi (East Africa),
and Johannesburg (South Africa)
Average response time < 3 hours for email requests
Global partner network
Thank You.
Microsoft® Outlook®, Microsoft® Outlook® Express, Microsoft® Windows® Mail, Microsoft® Exchange Server and Microsoft® Internet
Explorer® are registered trademarks of the Microsoft Corporation in the United States and in other countries. Mozilla® Thunderbird™,
Mozilla® Seamonkey® and Mozilla® Firefox® are trademarks or registered trademarks of the Mozilla Foundation, USA. Google™,
Google Mail™ and Google™ Chrome are trademarks of Google Inc, USA. Apple®, iPhone™, iPod® and Safari® are registered
trademarks of Apple Inc. in the United States and in other countries. All other trademarks or registered trademarks are the property of their
respective owners. MailStore Server® and MailStore Home® are registered trademarks of MailStore Software GmbH in the United States.
MailStore™ e-mail-archiving software is a registered trademark of MailStore Software GmbH, Germany.