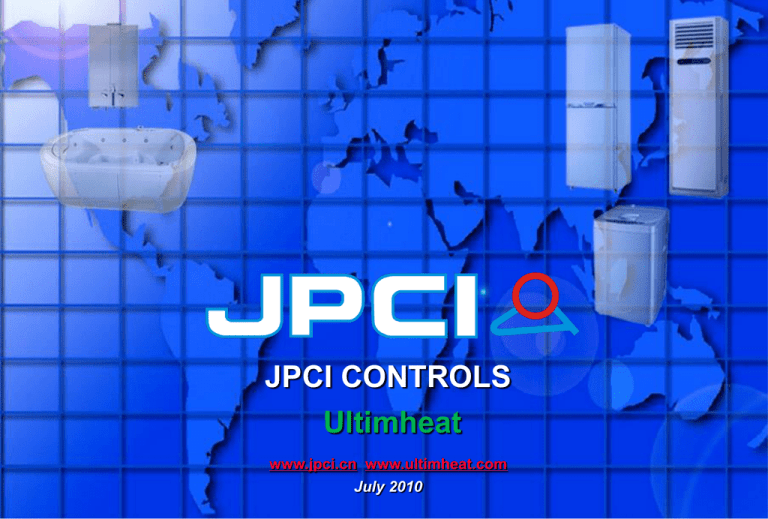 JPCI CONTROLS
Ultimheat
www.jpci.cn www.ultimheat.com
July 2010
COMPANY HISTORY
.
This factory started with a few employees in 1999,
under a French management and investment, in a 200
square meter assembly room. The rapid growth
obliged to move it in 2000 to a 1000 square meters
factory, then in 2004 to 4000 square meters. And in
2009 to a 10.000 square meter factory on 50.000
square meter ground, allowing future development.
Production range
-Connection blocks, electrical
connectors, housings for heating
elements, controls, base board heaters.
-Immersion heaters and heating
elements
-Capacity heaters
-Flow switches for boilers.
-Level switches.
-Pressure switches and air switches for
spas, boilers and water/steam pressure
tanks.
-Thermostats (bulb and capillary, bimetal
strip, bimetal disc).
- Fusible links and fire detection
mechanisms.
-Air conditioning and domestic
heating back up heaters
-Spa heater
-Swimming pools heaters
-Circulation heater for domestic
central heating
-Heat pumps heat exchangers for
swimming pools heating
Major production lines
THERMOSTATS
SWIMMING POOL
AND SPA
FITTINGS
PRESSURE SWICHES
FLOW SWITCHES
SWIMMING POOL
HEAT PUMP
HEATERS
BACKUP HEATERS
AND HEAT EXCHANGERS
IMMERSION HEATERS
SPA HEATERS
HEATING
ELEMENTS
LEVEL SWITCHES
CARTRIDGE HEATERS
WITH CONTROLS
FIRE DETECTION
LINKS
FIRE DAMPERS
MECHANISMS
CONNECTION
BLOCKS
Exhibition Room
We support local artists with free exhibition of their paintings and
handicraft productions
Sales Department
Commited to export, customs clearances and domestic sales
Research and Development Department
One new product is developed every 2 weeks
Sample Department
Prototypes testing and samples manufacturing
Quality control team
Zero defect is a goal, not a dream !
Training and teaching Room
Permanent training, teaching, and learning: the only way to improve
Heaters Production Line
A final assembly semi automated line
Wire harnesses
Every wire gauge has its own dedicated assembly line
Fire detection damper mechanisms
Heavy duty systems for fire doors and dampers
Flow and Level Switches production
Magnets and reed switch technology, over-molded EPS
Pressure switches , air switches production
Membrane and switches technology
Bulb and capillary thermostats production
Single pole, double pole, 3 poles models
Diastats vacuum filling
20 and 32 mm membrane diameter
Tubular heating elements production
Dia 8 , dia 10, dia 16 mm
Fusible Links production
Fire detection, and other thermal safety devices
Injection and compression molding
Technical plastics, elastomers , silicones and zinc alloys
Metals stamping
From 1 to 120 tons
Deep drawing
Stainless steel deep forming
Prototypes
High pressure sheet materials cutting
MACHINING
Automatic Tube Cutting
Laser Welding
Thermostats membranes, heating elements tubes
Sand Blasting
Surface preparation and finish
TIG Welding
Automated fittings welding
TIG Welding
Automated Circular Welding
TIG welding
Hand Welding
TIG Welding
Automated Linear Welding
Maintenance
Molds, tools, dies fixing and previsional maintenance
Inventory
Mold And Tool storage and protection
Parts cleaning
Washing And Degreasing
Packing and shipment
Customer oriented packing
Inventory
Components storage. FIFO and bar code identification
Quality
Income control, in line control, final
control, random control:
Raw material control laboratory,
Finished product control laboratory,
Extended life test laboratory,
Third party laboratory
Quality
Raw materials laboratory
Quality
Heating Elements pressure Leak Test
Quality
Semi automated Threads gauge Checking
Quality
In line pressure Leak test
Quality
Automated Passivation Line
Quality
Permanent Life Test programs for all products
Quality from A to Z
Market survey and patents analysis
Quality organization Chart
New Products Research and Development
Raw Material selection and control
Quality in
mind during
development
Extended Working Process description
IQC and In line control manual, CTQ statistics
Operator training and individual working process
Equipment Monitoring and preventive maintenance
Quality in
mind during
Production
Final Inspection and permanent life test
Production Quality issues analysis and corrective
action
Field return analysis and corrective action
Quality in
mind after
Production
Team work and communication
Purchasing
Department
QC
Department
Production
Department
Sales
Department
Engineering
Department
Sample
Department
FUTURE is INNOVATION
By world evolution focusing, vertical integration and
full production capabilities knowledge,
we bring
SOLUTIONS
to our
CUSTOMERS and
the MARKET
EVOLUTION
JPCI vertical integration concept
One of the major problems we have to solve is to provide a constant quality level to our customers, in time
deliveries, with controlled and stable prices. In the fast moving Chinese industrial economy, this is a very
difficult goal. Delivery failures, local suppliers inconstant quality, and suppliers wrong price calculation
are the most common issues. So decision was made since the beginning to produce ourselves everything
we need, and reducing our suppliers to raw material suppliers. We set up a raw material control laboratory,
and by this way we dramatically reduced the non conformities and production stops. Actually, we are
integrated in more than 30 different production process, and most of products we make are fully produced
from the raw material.
The engineering department is aware of European, American and Chinese standards, takes care and
analyse existing worldwide patents and is managed by European engineers.
Major benefits of vertical integration
-Products engineering based on best production
capabilities and international standards.
-Fast and efficient new products development.
-Quality Control at every steps.
-Fast corrective actions.
-Cost-effective solutions.
-Well controlled prices and deliveries.