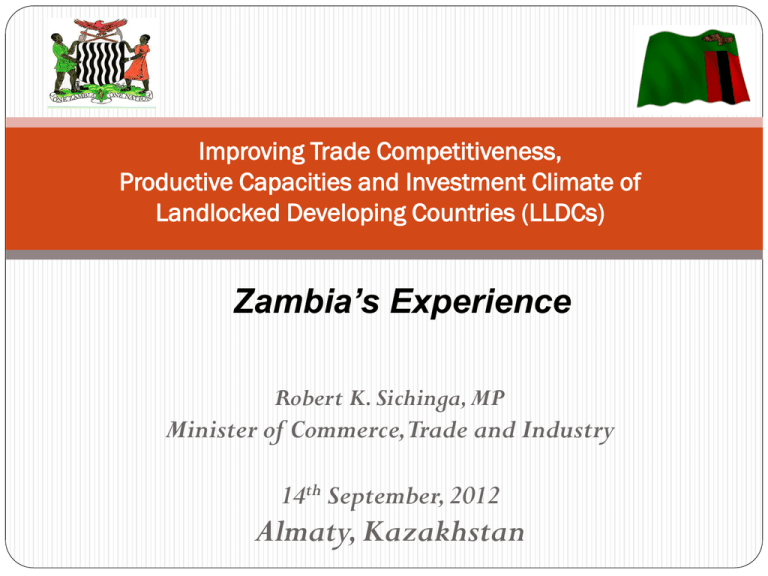 Improving Trade Competitiveness,
Productive Capacities and Investment Climate of
Landlocked Developing Countries (LLDCs)
Zambia's Experience
Robert K. Sichinga, MP
Minister of Commerce,Trade and Industry
14th September, 2012
Almaty, Kazakhstan
Presentation Outline
1. Introduction
2. Value Addition
3. Diversification/ building of productive
capacities
4. Addressing the supply side constraints to
enhanced efficiency and reduced costs;
5. Outstanding Challenges;
6. Conclusion/Way Forward
Introduction
Structural Transformation- An absolute necessity;
 Most LLDCs have been principally suppliers of raw
materials/commodities which were then value added in
today's developed countries especially the Colonial
Masters;
 This explains the low value of exports;
 Exports/imports routes to the sea primarily developed to
ensure delivery of raw materials to oversees countries for
value addition;
 This explains why developed countries account for higher
value;
Introduction (Cont…)
 LLDCs to import finished goods from the
colonial masters, hence trade routes not well
developed for imports nor
intra-regional trade;
This work has to be done now
 Low value of goods from LLDCs leads to low
capital formation thereby perpetuating poverty in
LLDCs;
Hence necessity for transformation
Zambia- Geographical Location
The Case of Zambia
 Zambia is a LLDC which suffers from foregoing
scenario;
 Exports of US$8.5 Billion;
 Major producer (4th Globally) of Copper and 2nd
major producer of Cobalt; 882,000 tonnes
(2011), target 1 million tonnes (2015);
 GDP Growth rate 7.6% (2011), 8% (2012);
 Zambia has a population of 13.6 million with per
capita income of only US$1400; 74% of
population below 35 years;
The Case of Zambia (Cont…)
 Member of both COMESA and SADC RECs/ Part of the Tripartite (COMESA-
EAC-SADC) Arrangement;
 Landlocked with 8 neighbours (Angola, Botswana, Democratic Republic of
Congo, Namibia, Malawi, Mozambique, Tanzania and Zimbabwe);
 Helped to politically liberate 5 of the 16 SADC Countries. This accounts for a
more conducive environment for agreements
 Routes to Ports
 Durban and East London(South Africa through Zimbabwe);
 Lobito (Angola through DRC- Currently Non-functional);
 Walvis Bay (Namibia)- Mostly by road. Rail would be beneficial;
 Dar-es-salaam (Tanzania);
 Nacala (Mozambique through Malawi) (Proposed)
 Beira (Mozambique)- Now seeking Beira Route to service Malawi and Zambia
by Zambezi River to Cabora Bassa Hydro dam;
TRADE ROUTES
Lobito
Nacala
East London
The Case of Zambia (Cont…)
 Oil pipeline from Dar-es-salaam, Tanzania to Ndola,
Zambia;
 Rail Systems- Previous with Zimbabwe into South Africa
 TAZARA build in 1966-71 (With assistance from
China);- has now become a Development Corridor;
 Land-lockedness is a given. Challenge is to turn it into
Land-linkedness
 Cost from origin to recovery port one-third while twothirds of the transport cost is inland
Value Addition
 Zambia had by 1990 achieved a relatively medium level of
value addition on some agriculture products;
 Need for Industrialisation-beneficiation to raw materials;
 Small quantity of copper used for local beneficiation;
 Cobalt never beneficiated;
 Business/Trade Liberalisation in the 1990s, made Zambia
a warehouse for finished goods from outside the country
especially South Africa.
 Currently trade within SADC region favours South Africa
(72%), Namibia (8%), Zambia and Zimbabwe (4%),
balance of 12% shared by remaining twelve Countries
Diversification/ building of productive capacities
 Thrust is to re-build and build our productive capacities;
 Call for "Value Addition Conference" scheduled for 4th to 6th October,
2012, to agree on areas of value addition;
 Thrust will be on commodity value chain in the following:
 Copper/metals fabrication;
 Increased agriculture production and agro-processing;
 Setting-up of MFEZs at Provincial level and Industrial Clusters at
district Level;
 Need for skills training and technology transfer;
 Power infrastructure- an absolute must for MFEZs and Clusters;
 Road network to all district and inter-connections to main highways;
 Revamping the entire rail system/cancelling concessions which has
failed to run for ten years;
 Enhance management of TAZARA (Railway to Tanzania- Dar-es-salaam);
Land already identified for Establishment of Industrial
Clusters and Intra-Africa Trade Centres
Diversification/ building of productive
capacities (Cont…)
 Setting-up Intra-Africa Trade Centres
(IATCs)- converting smuggling and
"informal/ undocumented" trade to
"formal" at selected border points with all the
8 neighbours;
 PIDA- Programme fro Infrastructure
Development in Africa;
Addressing the Supply Side constraints to
enhance efficiency and reduce costs
 Private Sector Involvement/ Participation
 Established PSD reform Programme which has achieved:
 Sixth world-wide in getting credit;
 Fourth best reformer world-wide for starting a business;
 Best in COMESA on getting credit;
 Third in COMESA on overall ease of doing business, starting a business and
paying taxes;
 Second in SADC in starting a business and getting credit;
 Fourth in SADC in paying taxes;
 Fifth in SADC in overall ease of doing business;
 As a result, Zambia was recognized among the top ten global reformers in the
world in 2010;
 It has also improved its ranking on the "Doing Business Index", moving from
90 in 2009 to 76 in 2010;
 Plan to be in top 50 for Easy of Doing Business.
Private Sector Involvement / Participation (Cont…)
Enhanced the consultative process and engagement with
the private sector-ZIBAC (Public /Private Sector
Conference);
PPP for Border Management and infrastructure;
Reduced the cost of doing businessCompany registration can now be done
within 24 hours through PACRA;
ZDA/MFEZs (Publically and Privately owned;
Industrial Clusters for value addition at district level;
One-Stop-Shops for business registration and export
information (at all Provincial Centres);
Addressing the Supply Side constraints to
enhance efficiency and reduce costs (Cont…)
 Border facilitation and Management-through establishment of One-Stop Border








Posts at Chirundu Border with Zimbabwe;
Increased/intensified use of ICT to help with border and transit management
systems;
Citizen Economic Empowerment (CEE) law to improve local/indigenous
participation in business;
Further changes in empowerment for capital formation;
Increased involvement with Parliament and local communities with business at
local level;
Attracting FDI to priority sectors as already identified;
Law established to incorporate Japanese KAIZEN practices to improve
productivity and profitability with JICA Aid;
Increased skills training with support help of UNIDO;
Streamline Border management with assistance from WTO, SADC and
COMESA
Part of newly constructed Border Facility at
Kasumbalesa Border with DRC under PPP
Part of Control Room at Kasumbalesa
Border with DRC
Trucks await clearance at Kasumbalesa
Border Post with DRC
Newly installed Scanner facilities at
Chanida Border with Mozambique
Newly Constructed Inspection Bay at
Chanida Border with Mozambique
Poor and inadequate Road Infrastructure
Outstanding Challenges
 While Zambia has made significant strides in
improving the trade competitiveness, productive
capacities and investment climate, challenges still
remain that need to be addressed for Zambia to
become even more viable and competitive. These
challenges include:
Poor infrastructure (Road, Rail and Water)Zambia ranks 114 out of 125 countries in terms of
poor transport and communication infrastructure;
low production capacities and
productivity;
Outstanding Challenges (Cont…)
 Poor border administration-Zambia ranks 66th to 78th out of 125
countries in terms of efficiency of customs administration and
transparency of border administration;
 Bottlenecks to trade such as tariff and Non-Tariff Barriers (NTBs);
 Some Member States such as Angola and DRC have not acceded to
the SADC trade protocol which Uganda, Eritrea and Ethiopia and
South Sudan have not acceded to the COMESA Trade protocol. This
has the potential to slow down the process of integration.
 Insufficient electricity/power (i.e. Chanida Border cannot
operate scanners because there is no electricity in the area);
 Lack of weighbridges at some borders making it difficult to
determine how much of products have gone or come into the
country;
Conclusion/ Way Forward
 Zambia will not relent in its efforts and taking
positive and practical steps to turn its status as a
Landlocked Developing Country to a Land-linked
Country;
 We are convinced that structural transformation,
especially infrastructure, Value Addition and
Increased Intra-Africa trade with neighbours will
significantly contribute to the development of
Zambia and the region;
Conclusion/ Way Forward (Cont…)
 While doing this, the Zambian Government is alive to the fact
that addressing internal productive capacity alone is not
enough to reap the maximum benefits; we aim for commodity
beneficiation;
 This requires regional efforts and cooperation, which has built
over the years. COMESA is Headquartered in Lusaka,
Zambia;
 We therefore seek the support of donors such as China,
European Union, German and Japan have done, and
various multilateral organisations such as the World Bank
and UN agencies, among others, to help us expedite
infrastructure development.