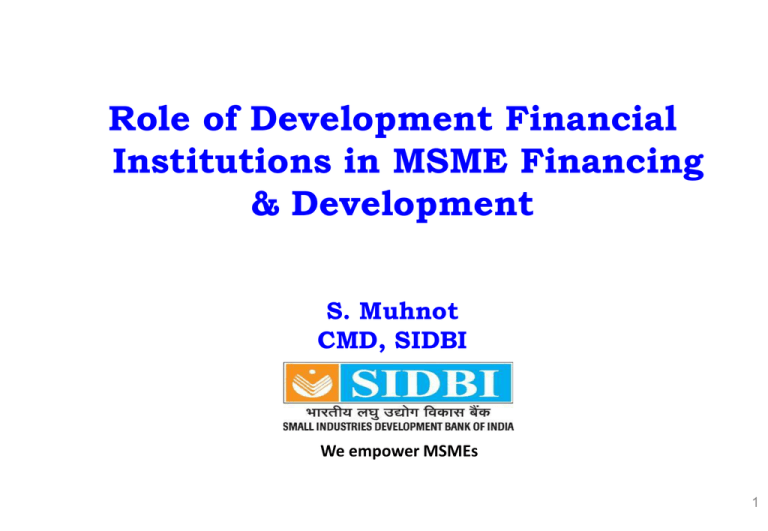 Role of Development Financial
Institutions in MSME Financing
& Development
S. Muhnot
CMD, SIDBI
We empower MSMEs
1
MSME Sector : On a high growth path
 The role of a DFI is the most challenging as it is expected to meet both
credit and developmental needs of the MSME sector, while maintaining
the financial viability of their organisations.
 Expectations on DFIs to play 'Credit-Plus' role to fill the gaps in MSME
eco-system, not addressed by banks/FIs.

Meeting Financial gaps in niche areas.

Providing need-based non-financial services

Adopting Cluster Centric approach as MSMEs reside in clusters

Upscaling promotional, developmental and socially responsible
(CSR) support.
2
What Roles are played by DFIs as
'Change Agent'
As a change agent,
DFIs
balance both
development
and
commercial aspects of
enterprise development
by making judicious
provision of financial
and
non
financial
services such that they
trigger
the
passive
market
towards
becoming vibrant and
active.
Facilitatio
n of
Access to
Market
Supportin
g MSMEs
at Bottom
of Pyramid
Market
Maker
Enable
Market
correction
s
DFIs to Act as
Change Agent'
Institution
alization
agents of
financial
public
policies
Facilitatin
g Risk
capital
Inducing
Innovations
Role in
national
priorities
DFIs role in Addressing financing Gaps
 To supplement and complement the efforts of banks by catering to
niche areas.
Risk / Equity Capital Banks neither have adequate risk assessment nor proactive in giving
risk/equity capital.
 DFIs to act as Fund of Funds to provide risk / equity capital / seed
financing through VC Funds / NBFCs / banks, as also directly.
 SIDBI pioneered Risk / Equity Capital support to MSMEs as
subordinate debt / quasi-equity.
 Provided venture capital to MSMEs when no bank was providing.
 Set up incubation centres and linked venture finance to innovative
enterprises.
DFIs role in Addressing financing Gaps
To address delayed payment – Reverse Factoring
 SIDBI took first step forward towards unique initiatives -Reverse
Factoring
 Created an electronic platform for e-discounting of bills – faster
credit disbursement.
 NSE Trade Receivable Engine for E–discounting with SIDBI
(NTREES)
 Operates on RTGS basis instead of 3 -4 days in paper form
 Lower discount rates, quick transaction at less cost, safe and
secure, transparent system for MSMEs.
Promoting sustainability
• Generally banks do not provide energy efficiency, climate change
loans
• SIDBI took the lead in filling this gap by providing such loans
based on energy efficiency, environment protection and social
standards.
• Motivated banks to provide such facility.
DFIs role in Addressing financing Gaps
Cluster Finance
 DFIs to do Viability gap funding in cluster infrastructure
 DFIs can provide financial support for setting up of Common
Facility Centres/ integrated infrastructure in MSME clusters.
 Can supports marketing infrastructure / showrooms to enhance
marketing capacity in the sector.
 Supported Common facilities like technology Parks, IT centers.
DFIs role in Addressing financing Gaps
Addressing the 'Missing Middle' in the MSME spectrum
Micro enterprises – so called 'Missing Middle' - are generally
neglected by the formal financial institutions.
 SIDBI customised global tools – e.g. DOWNSCALE TO UPSCALE –
Downscaling is 'doing small loan profitably' in a manner that
sector upscales credit in the segment
 DFIs can engage in capacity building of the banking system for the
purpose.
DFIs role in Addressing financing Gaps
Innovative Financial products and processes :
 Assimilating national and International best practices for
stimulating access to finance. Ex. Promoting environment and
social norms based credit is one of the biggest challenges globally.
 Innovative approaches – Capacity building of banks
 CART- an online rating, appraisal and documentation tool.
• Explore new partners and empower them example -- SIDBI has brought
in industry associations in the lending mechanism.
• DFIs can explore routing credit through new intermediaries and
channel partners to fill the gap in entire value chain especially micro
enterprise lending e.g.. funding can be provided to channel partners
viz. NBFCs, Factoring companies and others.
DFIs role in Addressing financing Gaps
 Micro finance, supporting underserved/unserved regions and
segments through innovative offerings of product/ process are their
main drivers.
 In India, DFIs like SIDBI (MSMEs), NABARD (Agri) etc. have been
addressing this. SIDBI took concrete steps in rejuvenating the micro
finance domain by
 Strengthening a pool of sustainable Micro finance institutions.
 Launched MFI rating mechanism and introduced several measures for
capacity building of these institutions which included equity, risk
mitigation devices, and so on.
DFIs role in Addressing non-financial Gaps
Capacity building of MSMEs
 Financial Literacy
 Credit Facilitation
 SIDBI set up 3 Credit Facilitation Centres in neglected regions.
Now initiating in 10 more.
 Capacity building of Business Member Organisations in 25
clusters
 Training and Skill Development in clusters, especially
through e-learning.
DFIs role in Addressing non-financial Gaps
Cluster Development
Under its cluster intervention it facilitated demand for and supply of Business
Development Services and its match making with MSMEs expectations and
needs.
 Over 1 lakh beneficiary with 1000 plus events on various issues i.e. skill
development, energy efficiency, marketing, finance, productivity
enhancement, quality etc. Other programmes include Sensitization/
awareness among MSMEs about BDS, Skill Development Programme,
Capacity Building of BDS providers/BMOs.
 Facilitated financial linkages .
 Economic Empowerment – over 5000 trained youth got placed in clusters.
 Cross cluster learning through exposure visits, learn-shops, participation in
trade fairs etc.
ADFIAP Award 2011 for agenda on "Making Markets Work for Indian MSMEs"
(2nd year in succession- in 2010 for local economic development).
Recognition (World Bank, G 20)
DFIs role in Addressing non-financial Gaps
Filling the informational gap
 MSME Sector suffers from informational inefficiency
 DFIs to proactively bring awareness of schemes / facilities to the
doorstep of MSMEs
 SIDBI is very active in
• Conducting Awareness camps
• Created a website – one stop solution for information for the
needs of Budding Entrepreneurs, New Entrepreneurs as well as
Existing Small Scale Entrepreneurs
• National level virtual BDS – www.msmementor.com
o Match making between MSMEs and expert service
providers.
o Over 8,000 consultants enrolled
DFIs role in Addressing non-financial Gaps
 DFIs AS ENABLERS- Policy advocacy –
 Play a significant role in creating an enabling eco system for the sector.
 Role played through kindling dialogues and deliberations at State, National
and international levels by various stakeholders, aimed at formulation of
appropriate and coherent policy guidelines and regulatory norms for the
sector.
 DFIs as leaders- Assimilating international best practices  Play a significant role in identifying, developing and sharing best practices
between different policy areas, disciplines, sectors and regions.
 Design new and innovative products to meet the emerging requirements of
the sector. Act as guinea pig to establish that the model works.
 Partners with international DFIs and networks to adopt and adapt its
approaches, strategies, products and processes such as to align with global
competencies as also mitigate risks, reduce transaction cost, make efficient
delivery channels and so on.
DFIs role in Addressing non-financial Gaps
Addressing the gaps in the institutional requirements
 MSMEs need various non-financial support by way of credit
guarantee, credit rating, technology transfer.
 Banks generally do not provide these services.
 SIDBI constantly addressing the institutional gap by setting up of :
 Credit Guarantee Fund Trust for Micro and Small Enterprises (for
credit guarantee),
 SME Rating Agency of India Ltd. (for credit rating),
 India SME Technology Services Ltd. (for technology transfer)
DFIs role in Addressing non-financial Gaps





Attend to unserved, underserved sector such that they are part of
inclusive growth.
DFIs should do all such roles which keeps it ahead of the curve and
enables it to emerge as DIFFERENTIATOR
Address thematic agendas of skill development, credit access,
technology gaps etc.
DFIs , while acting as a nodal agency for relevant
ministries/departments of Government for their enterprise
development/ MSME oriented schemes on cost plus basis, fruitfully
serve the MSME domain.
Loan appraisal, documentation, etc; loan syndication, mergers &
acquisitions, valuation, rehabilitation, merchant banking services for
SME exchanges, etc.
SIDBI's – Umbrella Network
One Stop Solution for MSME sector
Improve flow of
Credit to MSMEs
Credit Plus
Approach
Associate organizationsSpecialized functions
Refinance
Entrepreneurship /
Enterprise
promotion
SVCL- Venture
Capital
Structured
Products
Credit delivery
models
SMERA- Credit
Rating- Green
Rating
Direct Credit
• Risk Capital
• Sustainable
Finance
Business
Development
Services
CGTMSE – Credit
Guarantee- RSF
Missing Middle –
Downscaling
ISTSL-Technology
Transfer-pCDM
Micro finance
• Nurturing
MFIs
ISARC – Asset
Reconstruction
16
Conclusion

DFIs importance lies in addressing various gaps left unattended by
formal financial system.

DFIs have to be the CHANGEMAKERS AND DIFFERENTIATORS

DFIs have to act as Laboratories for customising/ validating tools ,
products and services such that they are scaled up sustainably.

By engaging in financial and non-financial services on fee basis, DFIs
can be viable profit making institution to further the national agenda
of inclusive, sustainable and faster economic growth.
Thank you!