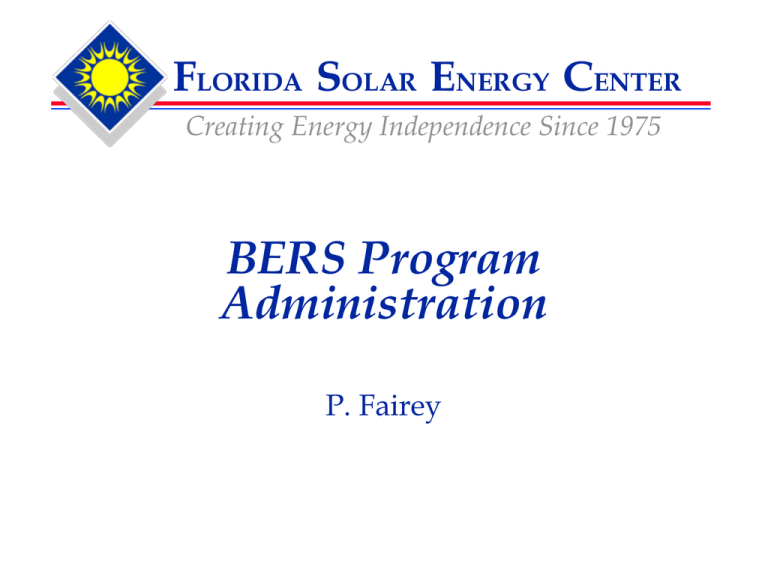 FLORIDA SOLAR ENERGY CENTER
Creating Energy Independence Since 1975
BERS Program
Administration
P. Fairey
BERS Program
Administration





Training
Compliance
Rating Software
Rating Registry
Changing Federal Programs
Training

Residential Rater training




Software training – at least 4 per year
Commercial Rater training



At least 4 per year, more if demand requires
Administer Florida & RESNET core test
At least 2 per year, more if demand requires
Administer Florida tests
Recertification – at least 1 class per month for
12 months around code change
FSEC Training Center
Training & Exam Modules






18 instruction modules
Serve up to 36
students/class
Envelope leakage using
blower doors
Air distribution system
leakage using duct
tester
Combustion Appliance
Zone (CAZ) training
Individual practicum
exams
CAZ Training






CAZ pressure
mapping
Hot water heater flue
draft testing
Flame roll-out
Furnace inspection
procedures
Furnace flue draft
testing
Upcoming RESNET
requirements
DCA Administration











Document and report test scores to DCA
Assign unique Rater certification numbers
Print and distribute DCA Rater certifications
Report test scores to students
Maintain database of certified raters (daily updates)
Maintain database of registered Ratings (continuous)
Print and mail BERS brochure (continuous)
Provide Rater technical support (daily)
Provide Code technical support (daily)
Respond to e-mail and phone queries (daily)
Participate in national conferences
RESNET Requirements

Maintain RESNET Accreditations







Rating Provider
Training Provider
Software Provider
Create & provide RESNET-approved Professional
Development courses (new requirement)
Maintain RESNET Trainer certifications
Maintain RESNET QA Designee certifications
Perform RESNET QA activities


Review of 100% of building files for each Rater
Field review of 1% of Rated homes for each Rater
Other RESNET Activities


Participate in RESNET Conferences
Serve on RESNET Committees





Standing Standards Committee (Chair)
Standing Technical Committee
Standing Training & Education Committee
Standing COMNET Committee
Serve on RESNET Board of Directors

President of Board (P. Fairey) – two terms


2004-2006
2008-2010
Software Accreditations

Residential Software





Florida Energy Code
IRS New Home Tax Credit
RESNET HERS Ratings
IECC 2006
Commercial Software





Florida Energy Code
IRS Tax Deduction accredited
ASHRAE Standard 140 compliant
USGBC – LEED NC 2009 compliant
ASHRAE 90.1 Appendix G compliant
Software Validation

Residential Verification Requirements






HERS BESTEST Loads suite
Reference Home auto-generation test
RESNET HVAC test suite
RESNET DSE test suite
RESNET Hot Water test suite
Commercial Verification Requirements

ASHRAE Standard 140 (Section 5) test suite
Building Load Tests
Load Difference Tests
DSE Tests
Hot Water Tests
Software Upgrades

EnergyGauge Summit:

Enthalpy Recovery Ventilation Systems in
testing


Frequently requested feature
Will be in 2010 Code if allowed by Building
Commission
Software Upgrades

Next Generation Software (2013 Code and
Beyond)




Work from anywhere: over the internet or on
local machine
Easier file transfer: import and export GBXML
format for interoperability with other software
Model more choices: simulate using DOE2 or
EnergyPlus
Learn once: same platform for residential and
commercial
Software Upgrades

2010 Code multi-zone, multi-fuel residential
model



Coding largely complete
Undergoing in-house alpha testing
Energy Star 2011 v.3 module


Added Reference Home and many new reports
Software coding in progress
Software Upgrade

Cost Optimization module





Working internal version
Ranking of Energy Conservation Measures
(ECMs)
Incremental cost optimization
Excellent for existing home retrofit apps
User interface still to be developed
Analysis Methods




EnergyGauge simulations used to project
energy use and costs (based on utility inputs)
EnergyGauge results used to calculate 30-year
energy cost savings cash flow stream
(benefits)
Individual Energy Conservation Measure
(ECM) costs used to calculate 30-year
investment cost cash flow stream (mortgage
costs)
PVBC from above calculation used to rank
order ECMs from largest to smallest
The Analysis Process





All defined ECMs rank ordered by PVBC ratio
through one-by-one incorporation into the
original home (the baseline)
Single ECM with largest PVBC incorporated into
the original home, creating a revised baseline.
Revised baseline used as basis for individual
ECM ranking using remaining ECMs
Next remaining ECM with largest PVBC
incorporated into revised baseline
Ad infinitum until ECM list exhausted or analysis
limits reached.
Annual Total (Full Cost)
1st Year (Full Cost)
Rating Registration Update

Improvements in Process for Registration




End Goal –faster processing of ratings while
maintaining quality control
Better flagging of issues of incoming files
Full pdf reports stored in registry for archive
retrieval by rater
Automatic monthly billing, on-line payment
and account viewing for rater
Expenditures & Revenues
July 1, 2009 - June 30, 2010
Cost Center
Expenditures Revenues
Net
Rater Training
$271,289
$230,075
($41,214)
Software
$365,160
$404,746
$39,586
Registry
$65,834
$42,108
($23,726)
$702,283
$676,928
($25,354)
Totals
FLORIDA SOLAR ENERGY CENTER
Creating Energy Independence Since 1975
Federal and Other Programs
P. Fairey
EPA Energy Star Program


Requires HERS ratings
Current program (version 2) :



HERS Index of 77 or lower
Thermal bypass checklist (by Rater)
2011 program (version 3):




New e-Star Reference Home standard
Target HERS Index computed based on home size
HERS Index of 65-72 (or less) will be required
Requires 3 new checklists



HVAC System Quality Installation Contractor list
HVAC System Quality Installation Rater list
Water Management System Builder list
DOE Builders Challenge




Requires HERS Ratings
Requires HERS Index of 70 or less
Requires that specific quality measures be
considered and verified by Rater
Program requirements may be tightened in
the future


Lower qualifying HERS Index
Closer alignment with EPA Energy Star
program (version 4 ~2014).
Federal Tax Incentives

Residential New Home Tax Credit





Requires 50% savings on heating and cooling
Expired but likely to return (has strong bipartisan
support)
Requires accredited software (EnergyGauge is
accredited)
Requires verification by Rater or equivalent (there
is currently no equivalent)
Commercial New Building Tax Deduction


Requires 50% savings on heating, cooling,
ventilation, hot water and interior lighting
Requires software accreditation by IRS
(EnergyGauge is accredited)
Federal Energy Labeling


U.S. DOE considering national home energy
labeling program
Exact nature and details still unknown






Leaning toward absolute energy label (source
energy MBtu)
Partitioned onto a 10 point scale based on climate
and RECS data
Likely generated by Federal Home Energy Survey
(HES) software (LBNL)
Possible replacement for current weatherization
audit software (NEAT)
May pertain only to existing homes
Unlikely to replace HERS Index
ASHRAE

Building Energy Modeling Professional
(BEMP)



Certification for commercial building modelers
Likely to be adopted as basic requirement for
certification by others (e.g. COMNET)
Building Energy Quotient
Program (EQ)



Metric for as designed energy
use
Metric for actual energy use
Pilot stage only
USGBC LEED Programs

LEED- H program (new homes)


Uses HERS rating systems (EnergyGauge
USA) to determine energy efficiency points
LEED – NC program (new commercial bldg)

May use EnergyGauge Summit Premier to
determine energy efficiency points,
automatically generate reference design and
generate data for required LEED reports
COMNET


New commercial building initiative of
RESNET
Manual on Commercial Building Energy
Modeling Guidelines and Procedures completed


http://www.comnet.org/
Embarking on standards development


Software verification and accreditation
Modeler, rater/verifier certification
BERS Program
Administration





Training
Compliance
Rating Software
Rating Registry
Changing Federal Programs
Thank you.