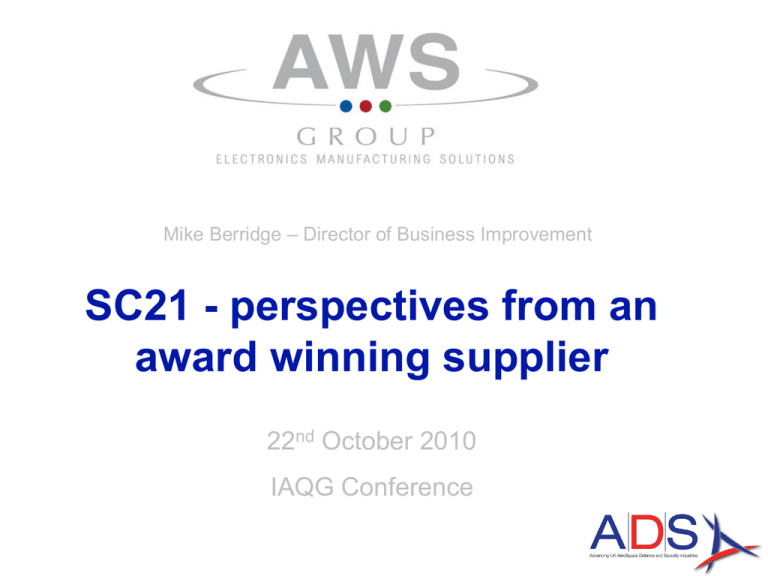 Mike Berridge – Director of Business Improvement
SC21 - perspectives from an
award winning supplier
22nd October 2010
IAQG Conference
AWS - Our perspective……..
 Qualify our perspective (our credentials)
 An Overview of AWS
 What we have done
 Our perspective on SC21
 Timelines (History)
 Why we adopted SC21
 Evaluation of SC21
 The Benefits to AWS
AWS Electronics Group - overview

Turnover in excess of £35m with over 400 people

3 UK sites - 1 site in Slovakia

Electronics Manufacturing Solutions (EMS) offering whole life support
 Development and design support
 'Fast track' prototyping
 Leading edge PCB manufacturing (10 SMT lines)
 Complex box build assembly
 Cable / harness assembly
 Repair/Refurbishment/Diagnostics and reverse engineering

Operating in a wide range of industries: defence, aerospace, scientific,
medical, telecoms, satellite, transport infrastructure, security, controls,
instrumentation and vending.
AWS - Defence & Aerospace work

Defence and Aerospace >20% of turnover (£8m) & growing

Manufactured aerospace and defence products since 1999

Aerospace & defence work examples:
 Ship borne and land based Satcom RF & PSU units
 Control units military vehicles
 Nimrod flight simulator harnesses
 Modem cards for satellite communications
 Weapon control PCB assemblies
 RF cards for military applications
 Bowman cable design, prototype and manufacture
 Land static platform design, prototype and manufacture
 Training Simulators
 UAV power and control systems
 CCTV and data storage
AWS – SC21 history

May 2007 - Signed up for SC21- GDUK Sponsors

August 2007 – AS 9100 accredited

November 2007 – SC21 First Diagnostic completed

February 2008 – ISO 14001 accredited

May 2008 - Silver Award – MOD Abbey Wood

February 2010 – Silver award – Agusta Westland

October 2010 - Short Listed – WCM (The Manufacturer)

Q1 2011 – NADCAP - AC7120 PCB Electronic Assemblies

Gold – next 12 months
Why did we adopt SC21……

Several acquisitions from 2005

CEO who knows the value of driving Continuous Improvement

Benchmarking across all sites (taking Best Demonstrated Practice)

Involved with Aerospace/Defence – but wanted to do more

The SC21 toolbox has all the things we wanted:
 Attack – Waste (ManEx)
 Engage ALL managers in CI (Management commitment)
 Business balanced scorecard ( EFQM) & BusEx)
 Relationships Management (Customer)
 Vehicle for Change Plan
AWS - Accreditations…IMPORTANT
ISO 9001: 2000
ISO 14001: 2004
AS 9100


The challenges for defence & aerospace are significant
 Delivery, quality, cost, structure, economic
All stakeholders need to champion change
Our perspective…4 Key points
 The challenges for defence & aerospace are significant
 Delivery, quality, cost, structure of the industry, economic,
political, through life cost (TLC), etc – it requires change
 All stakeholders in the supply chain need to execute the change
MOD, Primes, Tier Ones and SME's……..suppliers.
 We need a vehicle for change and the Flagship is SC21
 SC21 has everything – systems, quality improvement,
accreditation, benchmarking, management commitment, attack
waste (Lean), balanced scorecard (EFQM), relationships………
SC21 Model……has it all!
CUSTOMER
ENGAGEMENT
Business group
formation
DIAGNOSTICS
Quality certification
CONTINUOUS
SUSTAINABLE
IMPROVEMENT
PLAN
CSIP
RECOGNITION
Award metrics
Manufacturing Excellence
Metrics alignment
Industry recognition
Business Excellence
Code of practice
Relationships
Why we see SC21 as important….
 Challenges of the industry

Need to create competitive supply chain

Drive a Common set of metrics

Benchmarking

Create continuous improvement

Sustainability
 The 'primes' need for improved supplier performance
 Proven model – standard world class tools
 The 'Fit' with an organisation seeking change
 Not just a systems approach but a 'way of working'
 Building long term relationships
 Maintaining a competitive position
What are the critical success factors
for any supplier going for SC21?
 Leadership

Linked to strategy of the business

Clear understanding of continuous improvement

On the AWS monthly board agenda
 Seen as benefit not a cost

Improve top line

Improve bottom line
 Experiences of change leadership
 Knowledge (training) in Lean tools
 Real change at shop floor – not a white coat exercise
 Becomes the way of working – not a bolt on
 Realization of the need to change
How will this help your business?
 Externally
 Differentiates you from the rest of the pack
 You will be more competitive
 You will develop stronger and more sustainable relationships with both
customers and suppliers
 You will sell capability not product or service
 It helps your top line……….
 Internally
 You stop being minimalist – ie just going for system accreditation
 Sustainable improvement follows – embedding a lean culture
 You 'attack' waste in all processes
 Performance measurement becomes the norm…….
 It helps your bottom line……
Thank You
Mike Berridge biography
Mike Berridge – AWS Group – Director of Business Improvement
Mike joined AWS in September 2006 with specific responsibilities at
board level for implementing Continuous Improvement across the group.
He has spent 10 years in 'results based', process and business
improvement. He specializes in converting business strategy into
operational reality, using a wide range of world class tools. He is trained
in six sigma, lean and BPR and applies this in both manufacturing
operations and transactional environments.
He has worked extensively in Europe and the Middle East with blue chip
companies, across several industry sectors. Companies who have
benefited from his work are Scania, BT,T Mobile, Aventis, Hercules, BICC,
Volvo, Ericsson, Corus, Ford and BMW.
Mike's previous industrial background is in Automotive, spanning 28
years, where he held positions as Operations Director and Quality
Director for both OEM, Tier One and SME manufacturing and engineering
companies. He has an MBA and Masters Degree in Total Quality
Leadership.