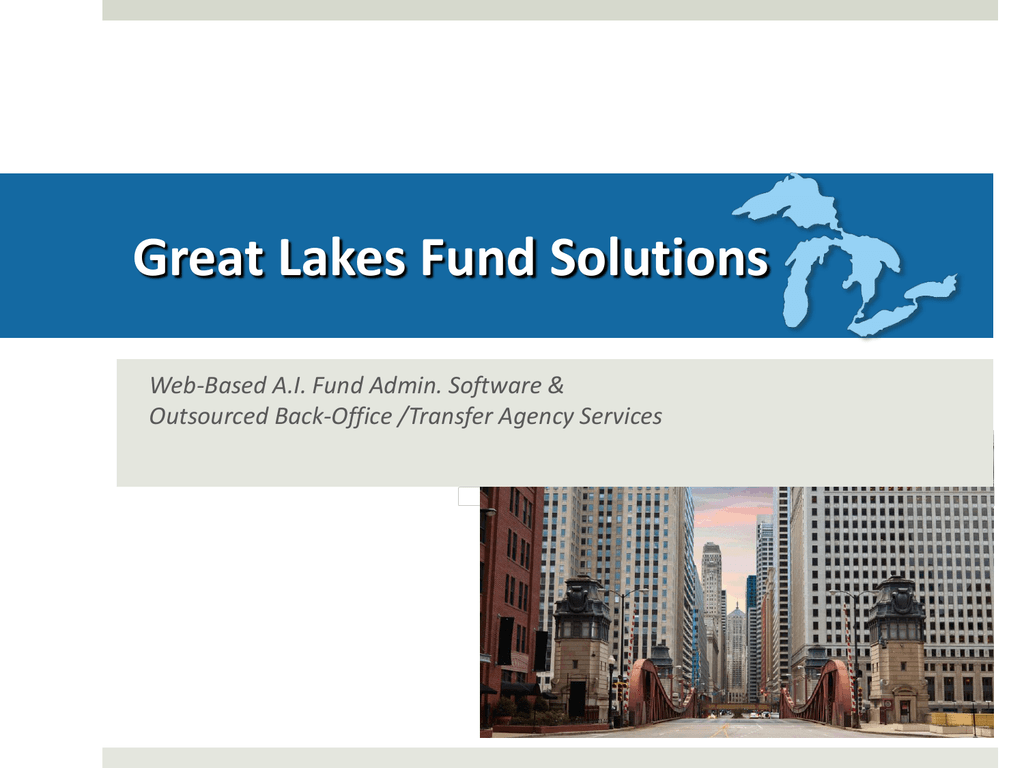 Great Lakes Fund Solutions
Web-Based A.I. Fund Admin. Software &
Outsourced Back-Office /Transfer Agency Services
A Visionary History
•
1982 – Software for Public Funds (DPPs)
•
1999 – Web-based, Front-end User Interface
•
2006 – Expanded to Private Funds (Reg. D)
•
2011 - Mark Lancaster appointed President of Marcal
Systems Corp.
•
2012 – Name change to Great Lakes Fund Solutions. REIT,
Oil & Gas Product Launch. Web Portal Build.
• 2013 – eSuperior Launch –
Software for Self Admin.
GLFSI Today
•
Application Service Provider creating financial services
software for the alternative funds industry.
•
eSuperior is our hosted, cloud-based SaaS for the Direct
Participation Program industry.
•
We customize Back-Office Outsourcing Solutions using the
eSuperior system. Options include: sales literature
fulfillment, investor serving, mail room, accounting and
call center management.
•
We customize eSuperior for clients and integrate the
system with other software, including
CRM systems, compliance, due
diligence and other software.
Experience
•
Mark Lancaster, President
- Bank of New York – 14 years
- Fortis Prime Fund Solutions
- DTCC – Head of AIP Initiative. DPP focus
•
Robert McLamore, Chief Operating Officer
•
Tom Lamm, Director of IT
•
Adam Alesandro, Senior IT and Accounting Consultant
Supported Services
•
Database Management and Reporting: fund, investor,
broker and custodian. Commissions. Tax allocations.
•
Sales Material Fulfillment: Storage, Assembly, Discount
Shipping Rates and Sales Reporting.
•
Investor Services: Operations & Call Center.
•
Communication Diversity: Diverse Reporting, Mailing,
Web Portal, Point-to-Point Data Transfer, FanMail/Vision
and DTCC AIP.
•
Customized Portal: Investor, Advisor and Sponsor tiered
access.
Compliance
•
PPM Compliance: a second set of eyes
•
Investor-Suitability: double-check
•
Accredited Investor Credentials Tracking (dev)
•
Trade Blotter Generation for B/Ds (dev)
•
Blue Sky: state limit tracking & reporting
•
AML: processing & reporting
eSuperior Demonstration
•
Cloud Database – Available anywhere there's an
internet connection. Improved disaster recovery.
Vastly superior to spreadsheets.
•
Web-based front end facilitates efficient
processing from multiple locations.
•
Web-based back end improves communication
with investors, advisors, selling agents and service
providers.
Benefits
•
eSuperior – You can exit the software development
business and enjoy reduced costs, robust system
capability, universal access, unlimited scalability,
exemplary data security and improved disaster recovery.
•
Great Lakes Outsourcing – Convert your Fixed Staffing
Costs to Variable and Stick to your Core Mission.
Adjust the Service Scope as Needed.
Investor Services Expertise. Intimate
Systems Knowledge. Reduce
Fulfillment Expense.