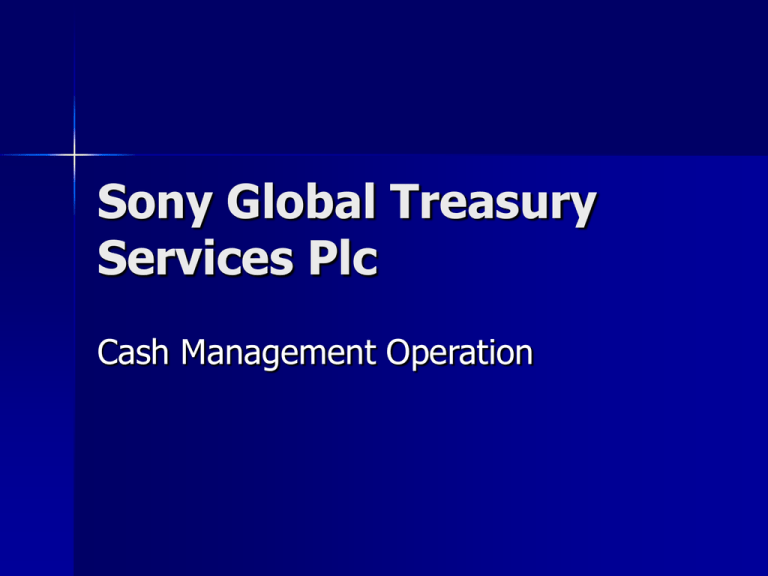 Sony Global Treasury
Services Plc
Cash Management Operation
SGTS History




Sony Global Treasury Services (Plc) was
incorporated in 2001. SGTS branches in London
(HQ), Tokyo, Singapore and New York branch.
Prior to this each region had an independent
financial centre with little co-ordination and
offsetting of cash positions.
Central aim was to consolidate Sony Group's cash
position. This was achieved via setting up a cash
management service to the Sony group companies
throughout our regions ("C3 operation").
To record transactions between group companies
and SGTS, an internal web-based global system
was set up ("e-cube").
Objectives & Expected Effects of
GTS Services
Subject of Each Effect
Objective
Expected Effect
Global Cash Management
Reduction of Interest Cost
Introduction of Intercompany Cashless
Settlement
Saving of Interest/
Commission to Banks
Reduction of Settlement
Risk
Operational Efficiency on
Sony Group Treasury
Functions and Upgraded
Customer Service
Improvement of A/P & A/R
Reconciliation Workload
Operational Efficiency in
Payment / Settlement / FX
deal
Minimizing FX exposures
Facilitating Accounting
Consolidation Work
Workload Reduction of
AP/AR Reconciliation
All of the Group
Finance Accounting
SONY Companies
Dept.
Dept.of
group
of SONY SONY
SGTS Cash Management
Sony Group companies,
hold collection accounts.
Zero balanced each day
Funds received in
SGTS Header A/C
SGTS provides this
service for all major
currencies
Sony Group companies are provided with a RAS account (Running Account service) enabling
"cashless settlement" with SGTS. RAS Account records:
-Zero balance sweeps credited to the RAS account.
-RAS customer enters payments in SAP system, and this interfaces to E-Cube. These payments
("proxy payments") are made by SGTS. Each proxy payment debited from customer's RAS account.
-inter-company cashless payments/receipts
-all FX transactions transacted on behalf of group companies are settled across the RAS account.
- SGTS will credit/debit interest to RAS account depending upon whether credit/debit balance.
Overview of Automatic Sweeping Service and RAS
Customers' Bank Account
Customer's Sub Account (JPY)
•Payment to
each Customer
GTS Bank Account
GTS Head Account (JPY)
Customer's Sub Account (USD)
GTS Head Account (USD)
Customer's Sub Account (EUR)
GTS Head Account (EUR)
…
…
I//F via MT940 Msg
Customer's
Account
In GTS(=RAS)
As well as 3 currencies above,
operate sweeps for
AUD,GBP,HKD,MXN,NZD, SGD
and THB.
Account Monitoring
Customer A
Customer B
Customer C
Overview of Proxy Payment Service and RAS
GTS Bank Account
JPY Account
• Proxy payment
to third parties
USD Account
• Proxy payment
to third parties
EUR Account
…
As well as main 3 currencies
proxy payments for
AUD,GBP,HKD,MXN,NZD, SGD
and THB
I/F
Proxy Payment Request
I/F
Customer's
Account
In GTS(=RAS)
Account Monitoring
Customer A
Customer B
Customer C
Cash Management
C3 RAS customer keys in
daily forecast ZBA flow into
Golfer Cashflow forecast
summary
File exported from Golfer to
internal drive, is then uploaded into
Treasury system as Projected
Cashflows
Based on Cash positions in
Cash Xplorer the Cash
Management team will make
their funding/investment
decisions
Surplus cash invest in
Money Market Funds.
Deficit funded by ECP
or USCP market
FX / MM deals
Treasury
system
Proxy payments entered by C3
customers, approved by SGTS ,
and uploaded into Treasury
system as actual cashflows.
MT940 statements received
from Banks uploaded into
Treasury system. A/c bank
balances are reconciled
using system's Bank Rec
function.
Cash Xplorer is run to determine
current positions by currency. The
projected cashflows are
incorporated into current balances
Internal Sony G.Co. Account
Entries for RAS Account
Deciding on Partner Bank
for Cash Management







Likely to already have a relationship (credit
facilities)- ongoing commitment to Sony.
Global presence, wide branch network to provide
consistent cash management services.
Dependency on one bank Vs additional work if cash
management is tendered on a regional basis.
Cost-proxy payments vol. 23,000 payments/mth
Reputation/customer service levels.
IT support to develop interfaces with RAS.
Advisory role-regulations/solutions relating to cash
management (Tax/banking regulations etc.)
SGTS Experience of
Partner Bank




Reputation of SGTS within Sony Group is on the
line:
-Sony group companies want to view accurate RAS
accounts, relying on efficient banking operation as
well as reliable IT interface.
Quality of service diluted if cash management
provider uses a partner bank.
Fine to have a solutions/queries centre but one
main point of contact important.
Effort/cost of set-up means only poor client service
would lead to termination.
Ancillary Benefits for
Partner Bank




Cash Management Bank is termed
"relationship bank" internally
Regular contact with SGTS could lead to
new opportunities.
Same day FX transactions will be dealt with
the partner bank so that settlement can go
across the accounts.
SGTS is funding USA West coast payments
based on a forecast. Therefore, we leave a
minimum cash balance with the partner
bank.
Investment/Funding of
Cash Position
Lack of technology!!
Surplus cash investment
Current procedure for investment
++$$$
++EUR
++££
Money Market
Funds
SGTS holds
target
balance of
USD 500 mil.
Treasury
system
Settlement diary for
maturing MMFs
Monitor yield/outstandings daily
via email and excel
Overnight investment
with good
liquidity/generally AAA
credit rating
Contact MMFs via telephone/
Bank website for subscription/
Redemption to the fund
Treasury
system
Treasury
system
Input MMF
investment
Back office
settles MMF and
makes payment
System constraints of
current procedure for
investment



Time consuming
Redeeming/subscribing to all funds that have an
outstanding balance/day
Monitoring fund performance/outstandings via
email and updating excel sheet (human work)
Settlement risk
Receiving/paying to a number of different funds
Reconciliation problem
Interest, including rebate, paid monthly.
Reconciliation issue as to interest received, and
impact on both Accounting and other issues such as
SOX
Money Market Fund
Portals
SGTS is currently considering using an electronic Money
Market Fund's portal. Advantages:
 Reporting
Centralises transaction data for immediate access.
Monthly statement provides information as to fund balances
and accrued interest
 Internal compliance
Enables internal guidelines to be met, for example fund
concentration/fund ownership
 Reduced settlement risk-one payment
 Straight through processing
Downside……………Loss of rebate????????

ECP/USCP Issuance



SGTS uses ECP/USCP
for short-term funding
needs.
All contact/dealing
done via the telephone
Time-consuming from
issuance decision to
finalising funding.
2
1
Decide on funding
target to Libor.
Instruct CP dealers
to work an order
Contact CP dealers
With funding needs.
Receive update on
market conditions
3
CP dealers call to
confirm issuance.
Update dealers on
Issuance amount
Consider electronic dealing such as Bloomberg
General Conclusions




Cash Management is a key focus for Corporate
Treasury department. Accounting
regulations/internal compliance making FX hedging
less of a priority.
Cash management services viewed as a partnership
with the bank to provide Sony group companies a
high level of service.
Bank derives additional revenue streams from
having cash management platform.
Opportunities exist for developing a dealing
platform for widely-used money market products.