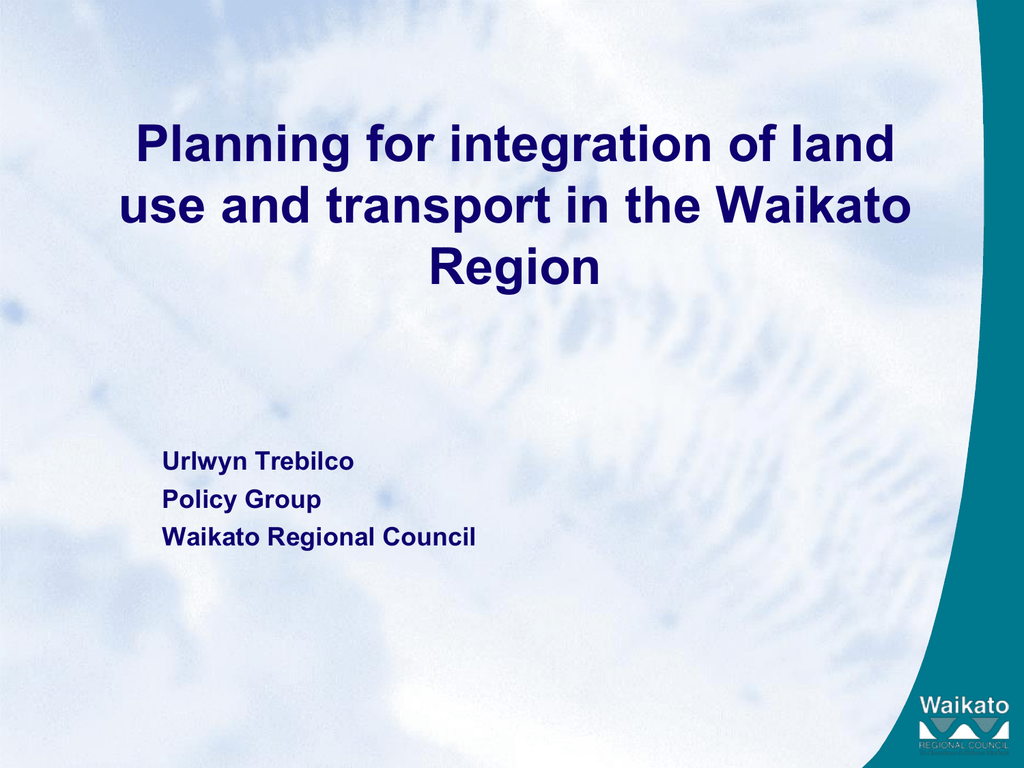 Planning for integration of land
use and transport in the Waikato
Region
Urlwyn Trebilco
Policy Group
Waikato Regional Council
Overview

Future Proof Growth Strategy

New transport related provisions in the RPS

RPS and Future Proof

Regional Spatial Plan?

Upper North Island Strategic Alliance
Future Proof Growth Strategy

Manage growth in Hamilton City and
Waikato and Waipa Districts

Sets a broad 50 year land use pattern
(Informs 30 year land use considerations
pursuant to LTMA 2003 (s77d))

Indicates urban and industrial growth areas
and staging

Principles to guide decisions on growth
Future Proof Growth Strategy

Action plan including:
Changes to RPS and district plans
 Southern Sector Study
 Transport related actions


Describes relationship between growth and
transport, growth issues and key
approaches
Regional Policy Statement

The way the RPS manages infrastructure
greatly changed by:



S30(1)(gb) – strategic integration of infrastructure
with land use
District Plans must give effect to RPS
RPS review –
Greater emphasis on integrated management of
built environment
 Implementing Future Proof
 Review in tandem with review of RLTS

RPS and Transport

6 Issue statements – 1.4 Built Environment
effects on sustainable management of N&P
resources

62 policies, 18 policies in Built Environment
section

Key directions for Built Environment
Improve strategic forward planning
 Improve information supporting planning
 Principles approach for growth management
 Integrate growth and infrastructure planning

Important specific directions

Where demand is high, the majority of ruralresidential development should be in identified
areas

In high growth areas, growth strategies should
identify a 30 year spatial pattern

Structure planning should occur before land is
rezoned for urban development

Information requirements to guide zoning for new
development

Nature, timing and sequencing of development coordinated with development, funding and operation
of transport
Important specific directions

District and regional plans to ensure:

Development supports public transport

Walking and cycling facilities integrated with developments

Safe, efficient and effective transport systems maintained


Ribbon development avoided along identified significant
transport corridors
Urban development is predominantly directed to existing
urban areas
RPS and Future Proof

Policies and methods to support Future
Proof settlement pattern map and land
allocation tables

Urban development density targets

Consolidate commercial development in
existing commercial nodes

Direct commercial development away from
areas specifically provided for industry
A regional spatial plan?

WRC strategic direction 2010-13 Goal 2:
The people of the region collaborate to
achieve a shared vision of the Waikato
competing globally, caring locally

To achieve vision, develop a sustainable
development strategy, including a regional
spatial plan

2011/12 year:


Developing a way forward through the Triennial
Forum meetings
Investigate models, information gaps, current
strategic planning occurring
Upper North Island Strategic
Alliance

Northland RC, Auckland Council, Bay of
Plenty RC, Waikato RC, Hamilton CC,
Tauranga CC and Whangarei DC

To encourage closer communication and
collaboration on strategic matters and to
maximise sustainable development
opportunities

Transport issues will be high on the agenda,
allowing for better alignment of development
and infrastructure planning across the Upper
North Island
Conclusions

We are becoming more strategic, integrative
and collaborative

The RPS is providing stronger leadership on
built environment (including transport)
management

Change is occurring fast!