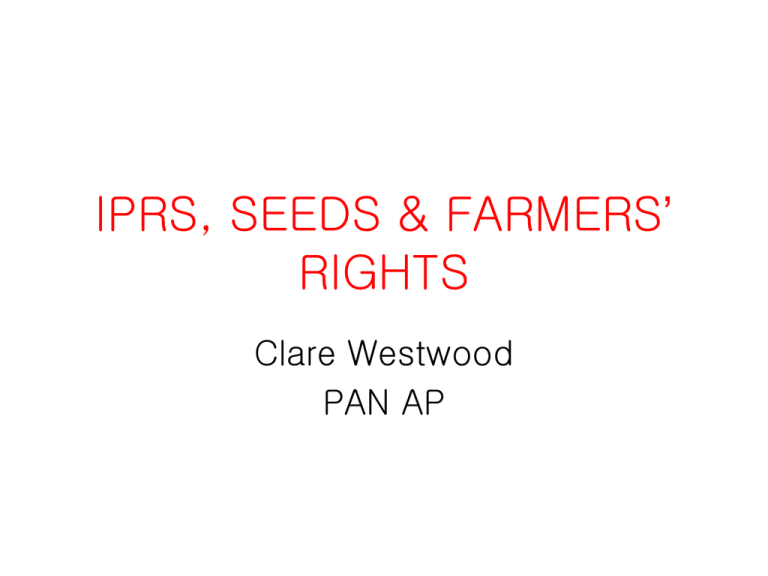 IPRS, SEEDS & FARMERS'
RIGHTS
Clare Westwood
PAN AP
WHY SEEDS?
• History – Green Revolution. Purposes.
Suppress pesant movement. Open up
markets for corporate agricultural inputs.
• Chemical pesticides, synthetic fertilizers,
• High input/yielding varieties. Subsidies
• Hybrid seeds. GE seeds.
• Farmer-saved seeds (FSS) an Obstacle
• Aim: seed producers  seed
users/consumers
COLLUSION
•
•
•
•
SEED COMPANIES
GOVERNMENT
INTERNATIONAL AGENCIES
SEED ASSOCIATIONS
FACTS
• 2005: Seed market worth USD17 billion
• Monsanto top seed company
• Top 5 agri-TNCs control 30% of the
global seed market
HOW TO CONTROL?
• LAW
– Regulations
– Restrictions
– Certification
– Registration
INTELLECTUAL PROPERTY RIGHTS (control
price and what/how to save, use, share)
- Methods / Processes
- Genes
- "new" plant varieties
INTERNATIONAL
LAWS/COERCION
• AOA – TRIPS (Ag on Trade Related
Aspects of IPRs) – UPOV (Intnl Union
for the Protection of New Varieties of
Plants) – ITPGRFA (Seed Treaty) –
TRIPS PLUS
• WTO, WB, USAID, ADB, FAO – CGIAR IRRI
UPOV
• Article 14 extends protection to all plant
varieties, vegetative / reproductive
propogating material and essential
derived varieties & harvested material.
• Under UPOV-type systems, farmers
cannot save, exchange, or sell seeds of
protected plant varieties.
NATIONAL SEED LAWS
• Korea – Govt. may restrict breeder's rts to a
variety if farmer collects seeds for himself for
self-production
• Malaysia – farmers can only use seeds of a
PVP on their own field in 'reasonable amount'
• Indonesia – Farmers may use PVPs as long
as not for commercial purposes
• Pakistan / India /Philippines – Farmers can
use/sell seed produce but cannot sell seed of
the protected variety for commercial
purposes
FUTURE TRENDS
• TIGHTER LAWS. GREATER
INVOLVEMENT OF PRIVATE PLAYERS
REPLACING / COMPLEMENTING GOVT.
IN CERTIFICATION & TESTING. Growing
collusion bet. private and public sectors.
• FTAS  New Trade Laws. Seed laws
reflect seed trade.
• Climate and Food Crisis – used to
promote GE seeds & zombie seeds
TRENDS (cont.)
• Asia – growing market for US &
European seed companies. Forays into
China India, Phil, Thailand, Taiwan
• DUS seeds – increasing loss of genetic
diversity
• Greater violation of farmers' rights';
harassment, legal oppression, etc.
EXAMPLES
• 609 patents on rice in 2007 mainly by
rice breeders in the US, Europe & Japan.
60% private owners.
• Syngenta claims to have
'invented' >30,000 genetic sequences
of rice
• Indonesian farmers arrested for
breeding their own corn seeds
• Percy Schmeiser's case - Canada
FAO
• Role of the FAO
– IRRI (under CGIAR)
– FAO in Afghanistan: Implemented a Variety & Seed
Industry Development Project in Afghanistan with
EU funding. Prescribed new seed law.
Farmers cannot commercialize production from
proprietary varieties.
– 2nd World Seed Conference co-organized with
seed industry in Rome in Sept 2009 – call for more
formal plant breeding and IPR regulation
• CGIAR – IRRI. Private-public partnerships.
Facilitating giving away of germplasm.